Huawei unveils next generation transmission solution after winning big at MWC awards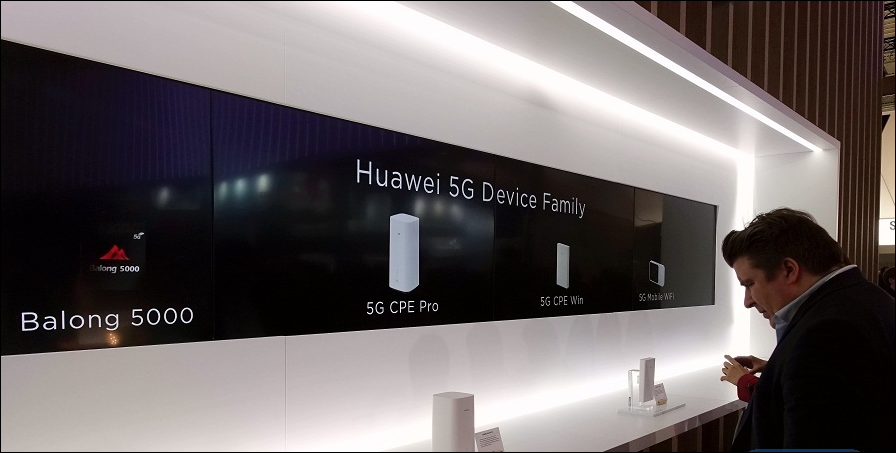 China's Huawei presents 5G devices at Mobile World Congress (MWC 2019) in Barcelona, Spain, Feb. 26, 2019. (Photo: Xinhua)
Chinese telecommunications giant Huawei on Wednesday unveiled its next generation data center interconnect (DCI) solution at MWC 2019 (formerly Mobile World Congress), which is being held here until Thursday.
The company explains that the solution aims to build an ultra-broadband, simplified and intelligent DCI network by leveraging a single-wavelength 600G network, optical cross-connect all-optical switching and Network Cloud Engine technologies.
Huawei said it expects to lead "DCI networks into an ultra-broadband, simplified, and intelligent AI (artificial intelligence) era," and that "single-wavelength 600G will enable ultra high-speed cloud interconnection to activate the value of ultra-broadband connection."
Chen Wenbo, vice president of Huawei Enterprise Transmission Product Line, explained that "Huawei attaches paramount importance to DCI in next-generation networks and continuously accelerates technological innovation."
"We will work with customers and partners, such as cloud service providers, MTDCs (multi-tenant data centers) and IXPs (internet exchange points) to continuously build an ultra-broadband, non-blocking, and flexible DCI network," he said at the presentation.
WINNING BIG AT MWC 2019 AWARDS
Wednesday's presentation came after Tuesday saw an excellent night for Huawei at the annual Glomo Awards (GSMA's Global Mobile Awards), presented at the annual MWC events.
The company won five separate awards, including for Best Mobile Technology Breakthrough (awarded to companies with an annual global revenue exceeding 10 million U.S. dollars) for its 5G radio access network innovation. The Breakthrough was awarded to companies with an annual global revenue exceeding 10 million U.S. dollars.
"It is a great honor for Huawei to win this award. How to improve the coverage at the early stage of 5G deployment is a common problem for the industry. To promote industry development, to improve consumer experience and to help carriers better deploy network and services is the driving force behind Huawei's continuous innovation in wireless technologies, especially 5G technologies," said Zhou Yuefeng, chief marketing officer for Huawei Wireless Solution, at the ceremony.
Huawei and Swiss telecommunications company Sunrise jointly received the Best Mobile Operator Service for Consumers Award for their 5G fixed wireless access service, while the Gaoqing government and Huawei jointly won the award for Best Mobile Innovation for Smart Cities.
Huawei also claimed the Best Mobile Innovation for Automotive Award for its C-V2X (cellular vehicle-to-everything) solution. The prestigious Judges Choice -- Best Smartphone Award went to the Huawei Mate 20 Pro.