Beijing institution launches three-year AI research grant
China.org.cn
1555580974000
The Beijing Academy of Artificial Intelligence (BAAI) on Wednesday launched a three-year research grant and announced the first group of candidates.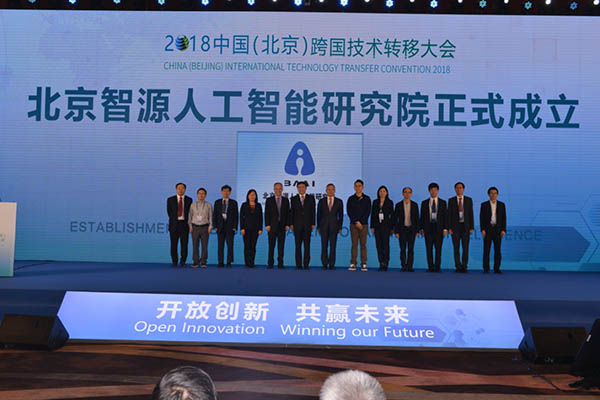 (File Photo: People's Daily online)
The candidates for the BAAI Scholar Program include Zhang Pingwen, an academician of the Chinese Academy of Sciences, and Xia Bican, a professor at Peking University. BAAI plans to select 100 brilliant minds per year for the research grant through 2021, totaling 300 people in the AI field.
"We want the best AI professionals," BAAI director Huang Tiejun said. Every scholar in the program will be granted at least 500,000 yuan (about US$75,000) per year toward his or her research.
In addition, BAAI plans to adopt a negative list system to regulate pre-approvals for research proposals and facilitate the application for research grants. "We'd like to create a more enabling and supportive environment for conducting research in areas of significance," Huang said.
According to BAAI, the research grant will support four types of AI professionals: chief scientists who are responsible for overall planning and making researcher recommendations; research project managers assisting the chief scientists and overseeing communications; researchers organizing and initiating studies; and young scientists conducting autonomous researches in the field of AI, as a means to stimulate innovation and creativity.
Also yesterday, the institution held an opening ceremony for the BAAI-Megvii Intelligent Model Design and Image Perception Joint Laboratory. It will share data with universities and research institutes, as well open AI model design and scenario testing.
According to BAAI deputy director Tang Jie, the new laboratory is party of BAAI's effort to work with companies and higher education institutions to integrate resources such as data, algorithms, scenarios, and infrastructure. The academy plans to support the best laboratories up to three years.
Established in November 2018 through a joint effort between the Ministry of Science and Technology and the Beijing Municipal Government, BAAI is tasked with cultivating AI talents, building joint laboratories with companies and universities, building an open service platform, and strengthening connectivity between academics and businesses in the AI community.