High-tech husbandry
Global Times
1557431913000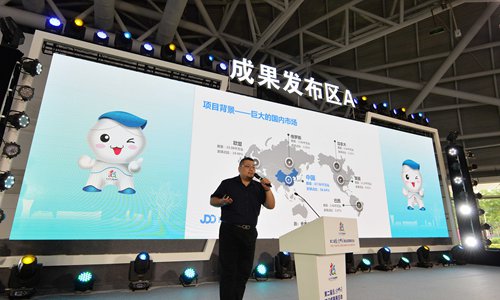 JD Digital Technology unveils its intelligent breeding system at the 2nd Digital China Summit in Fuzhou, East China's Fujian Province on May 6. (Photo: Courtesy of JD Digits)
An intelligent livestock breeding system featuring pig grunting recognition technology attracted visitors' attention soon after its debut at the 2nd Digital China Summit held from May 6 to 8 in Fuzhou, East China's Fujian Province.

"Pigs grunt differently in various conditions. They usually hum or groan when they are looking for a mate, and mumble when they are pleased and happy," said Li Jialong, deputy general manager of JD Agri-husbandry, JD Digits, adding, "What JD Digits is doing is examining pig's physical and psychological health according to their grunts."

Listening is one of the four diagnostic methods in traditional Chinese medicine. Through listening to the volume, pitch and speed of a patient's voice, a doctor can diagnose the state and cause of the illness.

Pig grunting recognition technology allows veterinarians to diagnose swine diseases according to the grunt, allowing them to launch early warnings of diseases in a prompt manner.

In China, approximately 700 million live pigs are sold every year, accounting for more than half of the pigs sold globally. Despite this massive scale, China still lags far behind developed countries in terms of pig breeding technologies.

In traditional pig breeding methods, a breeder can only use his experience to judge if a pig has been affected by disease or a sow becomes pregnant. Medical measures are often taken after the optimal time, which leads to a high pig death rate and breeding costs.

In order to solve the problem, reduce pig breeding costs, and improve efficiency, JD Digits co-founded a farming-grazing research institute and developed a set of intelligent breeding systems with Li Defa, Academician of the Chinese Academy of Engineering, China's top expert in agriculture and animal husbandry.

The system involves a "robot veterinarian" working round the clock in the livestock farm. The robot vet will patrol the farm to acquire precise parameters such as taking a pig's body temperature and observing changes in its food-intake. Robot patrols are more accurate but cost less money than human patrols.

JD Digits is also applying voiceprint technology to the livestock breeding industry. The robot recognizes and analyzes a pig's grunt and cough to diagnose disease. Once a pig is thought to be sick, the information acquired will be analyzed to generate treatment methods promptly and reported to the vet or breeder so that a proper response to the disease will be initiated as quickly as possible.

Based on the existing pig face recognition technology, the system can also recognize every individual pig, and robot breeders will feed them customized volumes of food according to their specific physical condition.

In this way, the robot breeder serves as a private dietician, and the meat of pigs bred based on these scientific methods tend to be of better quality and texture.

Intelligent pig breeding systems with their intelligent temperature and humidity control based on 24-hour surveillance allow pigs to live a smart life. Retractable cribs guarantee every pig eats separately.

The intelligent pig breeding system can save pig breeding companies more than 30 percent in personnel costs and 8 to 10 percent in fodder costs, and reduce the breeding period by five to eight days.

JD Digits has signed orders with a number of livestock breeding companies in various companies. The system will save the industry as much as 50 billion yuan ($7.5 billion) a year.