Robot 'doctors' support China's bullet train maintenance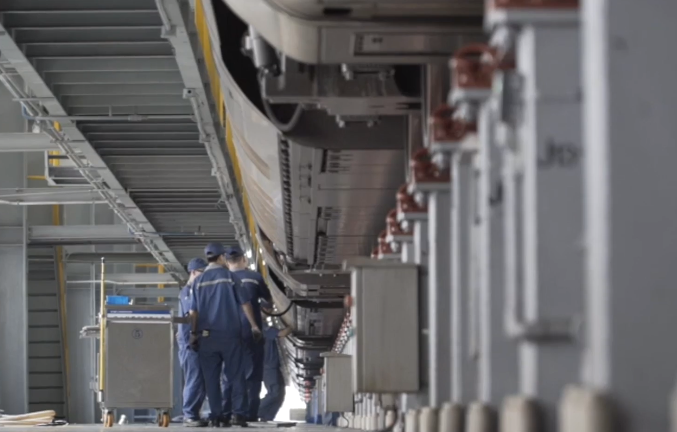 (Photo:CGTN)
China's 350-kilometer/hour bullet trains are changing the way the Chinese travel. But to maintain that high speed, safety and travel experience, thousands of people have to engage in laborious, sometimes physically challenging, maintenance work. Thanks to technology, more robots have now been introduced in improving the efficiency and safety during maintenance tasks.
At the Shanghai Bullet Train Depot, two robots were officially employed on May 1. It is the first train depot to involve robots in train maintenance work. The robots have relieved human workers of ergonomically challenging tasks.
The robots use a scanner to detect if any part at the bottom of a bullet train needs to be fixed. After examining the type and degree of the defect, they automatically notify the system. The whole process, equipped with dual-arm robot technology, vision technology, and image recognition technology, does exactly what the traditional manual inspection operations did, to solve the problems and avoid mistakes and "human errors" cause by fatigue.
The task earlier required eight people and took more than one and a half hours to conclude maintenance work on one train. With the help of the new "employees," this can be done by just four people within 70 minutes.
But does that mean the robots will replace human workforce? No! Skilled technicians are still required to examine the work done by robots.
"I used to do what the robots do now, I am relived from bending several times a day to inspect trains," He Guangyao, one of the workers told CGTN. "Now most of the time I can just modify it on my computer which makes my inspection work a lot more convenient."
While the advancements in AI technology have taken over the more laborious work and helped human employees adapt to their new roles, there is still a long way to go before the train depot could fully implement AI maintenance operations.
"The robots have been used for testing since June 15, 2018, we haven't seen much on actually reducing operations cost and increasing productivity until now," Pan Wei, director of the workshop told CGTN. "If the price could be lowered, and the accuracy, efficiency and productivity of the technique could be increased, it will be easier for more bullet train depots to enable AI technology."
According to Pan, the Shanghai Bullet Train Depot will employ four additional robots, while two robot will be employed by the Nanjing Bullet Train Depot as well this year.