China's satellite navigation industry scale to exceed 400 bln yuan in 2020
BEIJING, May 23 (Xinhua) -- The output value of China's satellite navigation industry is expected to surpass 400 billion yuan (about $57.9 billion) in 2020, sources at the ongoing 10th China Satellite Navigation Conference said Thursday.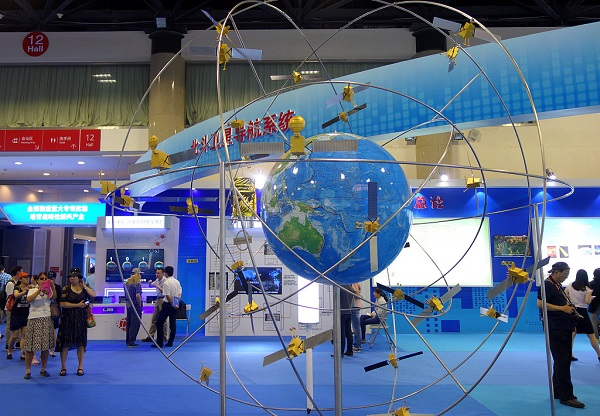 (File Photo: VCG)
"Currently, we have built a complete industry chain made up of the BeiDou Navigation Satellite System (BDS) basic products, application terminals and systems, and operation services," said Ran Chengqi, director of the China Satellite Navigation Office.
The output value of China's satellite navigation industry was more than 300 billion yuan in 2018, according to Ran.
FindNow, a satellite accelerated location service supporting the BDS, has more than 300 million users from over 200 countries and regions.
The BDS system, independently constructed and operated by China, provides high precision positioning, navigation and timing services for global users.
The BDS system has been widely used in transportation, public security, industries of agriculture, fishing and forestry, hydrological monitoring, weather forecasting, communication system, power dispatching, and disaster prevention and alleviation, Ran said.
As of April 2019, more than 6.2 million transport vehicles, 30,000 postal and express vehicles, 80,000 buses in 36 cities, 3,200 inland river navigation facilities and 2,900 maritime navigation facilities in China have used the BDS system.
The BDS system is also serving more than 50,000 pieces of agricultural machinery, saving 10 percent of fuel consumption.
The system's positioning and short message communication functions have assisted over 70,000 fishing boats and law enforcement vessels, Ran said.
The navigation services based on the BDS are also changing people's lifestyle, by being applied in e-commerce, manufacturing of mobile intelligent terminals and positioning services.
China will send six to eight new BDS-3 satellites into space this year, and the BDS-3 system is expected to be completed by the end of 2020.
China started building the BDS-3 system in 2009. The country is also planning to finish building a high precision national comprehensive positioning, navigation and timing system on the basis of the BDS by 2035.