Chinese tech firms help Tokyo Olympics cope with COVID-19
Global Times
1626705235000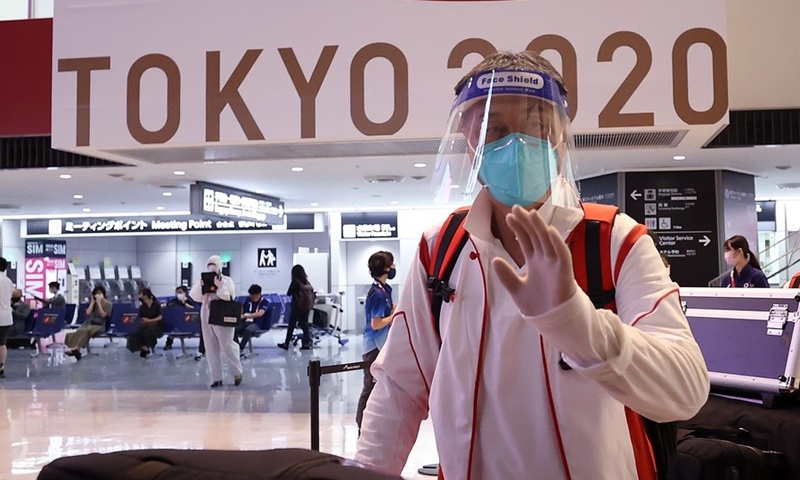 Chinese companies are actively participating in the upcoming Tokyo Olympic Games and helping one of the world's biggest sports events cope with special circumstances and challenges posed by the COVID-19 pandemic.
Alibaba, as a top Olympic sponsor, is launching products and services related to the Tokyo Olympics, while Chinese video-sharing platform Kuaishou had won broadcasting rights to the Tokyo Olympics as well as the Beijing 2022 Winter Olympics.
On Monday, Alibaba unveiled the Alibaba Cloud Pin, a cloud-based digital pin, for broadcasting and media professionals at the Tokyo Olympics. The digital wearable enables users to exchange daily activity updates, while maintaining social distancing, according to a statement sent by Alibaba Group to the Global Times on Monday.
Earlier, Alibaba announced that one of its major initiatives for the Tokyo Olympics would be the expansion of the Olympic Broadcasting Services Cloud, as it would use Alibaba Cloud's technologies to transform the media experience related to the games. It is also working with Intel to host artificial intelligence (AI)-powered 3D Athlete Tracking Technology via Alibaba Cloud, which uses AI to analyze videos of athletes and generate 3D models of them to help their training.
In 2017, the Chinese-ecommerce giant announced a long-term partnership with the International Olympic Committee (IOC) through 2028. Under the $800-million deal, Alibaba would supply services in cloud computing, e-commerce and media to the IOC, leveling Alibaba with 13 other top Olympic sponsors including US tech giant Intel.
Many other Chinese tech giants are also participating in promotion campaigns related to the Tokyo Olympics.
For example, Kuaishou has won broadcasting rights to the next two Olympic Games. The platform plans to set up an Olympic channel to broadcast more than 600 matches, which are expected to be viewed more than 60 billion times, a senior executive of Kuaishou told the jwview.com recently.
"As Chinese companies push forward their globalization process, it is an evitable trend that more and more will participate in Olympics-related commercial activities," Zhang Yi, CEO of consulting agency iiMedia, told the Global Times on Monday.
Zhang added that China's booming online business models like online video-sharing and online payments are in line with the digital trend toward which the Olympic Games are evolving.
Chris Tung, chief marketing officer of Alibaba Group, said that Alibaba is "dedicated to the transformation of the Games in the digital era", making the experience more accessible and inclusive for athletes, broadcasters and sports fans, according to the statement.
Participating in the Olympic Games could also help Chinese companies with their global brand building and overseas operations.
Zhang Qing, CEO of Key Solution Sports Co, a firm that consults on the sports industry in China, said that the IOC chooses its top sponsors based on financial competence, cloud services, technical requirements like data storage, as well as whether companies share the same values as the Olympics.
"The IOC's choice of Alibaba as World Olympic Partner proves that in those aspects, the company has met world leading standards or even surpassed its international competitors," Zhang Qing told the Global Times on Monday.
Sponsoring the Olympic Games could help Alibaba and other Chiense companies win "value recognition" on global markets, which would be a boost to their reputation - an intangible asset to the company, analysts said.
Zhang Yi said that as globalization is a road that Alibaba and other Chinese companies must take whatever obstacles it meets, sponsoring world sports matches is a "wise" and "plausible" way for the companies to enhance their brand reputation globally.
However, analysts said that for sponsors that rely on physical marketing activities, they could suffer great losses as spectators are not allowed to watch the games in-person due to the COVID-19.
Caissa, a Beijing-based tourism company that sells tickets for the Tokyo Games in the Chinese mainland, recently posted a statement saying that it would refund tickets for domestic visitors.