Cold functional test starts at China's first Hualong One nuclear project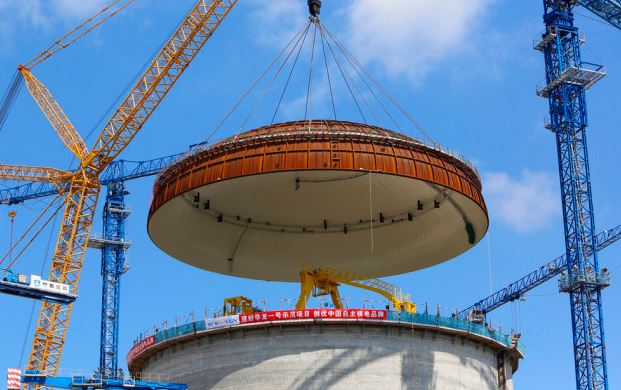 The dome is being installed at No. 3 unit of Fangchenggang Nuclear Power Plant, a demonstration nuclear power project using Hualong One technology. (Photo: IC)
Cold functional tests began Saturday on a reactor of China's first nuclear power project using Hualong One technology, a domestically developed third-generation reactor design.
The test was conducted on a circuit of the No. 5 nuclear power unit in the city of Fuqing, eastern China's Fujian Province, to evaluate the performance of the circuit system and its supporting facilities under high-pressure conditions, according to the China National Nuclear Corporation (CNNC).
The CNNC said the test started 50 days ahead of schedule.
Hualong One reactors were jointly designed by two nuclear power giants, China General Nuclear Power Group and the CNNC, and passed inspection by a national panel in August 2014.
China has since approved the use of Hualong One technology to build two reactors in Fujian, the No. 5 and No. 6 units.