Self-driving technology makes progress in auto industry
People's Daily Online
1558942735000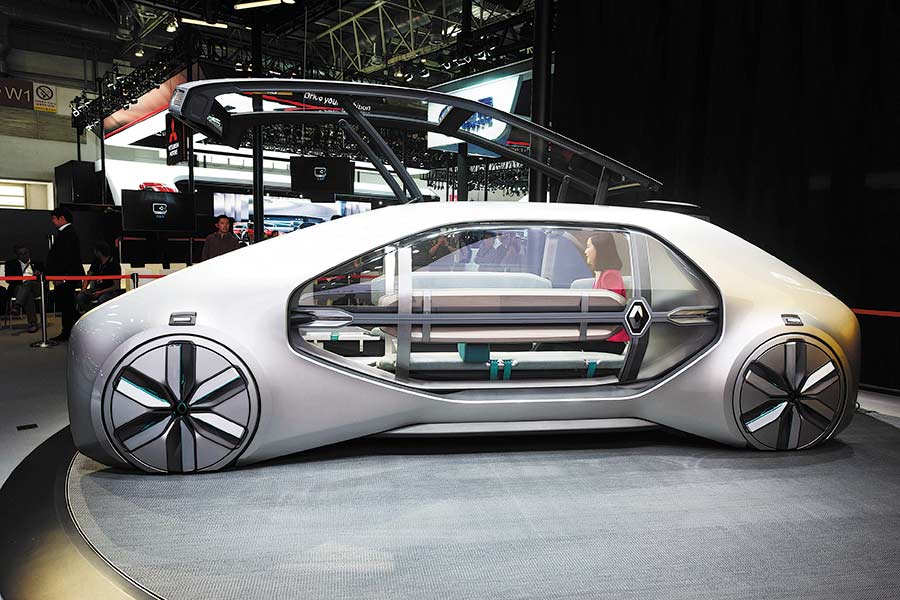 An autonomous concept vehicle on display during the Beijing auto show in 2018. (Photo: China Daily)
A remote-controlled car powered by 5G has wowed spectators as it successfully made a left turn, avoided barriers and backed into a parking lot, all controlled by a person 1,000 kilometers away.
The signal transmission delay stayed within one millisecond, said an employee with Datang Mobile Communications Equipment Co. Ltd, who presented the technology at the recently concluded Third World Intelligence Congress in Tianjin, northeastern China.
Another highlight at the conference was Muse, a concept autonomous vehicle manufactured by ICONIQ Motors, an emerging Chinese car brand. The car does not have a steering wheel. All the driver needs to do is to input the destination, and the car will drive there with the guidance of a highly accurate navigation system.
"The traditional automobile industry is in transition. Self-driving cars and intelligent connected vehicles are building a bright future for the industry," said Carsten Breitfeld, CEO of ICONIQ.
China has marched into a new chapter of self-driving technology, said Du Zhibin, director of China Automotive Technology and Research Center Co., Ltd. Automotive Data Center.
Self-driving technology is speeding up the transformation from theory to practice. John Hopcroft, an academician with the Chinese Academy of Sciences, believes that driving jobs may disappear completely with the development of autonomous driving technology.
Self-driving technology won't stop with passenger vehicles. For example, a self-driving tractor recently completed road tests in Changsha, Hunan province. Equipped with an intelligent system, the tractor can work automatically, plowing fields without the need for human intervention.