Chinese Cyber Mimic Defense system ready for global challenges
Global Times
1558633167000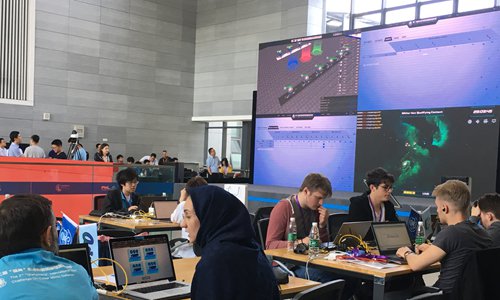 Contestants from 10 countries attack the China-proposed Cyber Mimic Defense (CMD) system at the 2nd "Qiangwang" International Elite Challenge on CMD in Nanjing, capital of East China's Jiangsu Province, on Thursday. (Photo: Global Times)
China-proposed Cyber Mimic Defense (CMD) system successfully blocked attacks from top world white-hat from 10 countries and opened a 24-hour network testbed for global white-hat to test its performance for the first time, showing the country's great confidence and openness in cyber security, said its chief designer on Thursday.

Twenty-nine teams from China, US, Russia, Germany, Japan, Iran, Poland and others have attacked the mechanism more than 2.9 million times at the 2nd Qiangwang International Elite Challenge on CMD in Nanjing, capital of East China's Jiangsu Province on Wednesday and Thursday. However, none succeeded.

"The competition was a test opened to the world, showing our great confidence in the CMD structure that can resist harm in cyberspace created by loopholes and backdoors," Wu Jiangxing, an academic of the Chinese Academy of Engineering in Beijing and founder of the CMD theory, told the Global Times on Thursday the CMD system leads the world's cyber security defense.

Chinese hacking team ROIS won, followed by a team from China's KonwnSec 404 and Nu1L team. Last year, Russian hacking team LC↯ BC took first place.


Inspired by Mimic Octopus, the master of disguise that can adapt to the environment, Wu and his team proposed the idea of mimic computing in 2008.

The competition was a battle of humans versus machines. Contestants attacked six CMD machines which appeared as virtual octopuses on the screen. Once an attack took place, the tentacles of the virtual octopuses were broken.

Among the 29 teams, only two created disturbance for the black box but failed to breach the shield. White box tests were also opened to the contestants.

Four students from Fuzhou University in East China's Fujian Province formed the team ROIS and praised the CMD system. Team leader Zheng Shixin from the College of Mathematics and Computer Science told the Global Times that, to some extent, the CMD system is unbreakable.

Last year, CMD passed the online test carried out by the Ministry of Industry and Information Technology. CMD servers have been used at the Henan branch of China Unicom to carry out trial applications and evaluation since January 2018.

It also welcomed real-name individuals or organizations to test its performance at the network endogens security testbed (NEST) from the world.