From sea to sky: Science Park in Tianjin a catalyst for innovation
People's Daily online
1559025929000
In the sky above, flying robots deliver parcels to designated stations, while under the sea, kids play with underwater scooters. In North China's seaside city of Tianjin, new technologies are filtering into the daily lives of residents. Many of these remarkable breakthroughs come from a park that lies in Binhai New Area, which has witnessed myriads of companies turn their dreams into reality.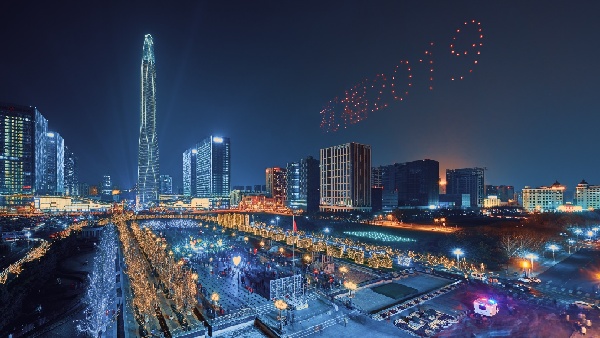 The aerial photo taken on Dec 31, 2018 shows the drone formation performance by Efy technology in Tianjin. (Photo: Xinhua)
Founded on Nov 22, 2016, the Tianjin Binhai-Zhongguancun Science Park is part of the national strategy to improve the coordinated development of the Beijing-Tianjin-Hebei region. Covering an area of 10.3 square kilometers with three highways to Beijing and only 35 kilometers away from Tianjin airport, the park fully integrates the innovative resources from Beijing with supporting services from Tianjin.
"We aim to build a smart city for all, so that people can share the benefits of technological advancement," Zheng Yi, general manager of the Tianjin Binhai-Zhongguancun Science Park operation service company, told People's Daily Online.
Located in the Science Park, Efy technology is a leading enterprise in the drone industry, covering such fields as disaster relief, agriculture, formation performance and logistics.
The company owns independent IPR in core technologies, which couldn't have been achieved without the support of this area.
"We enjoy many preferential policies here, such as allowance for recruited talents. The local government frequently communicates with us and listens to our demands and problems," Xiao Ling, a member of staff from the company told People's Daily Online, adding that the park has given them the boost that they needed in innovation and development.
Efy technology is not the only one that has benefited from the park. Within just a few years, the Science Park has created an industrial cluster effect. So far, it has welcomed over 1,130 companies, of which 260 are from Beijing, thus partly undertaking Beijing's non-capital functions.
Sublue, a leading power engaged in autonomous underwater products, such as ROV, AUV and underwater gliders, is among them. From salvage rescue to bridge dam detection, from scientific research to entertainment, Sublue's underwater vehicles can be applied in any number of fields.
"Many of the core technologies are developed by ourselves," Wang Lufei, manager of Public Relationship Department of Sublue, said proudly.
"Here is our R&D and manufacturing center. The park provides a sound business environment for us, which has attracted batches of talents to settle down here," Wang noted.
The innovation and openness in this area have accelerated the pace of these companies to go global. In recent years, Sublue has increased its presence globally, crossing Asia, America, Europe and Oceania. Around 90 percent of its consumer products are sent overseas.
Saara Fathimath, a reporter from the Maldives, expressed her wish to see the products in her country. "The underwater devices like the scooter and kickboard are very advanced and interesting. The Maldives is renowned for tourism. We have beautiful beaches and crystal lagoons. I believe the products will be popular in my country," she said.
As an essential measure to strengthen the innovation-driven development of this area, China (Binhai New Area) Intellectual Property Protection Center was stationed in the park in October 2018, providing full-chain service support to boost the transformation and upgrading of technological achievements and create an innovative entrepreneurial ecosystem.
"The governmental policies and support have enabled [the companies] to create core technologies in multiple areas," Zhang said.