International projects set for space station
chinadaily.com.cn
1560354515000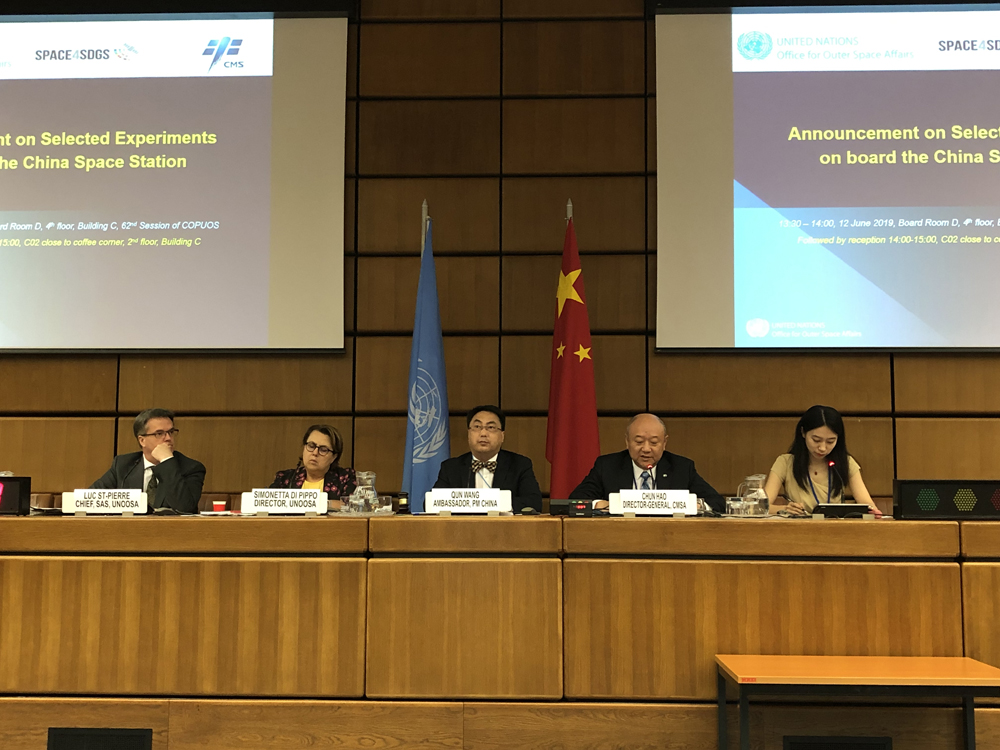 The China Space Station is set to welcome aboard nine international scientific projects from 17 countries covering a wide range of research areas, including space life sciences and biotechnology, microgravity physics and astronomy, the China Manned Space Agency and the United Nations Office for Outer Space Affairs announced on Wednesday in Vienna.

It is the first time that a China space mission has invited all members of the United Nations to conduct experiments, and is a milestone in the advancement of China's manned space program from independent development to global cooperation, said Lin Xiqiang, the agency's deputy director.
The agency's head, Hao Chun, said at the event that China will be "delighted" to see scientists from different countries, nationalities and cultural backgrounds conducting space experiments on the China Space Station.
"The purpose of China's manned space program is to benefit all mankind by peacefully using outer space, which is also in line with UNOOSA's values. China Manned Space Agency is willing to adhere to the principles of equality, mutual benefits and common development, and continue the exchanges with other countries and regions in the world that are also committed to this purpose," Hao said.
China and project applicants will sign cooperation agreements by the end of 2019, and the station is expected to be put into use around 2022. The agency will continue to work closely with UNOOSA and open a second round of applications in a timely manner.
Hao and Simonetta Di Pippo, director of UNOOSA, jointly announced the nine projects at the ceremony.
Di Pippo said the initiative between UNOOSA and the China Manned Space Agency will help bridge the gap for millions of people in the world who lack access to space exploration.
"(It) serves as a great example of China and other nations working together to unlock access to space benefits to an ever-growing number of countries and their people, contributing to the fulfillment of the 17th UN Sustainable Development Goals," she said.
Scientists from 23 entities in 17 countries will conduct experiments on tumors and microorganisms under microgravity, flame instabilities, and spectral study of nebular gas, the sequel of POLAR — a compact detector for measuring the polarization of gamma-ray bursts — as well as the development of solar batteries for space applications.
These experiments are of significance in improving the understanding of the causes of cancer and bacterial infection in long-term manned space exploration, providing a theoretical basis for fire safety in space and developing a more efficient source of energy, according to Lyu Congmin, deputy chief designer of space application systems.
The space station will provide external platforms for experimental payloads and 16 experiment racks inside the cabin that can support 11 disciplines, such as space medicine, life science, microgravity physics and material science.
The selected applicants also are welcome to bring their own experimental facilities or payloads either inside or outside the station, and China will help transport and assemble the facilities in orbit, Lyu said.