20 years' development of the Shenzhou spacecraft
People's Daily online
1578900194000
Shenzhou-1, China's first unmanned test spacecraft, was launched on Nov. 20, 1999, marking a breakthrough in China's space program.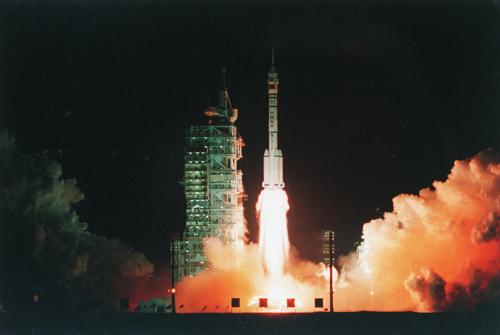 On Nov. 20, 1999, China's first unmanned test flight of the spacecraft, Shenzhou I, was launched from the Jiuquan Satellite Launch Center in Gansu province. (Photo: Xinhua)
Since then, the Shenzhou-series scientific team has sent six manned spacecraft, five unmanned spacecraft, two space labs and 11 astronauts into space.
To achieve such results, the young Shenzhou team, with an average age of 33, has worked hard on relevant research and exploration for dozens of years.
Qi Faren, the former chief designer for Chinese spacecraft, said that the space pioneer worked from scratch for China's space cause.
Not only have they independently developed the computer chip, but they have also grasped the controlling system, the technologies that could capture and control the satellite in emergencies, and other core technologies.
While developing manned spacecraft starting from 1992, to ensure the safety of the astronauts, Qi said that they have provided eight survival scenarios and prepared over 180 countermeasures for any potential malfunction.
In fact, 70 percent of the about 700,000 programs were created for emergencies, said Qi. It is because of their preparations that they haven't committed any major fault.
They are not only making it safer for astronauts, but also making it more comfortable for them.
To help make astronauts Jing Haipeng and Chen Dong more comfortable when they were taken by the Shenzhou-11 spacecraft to stay on the Chinese space lab for 30 days in October 2016, the Shenzhou team developed a multimedia system that allowed them to watch ball games, listen to the radio and even video chat with their families and friends.
The team members would simulate conditions during the research stage to make the space vehicle more friendly and convenient for astronauts.