Man realizes flight fantasy of childhood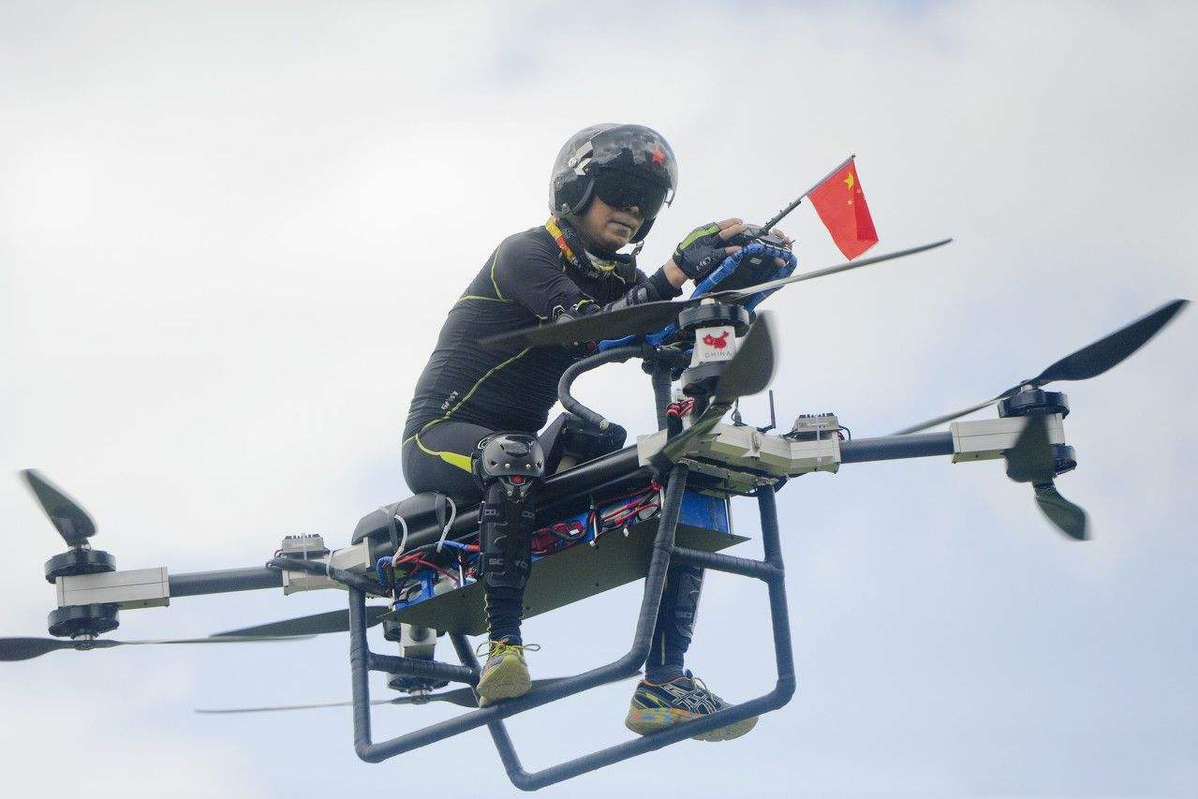 Zhao Deli rides his flying motorbike during a test in Changsha, Hunan province. (Photo: China Daily)
With eight propellers stirring in the air and the motor roaring, a flying vehicle successfully carried its inventor Zhao Deli, who was dressed in a black suit complete with a helmet, goggles and elbow and knee protectors, into the air.

During his childhood, Zhao was inspired by a cartoon where he saw the protagonist riding a flying motorbike. To realize his childhood fantasy, Zhao stopped all his work and sold his apartment in pursuit of his dream to build his own flying motorbike.
Like many men, the 41-year-old native of Hunan province has always dreamed of flying in the sky one day. He aced science subjects in school and enjoyed fixing electrical appliances at home.
However, due to his impoverished family background, he had to work at a golf range in Dongguan, Guangdong province, after graduating from middle school in 1998. Zhao later took on a variety of jobs including security guard, insurance salesman and property agent, gradually putting his childhood dream aside.
In 2008, he accidentally came across a group of people flying a remote-controlled model aircraft, which intrigued him and brought back his fantasy. He immediately bought a model aircraft for himself. However, due to his lack of basic knowledge in operating it, he broke the aircraft that same day.
"I tried very hard to fix it but failed," he said, adding that he was then determined to make himself an expert. He began to study online and made friends with many diehard fans. After half a year, he was able to make modifications on model aircrafts.
With drones becoming mainstream in China, Zhao decided to set up his own company in 2010 to sell drones. After his company was set up, five drone models had been invented by his team, including a modified drone powered with fuel.
Three years ago, Zhao read about a hover surfboard in Canada, and that was when his "flying motorbike" fantasy became more of a reality.
Despite his enthusiasm, Zhao's road to success was by no means smooth. He experienced countless failures while trying to make the manned aircraft airborne during 1,559 flight tests. Zhao even had to sell his apartment and borrow money from friends in order to continue his project.
He named the drone Jindouyun, or "Magic Cloud", which was a flying cloud used by fictional superhero Monkey King, a character from the Chinese classic Journey to the West.
He claims the lithium-battery-powered scooter can spend up to 30 minutes in the air, has a top speed of 72 kilometers per hour and can reach a height of 3,000 meters.
Zhao believed that the manned drone could prove to be an effective solution to ease traffic congestion, as well as for use by the fire departments or security forces.
He hopes to fly across the Yellow River on the aircraft one day. "It's not just to realize my own dream, but also the dreams of many others to fly," he said.