How has cutting-edge tech changed China's healthcare sector?
Compared with the entertainment and e-commerce industries, China's healthcare sector is a latecomer to the digital era.
But that is changing with government support and technological advances.
By the end of 2018, total investment in China's healthcare industry was valued at 70.6 billion yuan, according to data from the Tencent Research Institute. It is expected the number will climb to 100 billion yuan by 2020.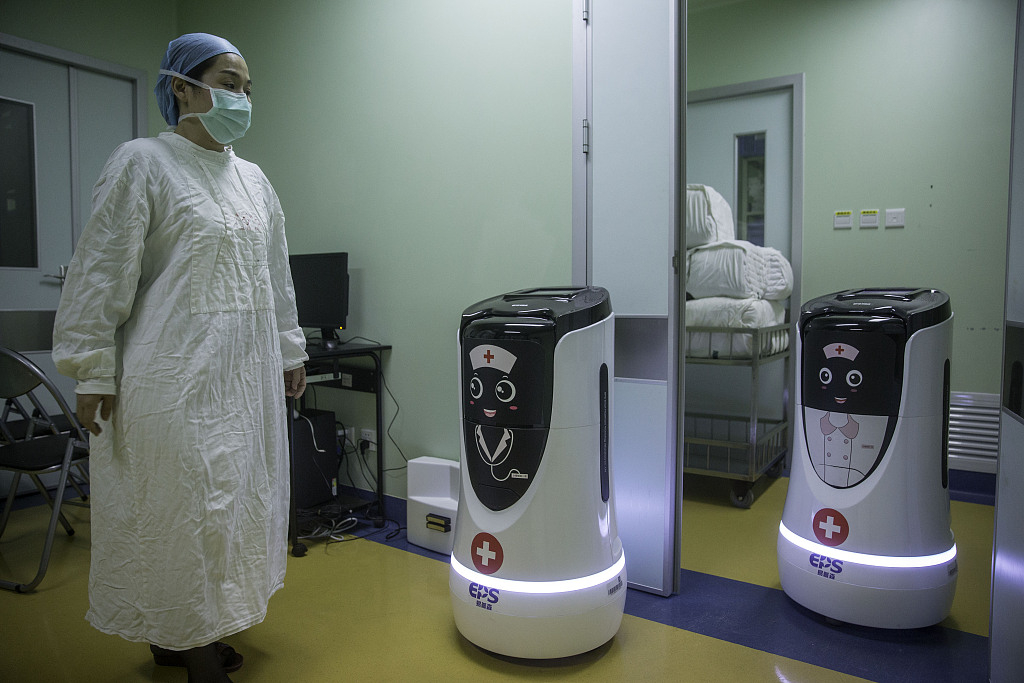 Robots return to their stations after delivering medical equipment. (Photo: VCG)
Domestic tech giants like Alibaba, Tencent and Baidu have rolled out maps for upgrading healthcare in recent years.

From hospital care to AI-based clinical research, from automated operation to predictive diagnostics, companies are bringing digital trends to the industry so as to improve the the efficiency and quality of health services. What has changed?
For patients
Patients now have more access to medical resources than ever before. When you look at major hospitals in China's big cities, you will find that the number of people lining up to register for treatment or to pay hospital bills are decreasing.
Instead, AI robot assistants in outpatient service halls are ready to solve almost all of your basic needs. Based on your questions, they can direct you to the right doctor, estimate your waiting time and process your payments.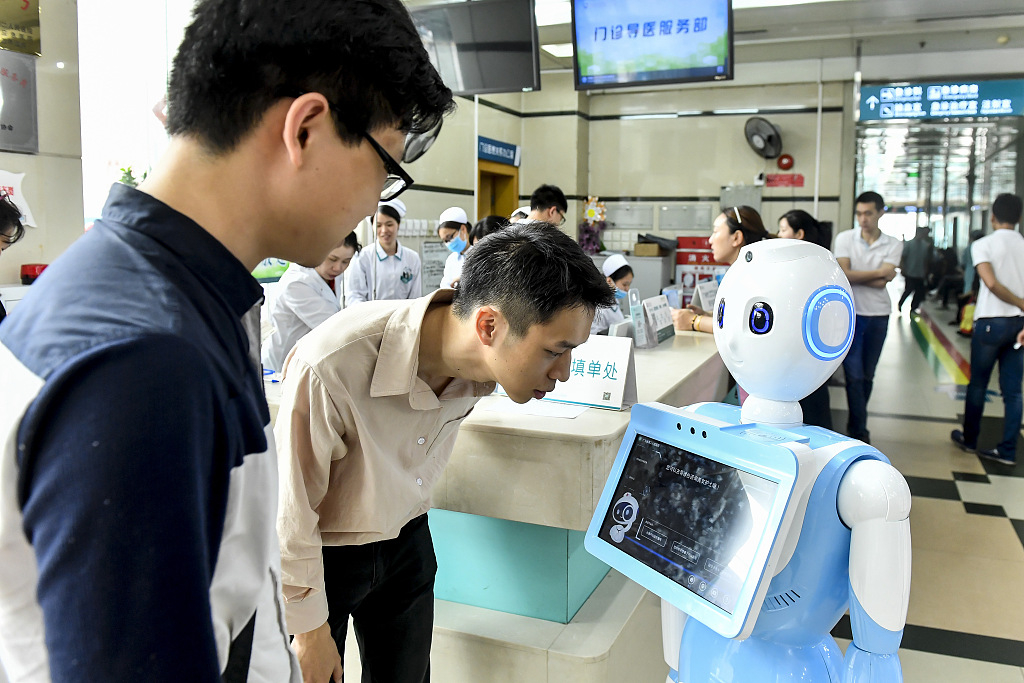 AI assistant in the hospital service hall (Photo: VCG)
Some of the robots are even handling more advanced tasks. By explaining the causes or symptoms of some common diseases, hospital visitors can learn more about the potential risks of a disease.

Robots also help doctors
According to Xinhua News Agency, colorectal cancer is the third most common malignant tumor in the world, and the disease's incidence also ranks third among all cancers in China. One reason behind such a high incidence rate is the lack of early diagnosis.
It's widely believed among doctors that a colonoscopy is the most effective detection method and treatment for precancerous lesions since surgeons can spot and remove the polyp and suspicious tumors in their early stages.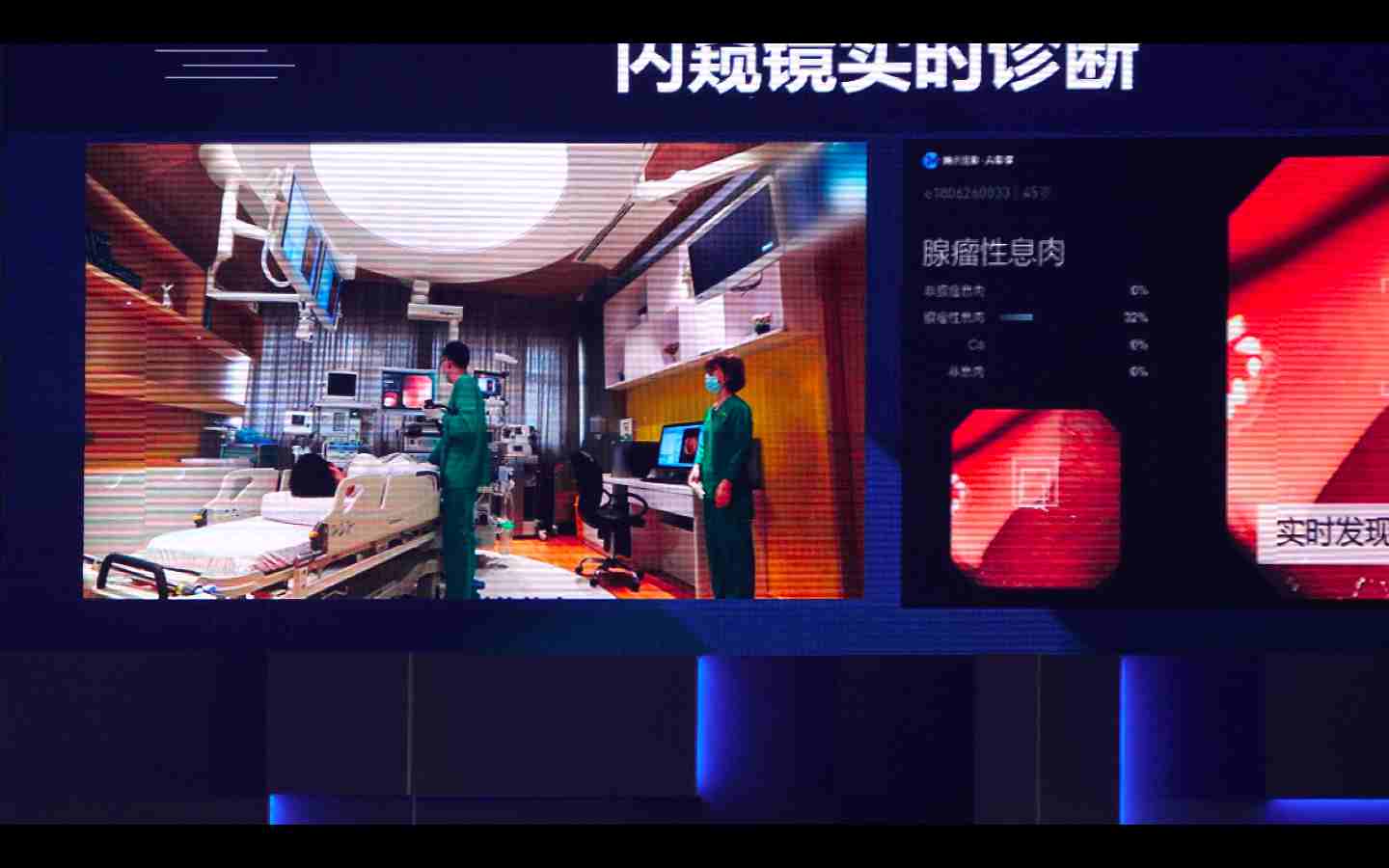 Tencent MI Ying technology (Photo: CGTN)
Tencent Mi Ying, an AI-based image recognition technology, can help a doctor locate the polyp and quantify the risk. The detection process can be projected on the screen in real time. After that, a mark will be left on screen highlighting the tumor position for the doctors.

The accuracy of the technology is 96.93 percent, comparable to the diagnosis accuracy of real physicians, the company stated, noting that the claim has been verified by medical professionals.
"Although in healthcare sector, AI is not perfect, concerns like data accuracy, ethics and moral principles, as well as safety issues are always around. I think for cancer diagnosis, especially for endoscopy, AI has a lot to say," said Li Zhaoshen, director of the National Clinical Research Center for Digestive Disease.