Will all future restaurants use AI technology?
People's Daily Online
1560354542000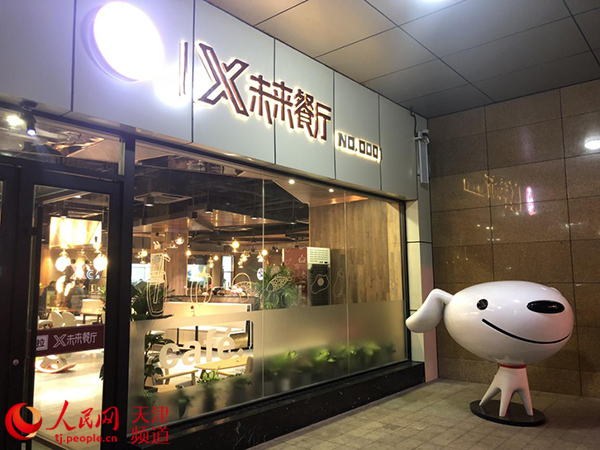 The X Future Restaurant is the first smart restaurant run by jd.com. (Photo/tj.people.cn)
With the introduction of AI technology, what will the future of traditional catering and service industries, which currently feature high labor, rent and material costs alongside low profits, look like?
It seems we might not have to wait very long to find out, as many companies are already making the switch. For example, Starbucks recently launched a mobile-based application integrating automatic speech recognition, natural language processing and big data technologies, to provide customized services for different customers.
Now, Starbucks is just one of the world's top 500 catering companies to introduce artificial intelligence into several scenarios including reservation, offline consumption and digital operation.
AI technology has enabled a robotic kitchen, featuring a fully functional cooking robot with the skill of a human chef. Customers can help themselves at the restaurant, order food and pay via facial recognition.
With this type of smart restaurant, restaurant owners will no longer have to worry about stock systems and logistics, preferring to rely on big data analysis.
A smart canteen using big data and internet technologies appeared at the most recent China International Big Data Expo. According to Chongqing University of Posts and Telecommunications, the smart cafeteria caused a 33-percent increase in revenue, reduced leftovers by 2 percent, and enhanced operational efficiency.
However, it takes time to apply AI or other cutting-edge technologies in real scenarios, said an insider.
AI solutions and products in catering which boast local characteristics are generally designed based on the feedback of local markets and customers, thus requiring customized development.
So far, AI application in the catering industry remains in an initial phase, said Liang Chuang, founder and CEO of Business Opportunity Box, a startup running on an E2B model.
In the end, what's most important is the dining experience of customers.
Robots don't get sick or transmit infectious diseases. Some customers believe that this will guarantee food sanitation, while some noted that they would always prefer human waiters or waitresses who can give a warm welcome that a robot just isn't able to do yet.
(Compiled from Science and Technology Daily)