Homegrown 3D-printed tantalum implant sees clinical trials
China has performed clinical trials on its homegrown 3D-printed porous tantalum implants, taking a leading position globally in this technology, Science Daily reported on Monday.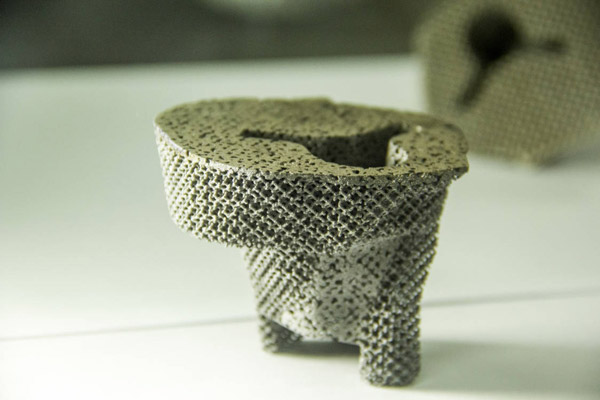 File photo: A 3D-printed tantalum joint. (Photo: China Daily)
The research project into customized 3D-printed porous tantalum implants began in 2016. The research team, led by the First Hospital Affiliated to Army Medical University (AMU), completed the world's first knee-revision surgery using a customized 3D-printed porous tantalum implant in 2017 and has so far conducted 27 clinical trials on tantalum implants.
The incidence of osteoarthritis among Chinese is about 2.2 to 3.5 percent, and the rate has increased to 27 percent and 62 percent among people aged 40-49 and 50-59, respectively, according to Yang Liu, head of the department of joint surgery at the First Hospital Affiliated to AMU. Customized 3D-printed implants can fill and reconstruct bone defects, better helping patients to recover and reducing side effects.
Tantalum is generally recognized as the most biocompatible material with hard tissues by the medical world. With a highly porous structure, mechanical properties similar to human bones, and excellent antimicrobial characteristics, tantalum is more suitable than other metals for implanting in the human body.
However, the exceedingly high melting point of tantalum -- 2,996 C -- has always been a big impediment in employing the metal in 3D printing.
The Chinese research team has solved a number of hard technical problems and developed technologies with fully independent intellectual property rights, including personalized porous tantalum implant designing, tantalum powder manufacturing as well as equipment and techniques for the 3D printing of tantalum.
After an accurate three-dimensional CT scan of the patient provides data on normal bone and bone defects, it takes only 72 hours to design a porous tantalum implant and 3D print the customized implant using a 3D reconstruction system.
"It ensures that the patient can get prompt treatment and the personalized implant can perfectly match the defect site," said Wu Xianzhe, head of a Chongqing institute participating in the project.