Researchers forecast COVID-19 spread in China from population flow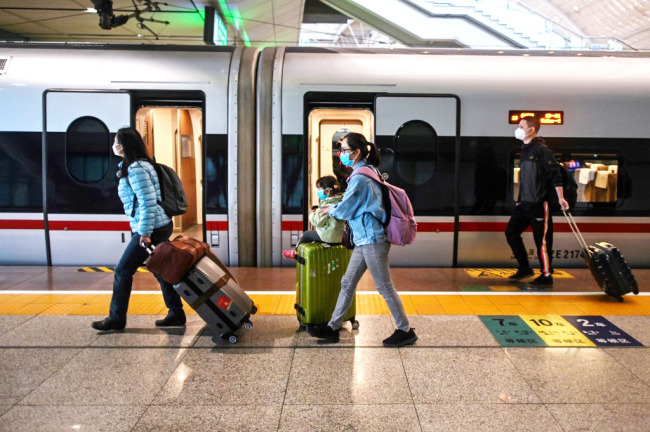 People wearing face masks as a preventive measure against the spread of the novel coronavirus arrive to board a train heading to Shanghai at Wuhan Railway Station in Wuhan, China's central Hubei province on April 21, 2020. (File photo: AFP)
A paper titled "Population Flow Drives Spatio-Temporal Distribution of COVID-19 in China" was published on Nature on Wednesday. Using mobile phone data, it tracked the population flow in China and accurately predicted the geographical and temporal spread of COVID-19 in the country.
The study analyzed the distribution of the outflow population from the epicenter Wuhan at the beginning of the outbreak in January 2020, showing distribution of population outflows can accurately predict the frequency and geographical locations of COVID-19 infections in China up to two weeks in advance.
The research team consists of researchers from Chinese universities in Hong Kong, Changsha, Chengdu and Shenzhen, and from Yale University in the United States.
Submitted on February 18, the study used anonymous mobile-phone-data-based counts of 11,478,484 people leaving or transiting through Wuhan between January 1 and January 24, 2020, as they moved to 296 prefectures throughout China.
Based on the data, researchers developed a spatio-temporal "risk source" model that leverages population flow data to not only forecast confirmed cases of but also to identify high-transmission-risk locales at an early stage. They used the model to statistically derive the geographic spread of COVID-19 and the growth pattern based on the population outflow from Wuhan.
"The logic of our population-flow-based 'risk source' model differs from classic epidemiological models that rely on assumptions regarding population mixing, population compartment sizes, and viral properties," researchers said in the paper.
According to the team, the model can help policy makers to make rapid and accurate risk assessments and to plan allocation of limited resources ahead of ongoing outbreaks.