China urgently needs 5G security strategy to join global digital race: political advisor
Global Times
1589999196000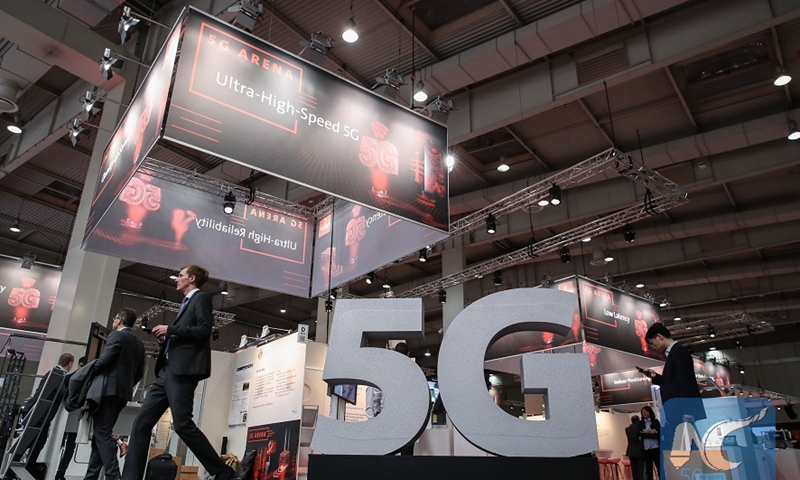 Visitors are seen at the 5G Arena during the 2019 Hanover Fair in Hanover, Germany, April 1, 2019. (Photo: Xinhua)
While Western countries boost the construction of their 5G networks as part of their national security strategies, a political advisor said that China, a country with an extremely large scale of 5G-connected facilities, urgently needs a national security strategy to join the global digital race in addressing cybersecurity threats.

"In the global digital economic race, China cannot stay out of the game. Formulating the national 5G security strategy is a necessary measure to adapt to the development of 5G at home and overseas," Zhou Hongyi, a member of the National Committee of the Chinese People's Political Consultative Conference (CPPCC) and CEO of internet security company Qihoo 360, told the Global Times on Wednesday.

Zhou suggested that China relies on cybersecurity companies to improve the nation's cyber intelligence collection capabilities, and to build an overall security response system combining threat examination, analysis, emergency response and traceability. Related cybersecurity companies can share intelligence and deal with threats together.

Zhou told the Global Times that plans and programs for cybersecurity should be rolled out at the same time as the launch of 5G infrastructure, and network facility suppliers, network operators and security enterprises should participate in resolving 5G security risks and threats.

Zhou will bring his proposal to the two sessions, which will help China reduce security risks since 5G - the engine of the industrial network and carrier for new infrastructures - will break down boundaries between virtual and physical spaces. Huge security risks come with this development.

Chinese experts said that in the 5G construction, if a network or software is attacked or loopholes developed, the entire new infrastructure could be crippled, posing threats to national security.

"Data transmission will be as fast as lightning in 5G networks, which will play an important role in military combat as well, so emphasizing 5G security is urgent," Qin An, head of the Beijing-based Institute of China Cyberspace Strategy, told the Global Times on Wednesday.

Previously, a Chinese security company found evidence that hackers from the US Central Intelligence Agency had carried out cyberattacks on Chinese organs in aerospace sector, scientific research institutions, internet companies, oil industry and government agencies for years.

Qin said that China has deployed cybersecurity plans on dealing with threats in the construction of both 4G and 5G networks, which will defend China from cyberthreats, but the country should roll out the details more quickly.

To ensure a sound emergency response mechanism and to detect security loopholes, Zhou suggested that the security and cyber industries launch cyberinvasion and defense simulation drills on a regular basis.

In Western countries, 5G networks are regarded as future geopolitical weapons and the US and some European nations often deliberately set up blockades and accuse Chinese enterprises of posing national security threats in the launch of 5G construction by imposing entry restrictions. Chinese telecommunications provider Huawei is one of the victims of global digital competition.

"China should compete for more say in the international 5G arena by positively promoting 5G technology and international 5G security standards and security certification systems," Zhou said.

The Ministry of Industry and Information Technology announced that it would enhance its support for building a robust 5G network in China while pushing forward the construction of an internet security system for 5G networks, the industrial internet and data centers.

The US has adopted at least three 5G-related acts in recent years. Its "National Strategy to Secure 5G of the United States of America" passed in March outlines plans and core security principles for 5G communications infrastructure. France passed an act to preserve its interests in defense and national security in 2019, aiming to build a full 5G network by 2030.