Race to space: One small step for SpaceX, giant leaps for Chinese space startups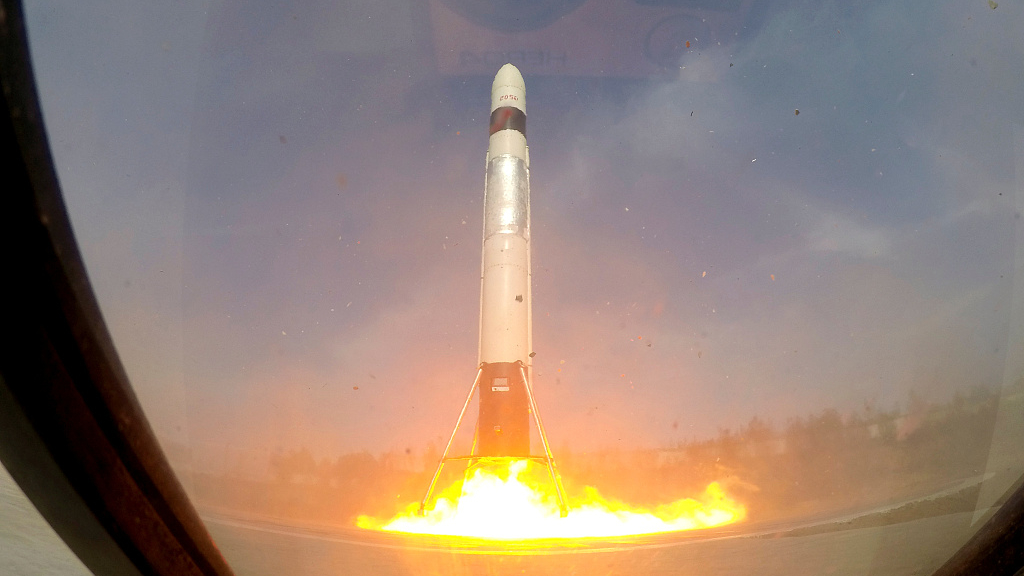 LinkSpace's reusable rocket RLV-T5, also known as NewLine Baby, blasts off during a test launch on a vacant plot of land near the company's development site in Longkou, Shandong province, China, April 19, 2019. (Photo: VCG)
After years of waiting for a clear sign that commercial space travel may indeed happen during his lifetime, the moment finally arrived for Austin Barnard.
The 21-year-old south Texas resident and space aficionado's wish came true Tuesday when SpaceX successfully tested its Starship prototype Starhopper by flying 150 meters above ground for a few seconds before landing on a nearby pad.
"I was blown away," said Barnard. "I'm seeing the future right in front of my eyes."
"Hoppy" – as Barnard nicknames it – blasted off from its base in Boca Chica, Texas, just a few miles from the border with Mexico. Drone footageshows how its signature Raptor booster engine helped propel a stainless steel vehicle resembling what SpaceX founder Elon Musk calls a "water tower."
It was a small step in the scheme of SpaceX plans, but certainly an important achievement for the space exploration company, which seeks to one day reach our neighboring Red Planet.
The race to space
The test flight was one of several notable space race developments this week including the launch of the US Space Command and China's Kuaizhou-1A launch of two satellites into space.
"There's also some great progress on entrepreneurial rocket companies in China," said Musk during Thursday's 2019 World Artificial Intelligence Conference in Shanghai. "I believe two have made orbit. It's very difficult, it's very hard to make orbit. Achieving orbit… I have great respect."
Musk has taken notice of China's space ambitions, which in 2014 turned to the private sector for investment and innovation, much like the US government did over a decade ago with SpaceX.
Chinese space startups are quickly catching up to SpaceX and other western giants including Jeff Bezos' Blue Origin and Richard Branson's Virgin Galactic.
"China's space ventures aren't quite to the point of overtaking American giants like SpaceX. Where China excels is in its rapid growth in space industry investment for these companies," reported CNBC.
China's OneSpace completed its first successful suborbital rocket launchin 2018, while Linkspace successfully completed its third recyclable orbital rocket test on August 10. All signs that Chinese private space companies may one day outperform their western counterparts.
Chinese investments in the space sector have increased dramatically since 2016, with China leading the world in the third quarter of 2018, according to US investment firm Space Angels.
Regarding the probability of China dominating the modern space race, Space Angels CEO Chad Anderson told CNBC, "If SpaceX wasn't in the picture then I think that there would be a much bigger risk of that happening."
If not now, when?
While countries including the US, China, and Russia may look at space as the next great frontier to conquer, Musk's vision seems to be one of a philanthropist seeking to reach Mars and help humans become an interplanetary species for its survival.
"This is the first time in the 4.5-billion-year history of earth that it has been possible to extend life beyond earth," argued Musk. "How long will this window be open? I think it would be wise to assume that it will be open for a short time."
Starhopper is expected to fly again in late October to a higher altitude and attempt to orbit shortly thereafter, tweeted Musk. SpaceX plans to unveil more details on Starship and its booster the Super Heavy at the end of September.
For young hopefuls like Barnard, whose dream is to help humans get to Mars, it doesn't matter which country gets there first, as long as it gets there quickly.
"In 5 billion years, once our sun turns into a supernova, earth will blow up. So humanity, if we survive that long, will have to eventually leave our home planet. So it's better that we start now so that when we get to that point we will have many homes to move to," he said. "If it's not the Americans, it can be the Chinese or the Russians. It's going to be someone."