'Tech for good' to be cutting edge of IT products: white paper
People's Daily app
1578902068000
A white paper on developing IT technologies for social good was released by Tencent, China's tech giant, at the third "Tech for good" annual conference themed on "Action now" on Saturday in Beijing, with the main agenda set on exploring the paths for the industry to promote harnessing the positive side of technologies.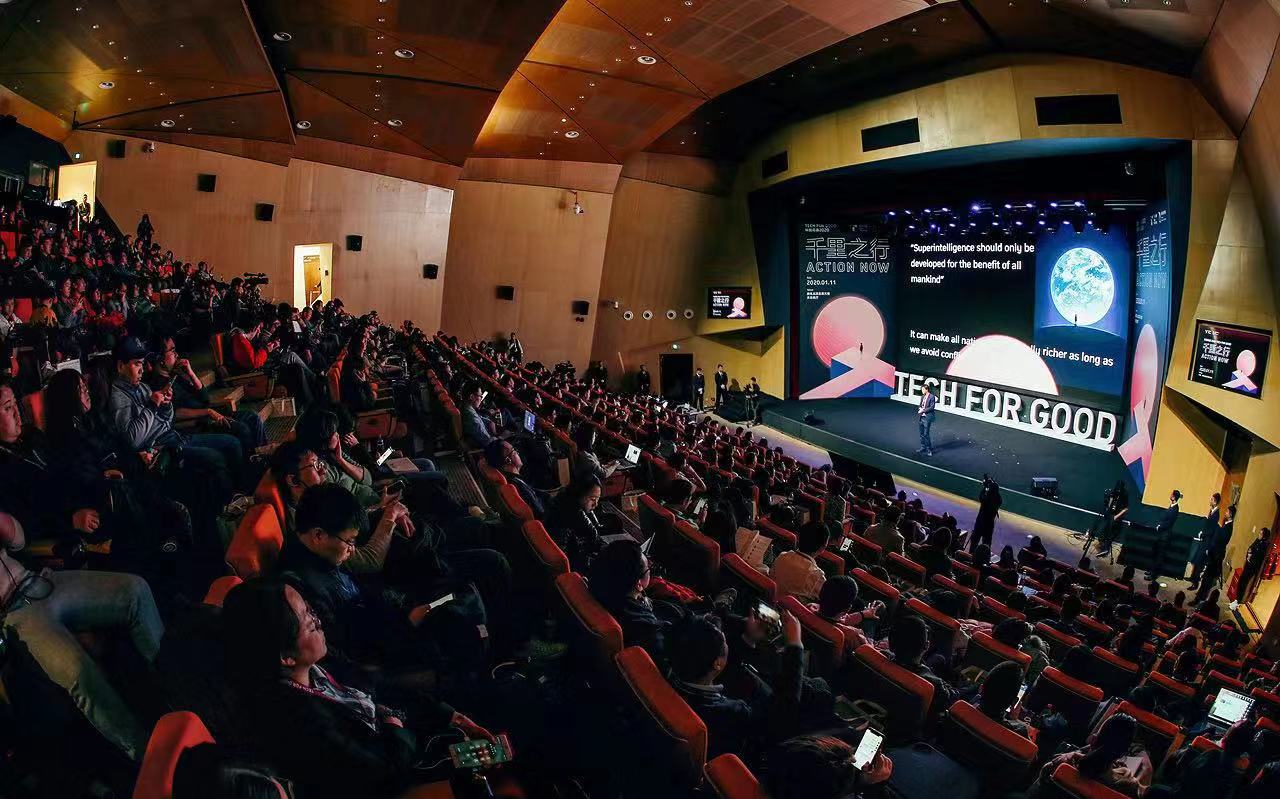 The third "Tech for good" annual conference is held at the Tencent headquarters in Beijing. (Photos provided by Tencent)
"Tech for good" was upgraded as a new mission and outlook of Tencent in November 2019 and has been the focus of the industry as major IT companies including Microsoft, Apple and Alibaba all made commitments and took action to promote tech for good in the past year.
In the preface to the white paper, Pony Ma, founder, chairman and chief executive officer of Tencent, said that the new mission and outlook of Tencent was user oriented and tech for good. Social responsibility will be incorporated into all products and services to promote tech innovation and cultural inheritance by upgrading all industries and sectors and promoting the sustainable development of society.
For future actions, tech for good calls for elevating the benefits for society with technological means and reaching consensus and seeking solutions for underlying risks as well. Such a cause may become the next cutting edge of tech companies when competing for a larger market share as it seeks long-term value for consumers and society.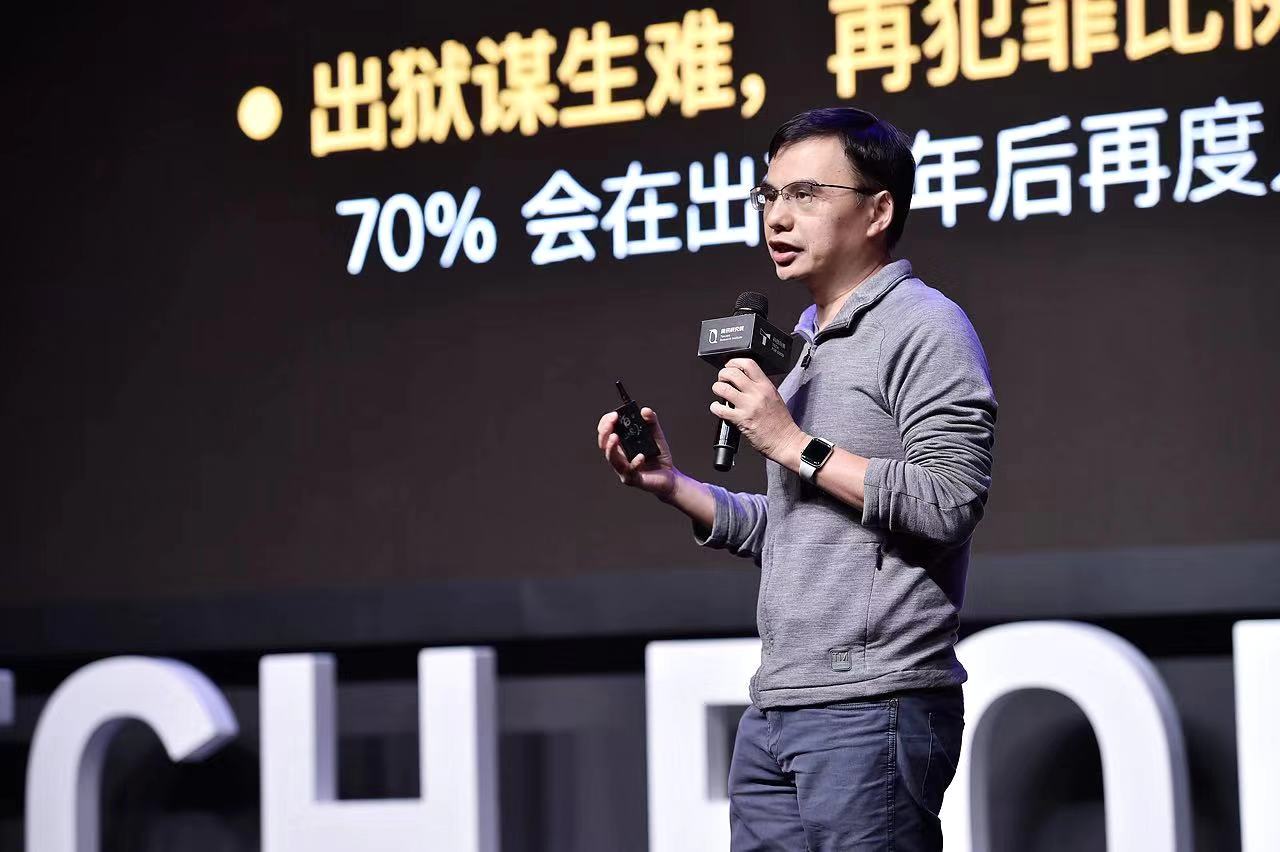 Tony Zhang, one of the founders and former CTO of Tencent, speaks at the annual conference.
At the conference, Tony Zhang, one of the founders and former CTO of Tencent, stressed the importance of social benefits for tech companies in his keynote speech. "Many tech companies aspire to pursue tech for good but often suffer pressures to survive and develop. KPIs for enterprises often refer to solid numbers like market share, active users, revenue, and profits. In contrast, social benefits are not easily quantified so they tend to be put low on the agenda when facing fierce competition," said Zhang.
Zhang quoted several cases as to how tech companies took into account social benefits, including how online games set up a health agreement with users to avoid fatigue and addiction and how the food delivery service of Meituan offered the choice of no disposable dishware to users to reduce environmental pollution. "'Tech for good' is an ability and opportunity for IT products. I hope more professionals can launch more ways of harnessing technology to give society more confidence," he added.
Max Tegmark, professor of physics at the Massachusetts Institute of Technology and co-founder of the Future of Life Institute, noted in his speech that it's essential to draw the line between what's acceptable and unacceptable in terms of applications of AI technologies. People should actively make efforts to answer the questions of technology instead of simply waiting, he added.
Stephen Balkam, founder and CEO of the Family Online Safety Institute (FOSI), urged the building of a responsibility and account system in which the government, enterprises, regulations, teachers and parents all shoulder certain responsibilities to make children access the internet wisely and reasonably. Balkam noted that society not only needs to make sure that children don't access certain content, including pornography and violence, but also give them certain freedom so that they can learn to be independent.
Wu Xiaobo, a well-known finance writer and author of "The Story of Tencent", said that the complications of tech for good lie in the fact that it's not only a tech and commercial issue but also relevant to the dilemma of people. "The internet world used to be flat where information can be freely exchanged. But now we have reached a consensus that it also has boundaries instead of having unlimited access," said Wu in his keynote speech.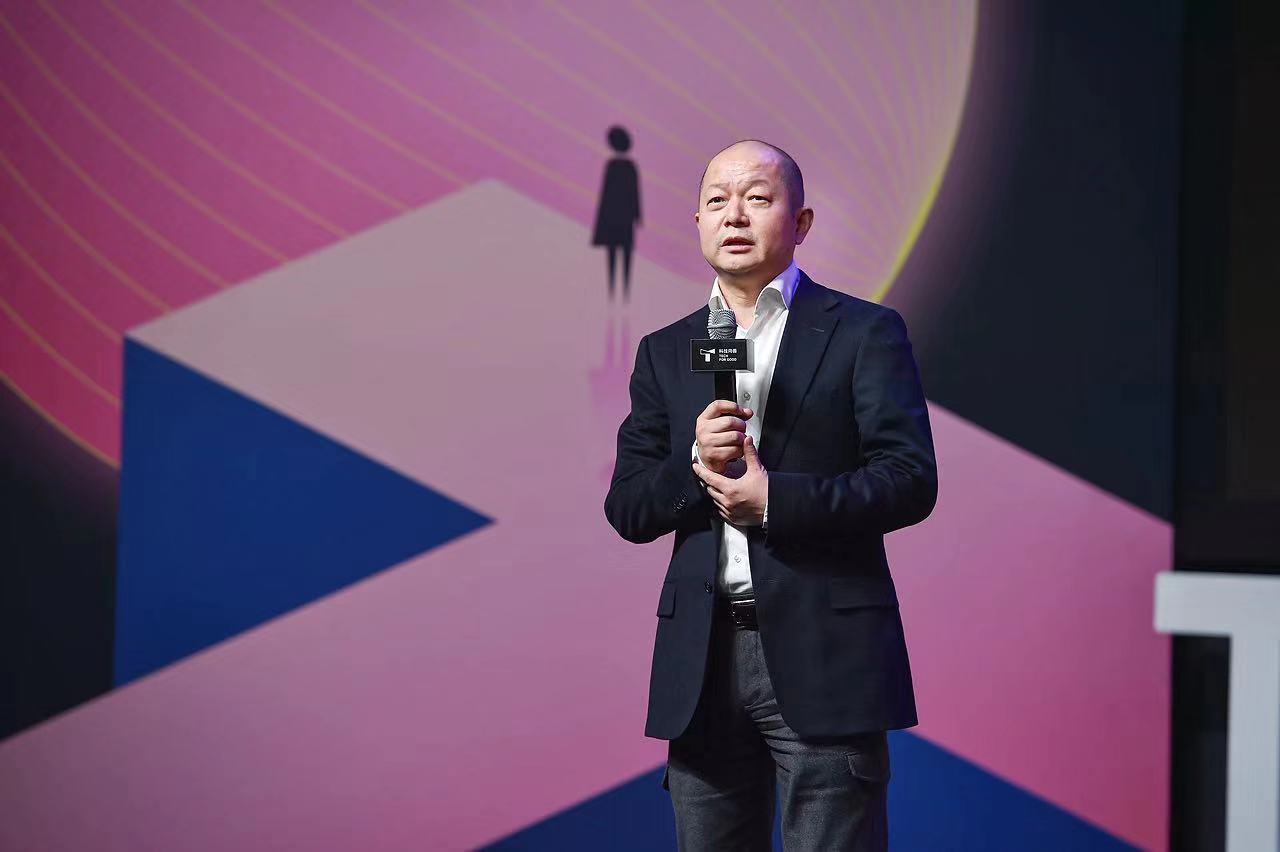 Leon Guo, SVP of Tencent Holdings, gives his closing remarks at the conference.
"'Tech for good' as the new mission and outlook of Tencent is only the first step of the thousand-mile journey. People are still clueless about digital society, not crystal clear about how to govern it, protect privacy and set ownership of digital property. So all the questions are being discussed without reaching a consensus," said Leon Guo, SVP of Tencent Holdings. Guo stressed that "tech for good" is only a road sign instead of the destination.
Talking about the white paper, Si Xiao, head of the Tencent Research Institute, compared "tech for good" to finding a seatbelt for the future digital society. "The seatbelt is a miniature of how people harness technology, a process of how a few people came to recognize its importance to reaching a consensus among the industry and finally turning into a daily necessity for everyone. 'Tech for good' is not to bind ourselves but a must when steering towards a better future," said Si.
Landmark cases of "tech for good" are included in the white paper as to using a series of tech and non-tech measures to avoid plagiarism in articles on Wechat accounts and applying facial recognition in searching for lost family members, with countless social benefits generated.
The second half of "tech for good" has just begun and no one in the digital society can be an outsider. "We hope that everyone can build a beautiful digital society by taking 'tech for good' as the principle and value for their actions," said the white paper.