India successfully launches Moon Mission-2
People's Daily app
1563787395000
New Delhi (People's Daily) - Scientists of the Indian Space Research Organization (ISRO) announced that India had successfully launched Moon Mission-2, or Chandrayaan 2, on Monday.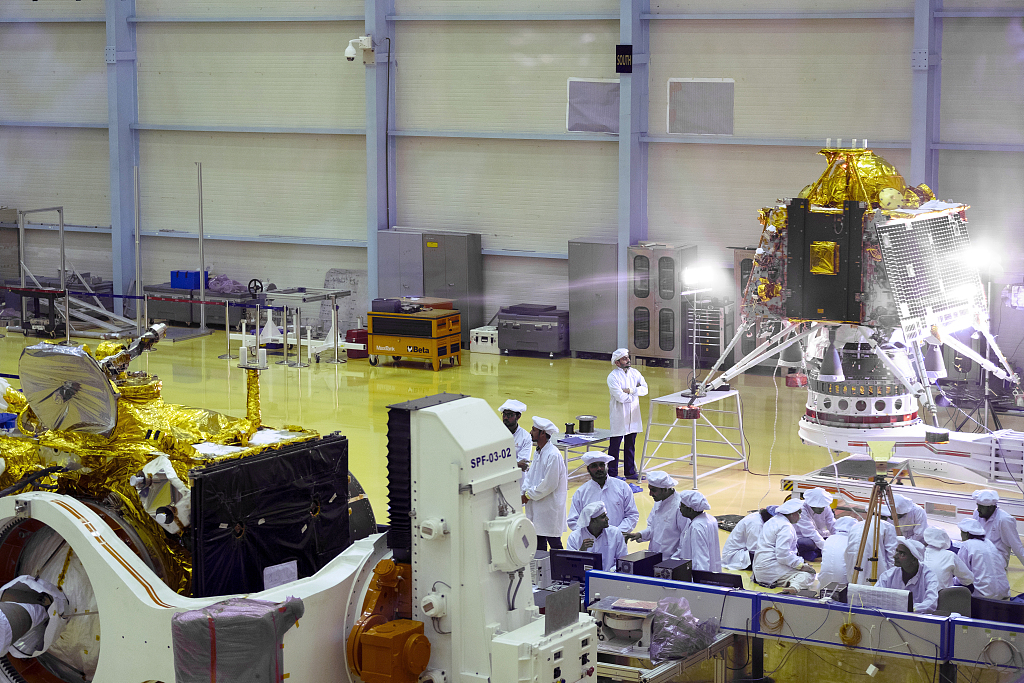 Scientists and employees view the Chandrayaan-2 spacecraft Lander module, right, and Orbiter module, left, at the Indian Space Research Organization Satellite Integration and Test Establishment (ISITE) at the ISRO headquarters in Bengaluru, India. (Photo: VCG)
ISRO said rockets separated from the main rocket, and that all parameters of Moon Mission-2 performing normally.
Moon Mission-2 will spend 23 days in Earth's orbit, where it will undergo 15 crucial maneuvers. The journey to the Moon is expected to take around seven days, before it spends 13 days in lunar orbit. In the first week on September, a module of the spacecraft is expected to land on the Moon. The journey to Moon is 384,400 kilometers.
Moon Mission-2 is seeking to explore the unchartered Lunar south pole. The moon mission launch made India the fourth country after the US, Russia, and China to pull off a soft landing on the moon, NDTV reported.
Moon Mission-2 consists of three modules: an orbiter, lander and rover. The orbiter will orbit the Moon from 100 kilometers away, the lander will carry the rover module to the surface of the Moon. The lander module is called "Vikram" and the rover "Pragyaan", and have a six wheeled solar-powered vehicle.
The Geosynchronous Satellite Launch Vehicle Mark 3 (GSLV MK 3), nicknamed "Baahubali", is a 640-ton rocket 44 meters long--as tall as a 15-storey building.
The mission was aborted before its launch last Monday due to a technical snag.