Honor charts 'smart' growth strategy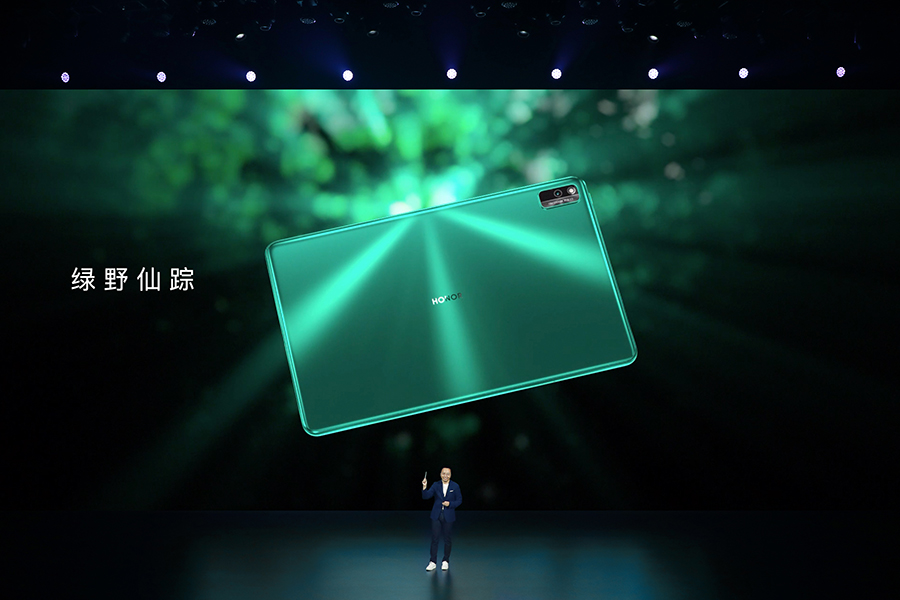 Zhao Ming, president of Honor, unveiled its latest tablet on May 18, 2020. (Photo: chinadaiy.com.cn)
Honor, one of the two signature smartphone brands of Huawei Technologies Co, is looking to tap into Chinese consumers' reviving demand for electronic products with a string of new smart home devices, including televisions, wireless earbuds, and smart vacuum cleaners.
The move came as the world's second-largest smartphone maker said it accounted for 55.4 percent of China's 5G phone market during the first quarter of this year.
Honor has unveiled its X1 smart TV, which uses an ultra-high-definition full-screen with a 94 percent screen-to-body ratio. Paired with its smart assistant, the new TV can be controlled via Honor's smartphones.
The move is part of Honor's efforts to increase its presence in the internet of things era, as 5G and artificial intelligence are set to empower more home appliances.
Zhao Ming, president of Honor, said the company has the confidence to become a leader in the IoT sector.
Honor, created in 2013 to complement the Huawei brand, focuses primarily on its target audience of millennials and people pursuing young fashionable lifestyles. It is now the most popular smartphone brand on China's e-commerce platforms and has been expanding its presence in the smart home market.
"We became the leading online smartphone brand in just four years. Such experiences will also help us to compete in the smart home market," Zhao said.
Data from market research agency iiMedia Research show that the market size of China's smart home industry exceeded 150 billion yuan ($21 billion) in 2019.
Honor unveiled its first smart TV in August 2019, marking the company's official entry into the TV-related sector amid mounting competition.
It is also the first electronic product that is powered by its in-house operating system Harmony OS, as Huawei aims to build its own software ecosystem for the era of the internet of things.
Zhao said the company aims to leverage its years of innovation in smartphones to reshape the role of TV in daily lives, and smart TVs play an important role in the company's IoT strategy.
The intensified push into IoT comes at a time when consumers are reigniting their demand for cutting-edge devices, as the COVID-19 outbreak came under better control in China.
Smartphone shipments in China rose by 17.2 percent in April on a yearly basis, the first such expansion in the past four months, indicating a rebound in consumers' enthusiasm for electronic products, according to the government think tank China Academy of Information and Communications Technology.
Xiang Ligang, director-general of the Information Consumption Alliance, a telecom industry association, said Huawei's strong research and development capabilities will give Honor an edge in competition with rivals, including Xiaomi Corp, in the IoT sector.