Clinical trial of antimalarial drug for COVID-19 treatment starts in US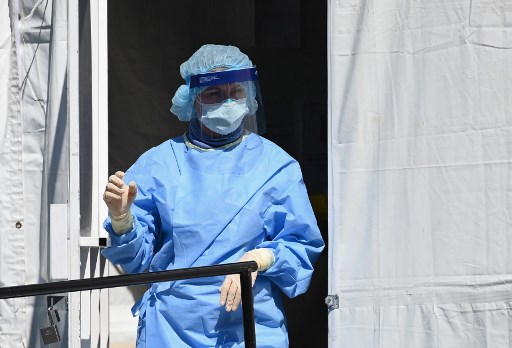 A medical worker walks out of a coronavirus, COVID-19, testing tent at Brooklyn Hospital Center on March 27, 2020 in New York City. (Photo: AFP)
WASHINGTON, April 9 (Xinhua) -- A clinical trial to evaluate the safety and effectiveness of hydroxychloroquine, an antimalarial drug, for the treatment of adults hospitalized with COVID-19 has begun in the United States, according to a release of the National Institutes of Health (NIH) on Thursday.
The first participants have enrolled in the trial at Vanderbilt University Medical Center, Tennessee.
The blinded, placebo-controlled randomized clinical trial aims to enroll more than 500 adults who are currently hospitalized with COVID-19 or in an emergency department with anticipated hospitalization.
All participants in the study will continue to receive clinical care as indicated for their condition. Those randomized to the experimental intervention will also receive hydroxychloroquine, according to the NIH.
"Effective therapies for COVID-19 are urgently needed," said James Kiley, director of the Division of Lung Diseases of the National Heart, Lung, and Blood Institute, part of the NIH.
"Hydroxychloroquine has showed promise in a lab setting against SARS-CoV-2, the virus that causes COVID-19 and preliminary reports suggest potential efficacy in small studies with patients. However, we really need clinical trial data to determine whether hydroxychloroquine is effective and safe in treating COVID-19," he said.