New study shows effective containment help control COVID-19 cases growth in China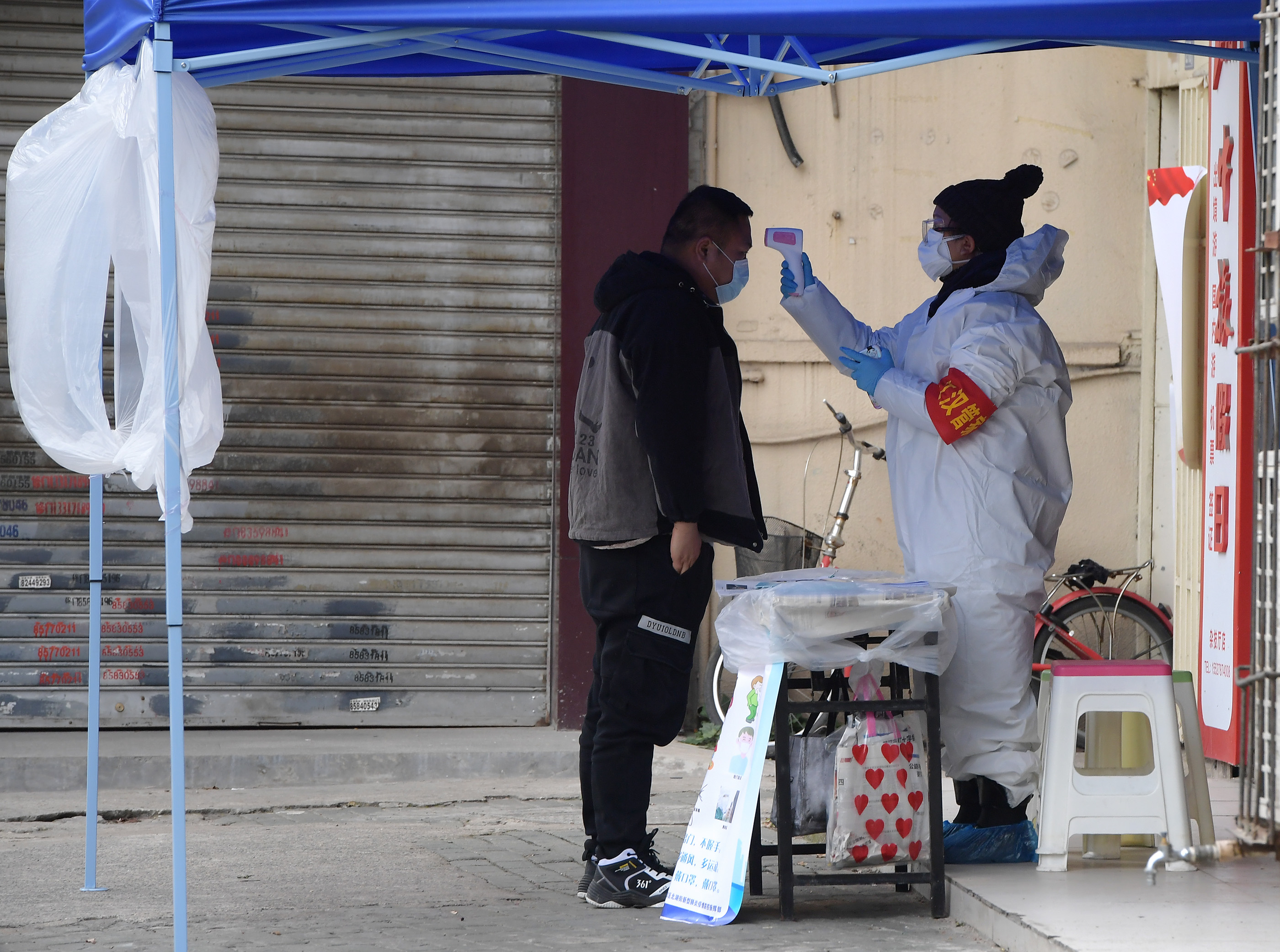 A staff member from Wuhan government department who works as a community inspector, measures a visitor's temperature at the entrance of a residential block in Wuhan, central China's Hubei Province, Feb. 10, 2020. (File photo: Xinhua)
WASHINGTON, April 8 (Xinhua) -- A new modeling study published on Wednesday shows COVID-19 cases did not grow exponentially in China after February because of a combination of the containment strategy China deployed in the early phase of the COVID-19 outbreak and behavioral changes among the population at large.
The study, published on Science magazine on Wednesday, shows how efforts by the Chinese government effectively depleted the susceptible population in the country.
After an exponential rise in cases of COVID-19 in China from January to February this year, the total case count saturated at 67,800 cases in Hubei as of March 28, with no new cases per day, according to the study.
Early in the outbreak, the Chinese government put several mitigation policies in place to suppress virus spread. Positively diagnosed cases were either quarantined in specialized hospital wards or put under a form of monitored self-quarantine at home, said the study.
Furthermore, to protect the susceptible population, the Chinese government introduced social distancing measures, as well as contact tracing where possible, said the study.
These combined efforts not only protected susceptible people from acquiring the infection but also removed a substantial fraction of the entire pool of susceptible people from the transmission process, according to the study.
To test a hypothesis that these efforts led to the surprisingly slower growth in new cases in China by late March, researchers led by Benjamin Maier of Robert Koch Institute in Germany, introduced an epidemiological model that reflects isolation of both susceptible and infected individuals. Their model predictions of case numbers in Hubei Province and beyond compared well to observed case numbers.
The results of this modelling approach indicate that the public response to the epidemic plus containment policies were becoming effective despite the initial increase in confirmed cases, according to the study.
The results could inform development of containment strategies for currently developing large-scale secondary outbreaks, the researchers noted.