39-year-old heads China's 3rd carrier construction
Global Times
1574383997000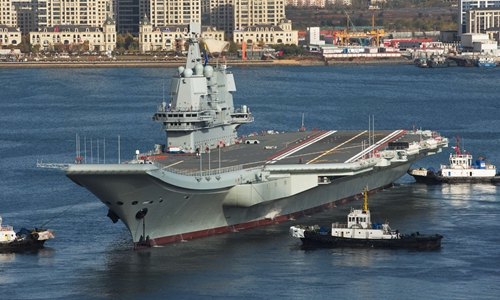 China's second aircraft carrier leaves the Dalian Shipyard for its ninth sea trial on Thursday. (Photo: IC)
With military observers expecting China's second aircraft carrier to join naval service soon, the country's third aircraft carrier is being built in Shanghai, headed by a 39-year-old builder, the state broadcaster reported.

Experts said on Thursday that China's shipbuilding industry consists of very young teams and has mastered technologies to build aircraft carriers that could one day rival the US.

China's third aircraft carrier is under construction at Jiangnan Shipyard in Shanghai, and its chief builder was born in 1980, Jin Yi'nan, a professor at National Defense University of the People's Liberation Army (PLA), disclosed in a China Central Television (CCTV) program this week.

Jin said he recently visited the shipyard, but did not reveal the name of the chief builder or anything on the new carrier's development.

The Xinhua News Agency reported in November 2018 that the new type of aircraft carrier was being built, but official media has rarely mentioned any progress since then.

Military observers speculated that the third carrier could be larger than the previous two and feature a flat deck with an electromagnetic catapult.

Hu Wenming, then-chairman of China Shipbuilding Industry Corp and head of China's aircraft carrier program, said on CCTV in August that China has a mature development and construction team, with 36 years as the average age of team members.

"Whatever type of aircraft carrier our country wants to develop, we can make it on our own," Hu said.

China learned from refitting the purchased former Soviet aircraft carrier Varyag into the Liaoning, used the experience in building the second carrier, and is now applying innovations in the third one, a military expert who asked not to be named told the Global Times on Thursday.

"The teams are very young, and you can expect them to build aircraft carriers that could be on par with the ones of the US in the foreseeable future," the expert said.

China's second aircraft carrier sailed through the Taiwan Straits on Sunday and conducted tests and training in the South China Sea, the PLA Navy announced on Monday.

Photos and videos surfaced on Chinese social media showing the second carrier arriving in Sanya, South China's Hainan Province on Tuesday, as military analysts speculate it might soon be commissioned at a naval base there.

Military analysts predict that China could operate around six carriers in the future, as later entries could become nuclear-powered.