Chinese app that makes users look like celebrities goes viral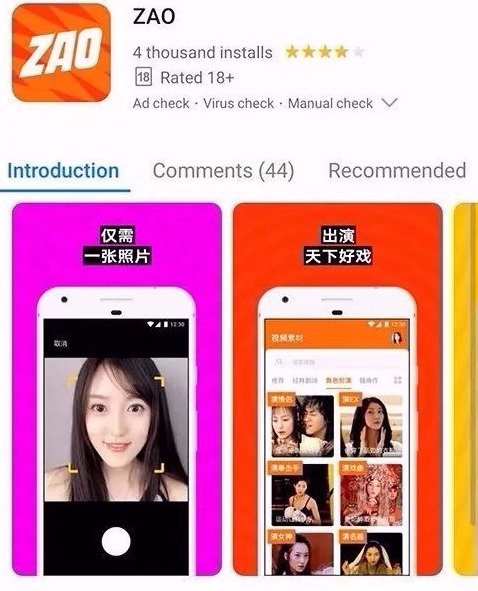 (Photo: App Store)
A mobile application dubbed ZAO is the latest viral trend that has Chinese internet users doing a double-take over how they might appear as celebrities through artificial intelligence technologies.
From late Friday night, savvy social media users started posting videos starring themselves in footage taken from blockbuster movies or hit TV series. ZAO means "make" or "manufacture "in Chinese.
The app was developed by an internet technology company based in Changsha, Hunan province, whose head Lei Xiaoliang was co-founder of stranger social media app Momo. The company was essentially controlled by Momo, according to Tianyancha, a Chinese corporate information data provider.
To experience the digital makeover, users should upload a photo featuring their full-frontal face with a resolution the system deems qualifiable for the "masquerader". They also need to follow a string of instructions such as "opening the mouth" or "lifting the head" to authenticate it's a real person using the app.
Upon that, users can choose from hundreds of video footage and replace a star's face with that of their own. It normally takes about 10 seconds to finish the face-swapping for a 20-second video.
Creative works sweeping WeChat Moment had almost "paralyzed" the server of ZAO as of Saturday morning, with users reporting malfunction or severe delays in video synthetization.
Every now and then face-changing apps have caught attention on social media, with the likes of FaceApp instantly altering the appearance of a person's face by adding wrinkles and grey hair. But this one is particularly popular as it churns out videos in motion rather than static pictures.
"I just cannot keep my hands off it," said Shen from Shanghai, who admitted playing the "mockup" game for the entire night and churning out over 20 videos. "I believe people playing this are truly bringing the character to themselves, and that explains why it successfully got into people's head."
But privacy concerns are also there. Users signing up for the service will need to nod to clauses that allow the company to use their original photos, synthesized photos and videos for free and for good on a global scale. The company also retains the right to make modifications on these photos using technologies.
"While such protocols are highly controversial, the app itself seem to really make people happy," said Cheng Mingxia, assistant dean of Tencent Research Institute. "This is the kind of challenge facing future science and technology applications."