'Our energies should be devoted to dealing with outbreak': Peter Forster
People's Daily app
1586747987000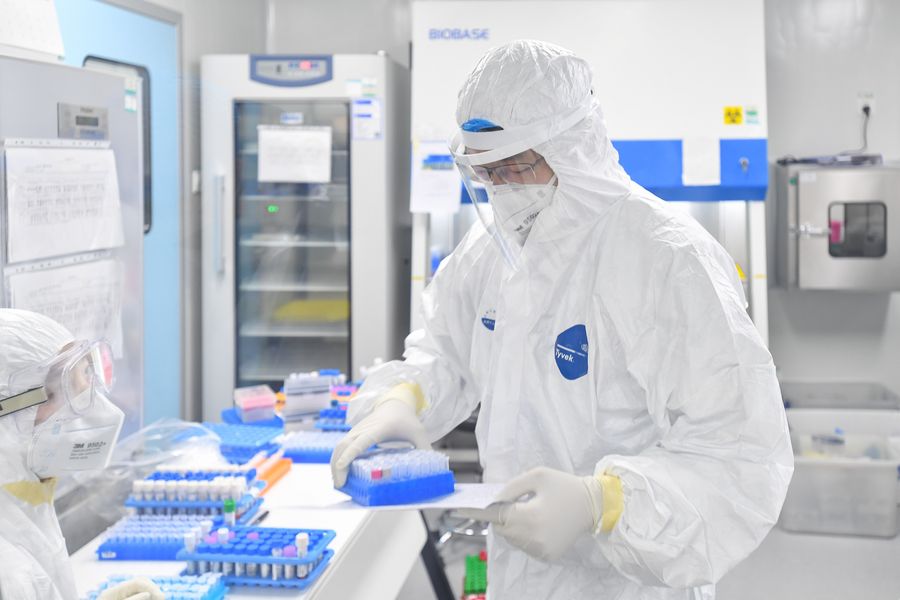 Medical worker conducts novel coronavirus nucleic acid detection in Guangzhou, South China's Guangdong Province, Feb. 18, 2020. (File photo: Xinhua/Liu Dawei)
London (People's Daily) - Researchers from the UK and Germany have reconstructed the early "evolutionary paths" of COVID-19 in humans using genetic network techniques, and managed to map some of the original routes of spread of COVID-19, according to a report from University of Cambridge.
This report has become viral on the internet as people think it gives a new perspective on the origin of COVID-19. However, Peter Forster from University of Cambridge, the lead author of the report, says the report mainly analyzed the original viral genome type of the virus rather than the geographical location.

In the report, the research team used data from virus genomes sampled from across the world between December 24 and March 4. As a result, the scientists revealed three distinct "variants" of COVID-19, consisting of clusters of closely related lineages, which they labelled type A, B and C.

Forster and the team found that the closest type of COVID-19 to the one discovered in bats – type A, was present in Wuhan. However, type B turned out to be Wuhan's major virus type, while type A was seen in many samples from the US and Australia. Meantime, type C virus is the major type in Europe.

"Understanding that the evolution of the coronavirus in humans started with the A-type will be important for scientists to understand the virus functioning, and then perhaps to find ways how to combat it," Forster told the People's Daily.

The "phylogenetic network" method used in the research is new to some virologists, and this method could be applied to the very latest coronavirus genome sequencing to help predict future global hot spots of disease transmission and surge.
Some argue about whether the study's sample size of 160 patients is too limited. Dr. Forster responds that the team used the maximum sample size available for analyzing the first stage of the outbreak. "There were 253 virus genomes available from Chinese and international researchers, and we filtered those to 160 genomes from the data which were mostly complete and of sufficient quality."
He also says he was grateful that Chinese researchers have provided extensive virus genome data of good quality to the international GISAID database for researchers worldwide to use. "That contribution has been absolutely fundamental to our analysis."
Despite the World Health Organization repeatedly emphasizing that it is not yet clear where the virus originated, some politicians from the United States are still using the phrase "Wuhan virus." US media argued that misleading people over the origin of viruses not only encourages racist harassment of people perceived to be linked to disease, but also gives people a false sense that they are safe if they are not part of the group in question, putting everyone's health at risk.
"Mistakes have been made, but for now our energies should be devoted to dealing with this outbreak, " says Forster.