Transport projects to get more funding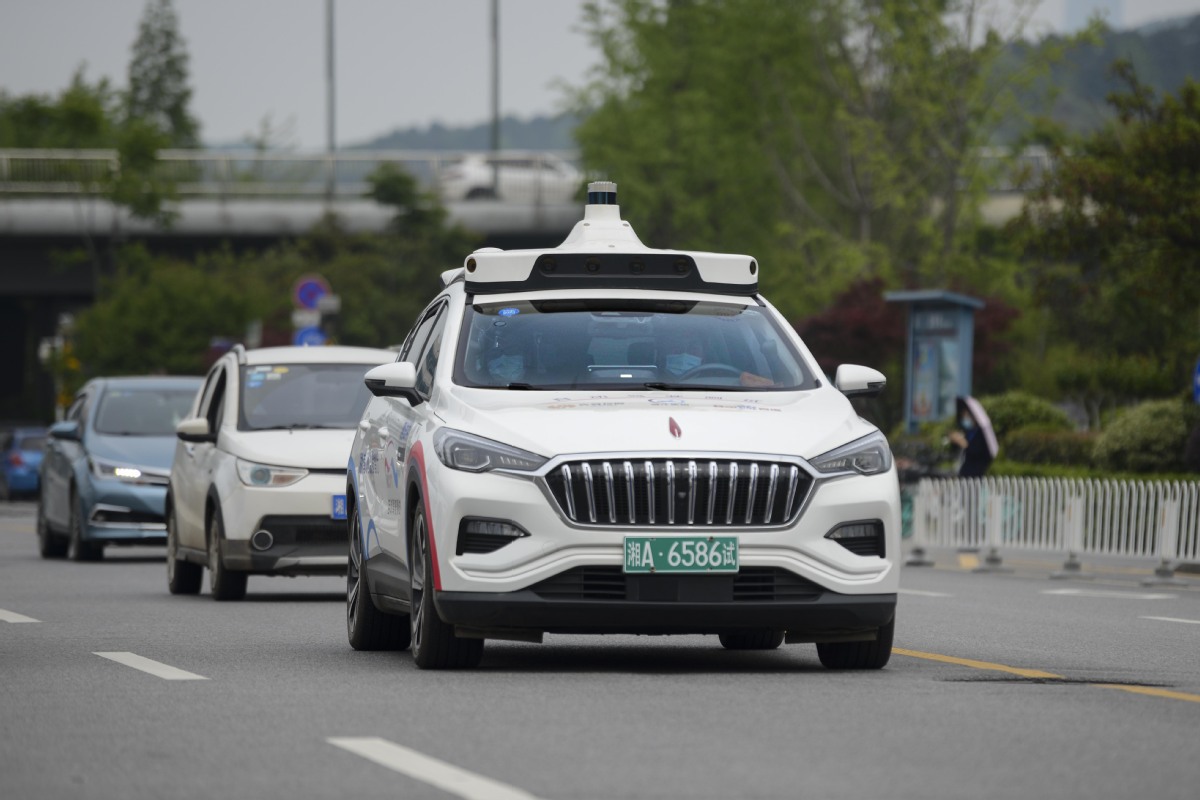 A self-driving taxi is seen in Changsha, capital of Hunan province. (Photo: China News Service)
China will inject more funds into transportation infrastructure and push forward the development of self-driving technology to build national strength in transportation, said Minister of Transport Li Xiaopeng on Tuesday.
The country pumped over 3.24 trillion yuan ($456 billion) in investments into the transportation sector last year, adding about 8,000 kilometers of railways and over 320,000 km of highways, as well as world-class projects such as Beijing Daxing International Airport and the Beijing-Zhangjiakou high-speed railway line, Li said.
As China has effectively contained the spread of the novel coronavirus, the ministry will speed up the resumption of work on major infrastructure projects to promote investment in the sector this year, he said at a news conference held by the State Council Information Office.
To date, 99.7 percent of transportation projects are under construction, he said, adding that the ministry will ramp up support to accelerate the resumption of key projects to meet the country's annual investment goals on traffic networks.
China planned to spend at least 2.7 trillion yuan on transportation infrastructure projects this year, including 800 billion yuan on railways, 1.8 trillion yuan on roads and waterways and 90 billion yuan on civil aviation facilities, according to the ministry.
Li also noted that transportation authorities have been fast-tracking a number of new construction projects in line with the country's development strategies, and the country now has a reserve pool of transportation projects with a total investment value of more than 800 billion yuan that can start as soon as the preliminary work is done.
Meanwhile, the ministry pledged to expedite the research and application of self-driving technology, which will provide support for technological innovation for building a comprehensive modern transport system. Liu Xiaoming, vice-minister of transport, said that self-driving technology has played an important role in the next round of technological innovation and industrial transformation worldwide, and China has been promoting its development by "encouraging exploration, tolerating failure, ensuring safety and combating monopoly".
The country will kick off pilot programs for autonomous driving in Beijing and Shanghai, as well as Xiongan New Area in Hebei province, to promote intelligent transport with the support of technologies including 5G communication and the domestically developed Beidou navigation satellite system.
Transport authorities have also stepped up research on technical standards to adapt the construction of new roads to the development of driverless vehicles, he said, adding the ministry issued technical specifications last month for highway auxiliary facilities adapted to automated driving.
The ministry has worked closely with multiple departments to guide the road tests of intelligent connected vehicles in an orderly manner and designated five research and development centers for self-driving technology, he added.
The country aims to build a comprehensive modern transportation system by 2035 that is safe, convenient, efficient, green and economical, according to the document jointly released by the Communist Party of China Central Committee and the State Council in September.