More innovative technology is required for oil recovery in Daqing oil field
Global Times
1564683872000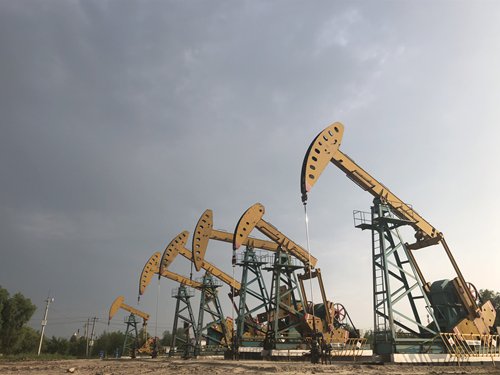 Oil pumps at the Daqing oil field, Northeast China's Heilongjiang Province. (Photo: Global Times)
International oil prices fell down a cliff in 2014 and have been low for nearly five years.

"Are oil resources in Daqing running out?" This question haunts anyone who is a least bit familiar with the glorious history of the oil industry in the city of Daqing, which literally means "great celebration" in Chinese.

The discovery of the Songji No.3 oil well on September 26, 1959 marked the first step toward establishing the Daqing oil field in Northeast China's Heilongjiang Province.

The Daqing oil field is the largest oil production base in China. The development of Daqing is a saga full of independent pioneering quests and struggles with harsh environmental conditions, the People's Daily reported in April.

The Organization of the Petroleum Exporting Countries' (OPEC) average annual crude oil prices dropped from $105.78 per barrel in 2013 to $40.76 in 2016. The current average price is $65.94, according to Statista.com.

Low international prices have raised concerns about the petroleum industry in China.

The Xinhua News Agency reported in 2014 that Daqing planned to cut production by 1.5 million tons in 2015 and that its annual production would be cut to 32 million tons by 2020.

Wu Xiaolin, a first-class oil expert with the Daqing Oil Field Limited Company (DOLC), told the Global Times that Daqing is still rich in oil reserves, but more advanced and innovative technology is needed to make use of them.

Daqing, meaning "big celebration" in Chinese, was named to mark the 10th anniversary of the founding of the People's Republic of China (PRC) in 1949. This year, Chinese people are celebrating the 70th anniversary of the PRC founding, while the Daqing oil field also welcomes its 60th birthday.

Contributing greatly to the country over the past decades, Daqing is now actively seeking new paths for development.

Glorious oil industry

Within three years after the discovery of the Daqing oil field in 1959, a crude oil production base was built with an annual production capacity of 6 million tons. It was produced 11.662 million tons of crude oil in the three years, accounting for 51.3 percent of national crude oil production since its establishment. Daqing transformed China's petroleum industry and brought about oil self-sufficiency for the country, according to DOLC.

From 1976 to 2002, Daqing maintained high and stable annual oil production rates of 50 million tons. The stable production period of similar oil fields around the world is generally only three to five years, but no more than 12 years, making this a miracle in the history of global oil field development.

From 2003 to 2014, 40 million tons of oil were produced annually, providing a steady stream of oil and gas resources for China's reform and development and safeguarding its national energy security, according to DOLC.

According to Wu, Oil production is separated into three phases: primary, secondary and tertiary. Primary oil recovery is limited to hydrocarbons that naturally rise to the surface, this is followed by secondary oil production, which drives oil to the surface by displacing it with oil or gas. Tertiary oil production involves using oil displacement agents to chemically change the makeup of the reservoir.


At present, Daqing is the largest tertiary oil production base in the world, accounting for about one-third of domestic crude oil production, the Xinhua News Agency reported in April.

The Daqing oil field has been adhering to the scientific and technological route of "application for a generation, research for a generation and reserve for a generation," Wu said.

Back in the 1980s, an international expert asserted after a thorough survey that the Daqing oil field was not suitable for Alkali-Surfactant-Polymer (ASP) flooding. The expert said upon he left, "please forget about ASP flooding," Wu recalled.

"What foreigners can do, we can do better!" Wu said, noting the team wasn't discouraged. After more than 3,500 experiments and 2,100 modifications, a method of industrial production and synthesis of surfactant was finally established.

Alkali-Surfactant-Polymer flooding was being researched in 1996, a time when polymer flooding was comprehensively used in the Daqing oil field. Until 2014, this technique was widely used in the oil field, Wu told the Global Times.

Conventional water flooding is the injection of water into the ground to "squeeze" the oil out. For ASP flooding, chemical agents composed of alkali, surfactant and polymer are used to "wash" out the oil hidden in the pores of the rock, which can increase oil recovery rate by more than 20 percent in oil layers with a water content of up to 98 percent, Wu said.

More advanced oil recovery technology is still being researched. Microbial enhanced oil recovery technology tries to convert oil layers which are difficult to extract into natural gas.

"I have full confidence in the future of the Daqing oil field," Wu told the Global Times. He hopes more talented individuals can come to Daqing and contribute to the technological innovation that is taking place there.

Improved working conditions

Liu Guangjun, 51, has been working on the front line of oil extraction at Daqing for 32 years.

His dark skin hints at the difficulties of working at the oil field. Neither the blistering sun and swarms of mosquitoes of summer, nor the ice and snow of winter prevent him from carefully inspecting every oil well.

In the old days, oil production relied more on manpower. Liu recalls a time when two workers would have to move oil pipes weighing 150 kilograms by hand - and he was only 60 kilograms at the time. He suffered a spinal injury and has suffered from back pain ever since.

Nowadays, cranes and other equipment are used. Safety is regarded as the most important rule of the oil field.

In the past, oil workers brought their lunch in aluminum lunch boxes. They put the lunch boxes on top of radiators to keep them warm.

Liu said he really appreciates the current dining halls, where professional cooks prepare fresh food for oil workers for every meal.
"Working conditions have improved a lot over the years," Liu told the Global Times.

However, Liu is used to coming to work on weekends, even when not on duty.

"It's hard for me to separate life from work. The oil field has become my home," Liu said.

More than oil

Liu is not only an oil worker. Growing up in Daqing, he is a witness to the changes that have taken place in the city.

Daqing was established as a city in 1979, 20 years after the oil field was discovered. Daqing is an oil-rich city, but oil is not all it has to offer.

The National Development and Reform Commission encourages resource-based cities to build diversified industrial systems and resident-friendly environments, according to the guidelines for the transformation and development of resource-based cities in China released on January 6, 2017.

Daqing is following this step by step to develop and transform. It has introduced new industries to build a burgeoning high-end manufacturing city, and improve the natural environment, according to the Daqing local government.

Daqing Volvo Car Manufacturing Co Ltd was officially established in 2013. Mass production began in the third quarter of 2014.

It mainly produces S90 models, with an annual capacity of 80,000. There are plans to increase this to 150,000 in the future, according to a statement from the Cooperate Communication Department of the Daqing Volvo Car Plant.

Volvo is the first and only manufacturer in the history of China's auto industry to export luxury cars from China to the US and developed countries in Europe. So far, cars produced in Daqing have been exported to 68 countries and regions including Europe, the US, Asia and Australia, with exports accounting for nearly 40 percent of the company's output, according to statement.


Volvo provides nearly 4,000 jobs locally. The introduction of Volvo has transformed Daqing from a city dominated by the oil industry into a high-end intelligent automobile city.

Built in 2018, the Daqing car racing town is another auto industy-related development in the city.

It is the largest and most comprehensive industrial project, with automobiles and automobile after-sales service as a primary focus, automobile sports as a secondary feature and integrating the development of culture, sports and tourism, Gao Fei, vice manager of the racing town, told the Global Times.

The town is recognized as the largest graffiti art district in the world, with a total area of 112,867.86 square meters on 67 buildings covered by graffiti, according to the World Record Certification Agency.

Not only a center of industry, Daqing also boasts areas of natural beauty and is known as the city of natural lakes.

The Daqing Longfeng Wetland Nature Reserve covers a total area of 5,050 hectares, and is home to 76 species of birds. It plays an important role in regulating regional climate, reducing flooding and preventing waterlogging.

Shan Yubao, the director of Longfeng wetland park, told the Global Times that residents have become more and more aware of the need to protect the birdlife in Daqing, and the number of calls for bird conservation has increased in recent years.

Entry to the park is free of charge. Many people come to enjoy the fresh air and do some birdwatching on the weekend, he said.

Hu Lina, 52, has been living in Daqing for 38 years. She said that her friends advised her to move to Hainan Province after her retirement two years ago, but she refused.

"I've seen the environment in Daqing improve from an oil city to a living-friendly city. More trees have been planted in our residential areas, and more ecological parks have been built in recent years. I won't leave Daqing because I believe that Daqing will succeed in transforming and has broad development prospects," Hu said.