Sino-UK Joint Center for Earth and Planetary Sciences established
BEIJING, July 17 (Xinhua) -- The Sino-UK Joint Center for Earth and Planetary Sciences, involving the Institute of Geology and Geophysics of Chinese Academy of Sciences (IGGCAS) and the University of Leeds, has been set up in China, according to the CAS.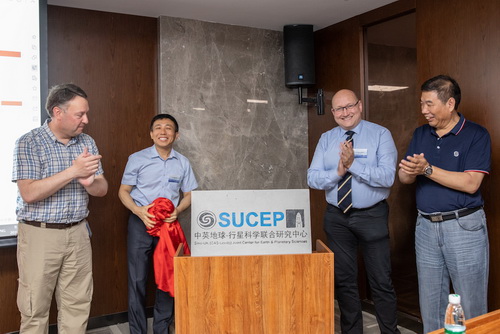 Photo: IGGCAS

More than 50 researchers from China and Britain attended the opening ceremony of the joint center. Discussions on subjects such as engineering geology, applied geophysics, petrogeochemistry, planetary science and paleoclimatology were held during a following academic conference.
The two sides pledged to promote student exchanges, personnel visits and scientific instrument openness, said the CAS.
IGGCAS houses the State Key Laboratory of Lithosphere Evolution and other five key labs of the CAS, namely the Laboratory of Earth and Planetary Physics, Laboratory of Shale Gas and Geological Engineering, Laboratory of Mineral Resources, Laboratory of Oil and Gas Resources and Laboratory of Cenozoic Geology and Environment.