Huawei eyes cloud, AI business
Global Times
1579046498000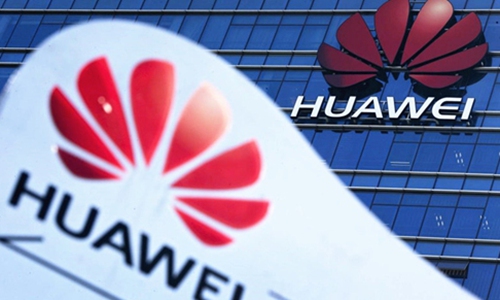 The logo of China's tech giant Huawei. (Photo: Xinhua)
Chinese technology giant Huawei is increasing its efforts to develop cloud computing and artificial intelligence (AI) to diversify its businesses amid a US clampdown, which has been continuously clouding its overseas expansion in the 5G sector.

Industry insiders also interpreted the move as Huawei's preparation in the face of a potential ban on using Google's architecture.

Huawei has prioritized its cloud and AI business unit as one of four individual business groups in its latest adjustments to the company's organizational structure, according to media reports.

The cloud and AI segment has become the fourth-biggest business group in the company after the mobile networks business group, enterprise business group and consumer business group.

"Cloud computing is not only important for data storage, it is also the foundation for Huawei to develop its full stack ability," Xiang Ligang, director-general of the telecom industry association Information Consumption Alliance, told the Global Times on Tuesday.

"Cloud computing can provide a foundation for Huawei's AI and Internet of Things (IoT) services, and it also provides an important base for Huawei to develop and expand its 5G service in general," Xiang said.

The move is also regarded as being in line with Huawei's "Cloud Only" strategy. Huawei begun optimizing its information and communications technology segment at the end of 2018, and it has combined its cloud services, along with AI and IoT services, under its computing and cloud computing industry group.

Developing cloud services is also a strategic move in the company's business expansion, especially in the face of bans from using Google's architecture in its devices. According to Xiang, if Huawei is to develop its own framework and provide a similar set of comprehensive services, it will rely on its cloud services as the data infrastructure.

The company's ambition in the cloud and AI segments also comes as the Chinese company faces uncertainties in its overseas businesses. Under pressure from the US, politicians in some European countries are divided on whether to exclude Huawei from their 5G rollouts.

A final decision on whether to allow Huawei's involvement in the UK's 5G network is expected within weeks, and the German government has reportedly delayed a decision on Germany's 5G rollout.

"The hard decision just shows how local carriers rely on Huawei -- and how irreplaceable is Huawei's equipment in Europe," Jiang Junmu, chief writer at telecom industry news website c114.com.cn, told the Global Times on Tuesday.

A source told the Global Times on Tuesday that British telecom experts know that Huawei does not pose any security risk. "Carriers in the UK will of course want to use Huawei, while the country has to balance its relationship with the US," Jiang said.

Andrew Parker, MI5 head, on Monday refuted Washington's warning that the UK's intelligence-sharing relationship with US will be hit if Britain adopts Huawei, raising speculation that the UK might give the Chinese company approval.