8 arrested for poaching Tibetan antelopes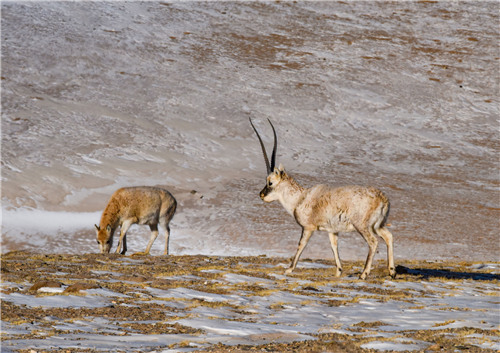 Two Tibetan antelopes spotted on the Qinghai-Tibet Plateau, Southwest China's Tibet autonomous region. (Photo: Xinhua)
LHASA -- Police in Southwest China's Tibet autonomous region arrested eight people on suspicion of illegally killing endangered animals, local police said on Friday.
Police received a report in mid-March that dead bodies of Tibetan antelopes were found in the Gerze County of Ali Prefecture, and local people requested an investigation from the public security organ.
Local police immediately launched the investigation and busted the criminal gang. A total of eight suspects were detained, and 89 pieces of whole or fragmented Tibetan antelope sheepskins were seized.
Tibetan antelopes are mostly found in Tibet autonomous region, Qinghai province and Xinjiang Uygur autonomous region. The species is under first-class state protection in China.