Chinese companies groom industrial skills for Namibians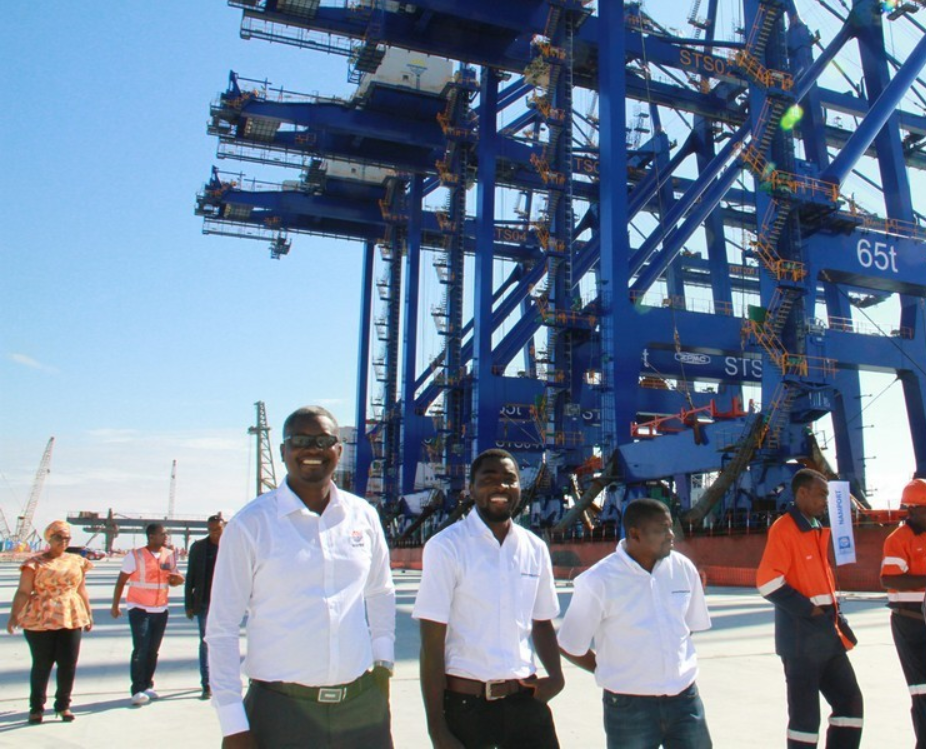 People walk near the ship loading cranes from China in Walvis Bay, Namibia, on Feb. 9, 2018. (Photo: Xinhua)
When 28-year-old Kenny Puturi from Namibia completed his secondary education some years back, odd jobs were a distinct feature in his life.
As luck would have it for him, eight years ago he was recruited by contractor company China Henan International Cooperation Group (CHICO) to work on the Otjinene-Okamatapati road project.
The Otjinene-Okamatapati road forms part of the Southern African Regional Trunk Road. It links the Trans-Kalahari to the Trans-Caprivi highway, aiding in Namibia's economic prospects in terms of import and export.
There, Puturi got a vocation as a junior surveyor, a dream once far-fetched from him. CHICO has been involved in the development of the road network in Namibia since 2007.
Today, his duties include picking up levels and surveying borrow pits.
He credits his profession prospects to the training offered by his Chinese employer.
"I gained hands-on experience including supervisory and leadership skills. The skills are applicable when working with surveyor assistants and compensation of land for the community. It has been very satisfying," he said Thursday.
Investment in training of locals, according to CHICO's representative Charles Cui, is aimed at empowering Namibian youth.
It also help reduce soaring unemployment the country is battling with. Namibia Statistics Agency placed the country's unemployment figures at 37.3 percent in 2017, an increase from 34 percent recorded in 2016 and 28 percent in 2014.
According to Cui, training is facilitated by various private service providers from Namibia and South Africa, with internal training and on-the-job training also included.
Intercultural communication has been central to the success of training employees.
"Bridging language barriers was done by engaging expatriate employees through robust training and explaining the Namibian culture as well as the law that governs the labor industrial issues in the country," he said.
Furthermore, the company also ensured that an interpreter conversant in both English and Mandarin was hired to eliminate misunderstandings.
The impact has been multi-faceted, visible in the quality of outputs.
With a financial injection of more than 5 million Namibian dollars ($352,000) in industrial skills programs, CHICO has trained more than 800 employees (80 women and 720 men) between 2014 and 2017 in various fields such as construction, health and understanding of the Labour Act.
Application of skills gained by employees like Puturi has since translated into the successful completion of major road network projects including Okamatapati-Grootfontein development project officially launched by Namibian President Hage Geingob in April.
Training has also boosted soft skills of employees.
"Provision of training alleviated their self-confidence and level of understanding in performing their jobs. Some employees were promoted into more senior positions," added Cui.
Meanwhile, Puturi said his job and training has ignited in him passion for engineering and construction, and he hopes to get funds and support to pursue studies at tertiary level. "I have found a career at the Chinese company," he said.
In the meantime, Cui said that training is an integral part of an organisational development program.
The Chinese contractor currently employs more than 200 people working in engineering fields, administration and management.
Chinese ambassador to Namibia Zhang Yiming said that Chinese companies have created about 11,000 employment opportunities in Namibia and 250 million Namibian dollars ($17.6 million) of tax revenue.