China, France agree on closer ties, upholding multilateralism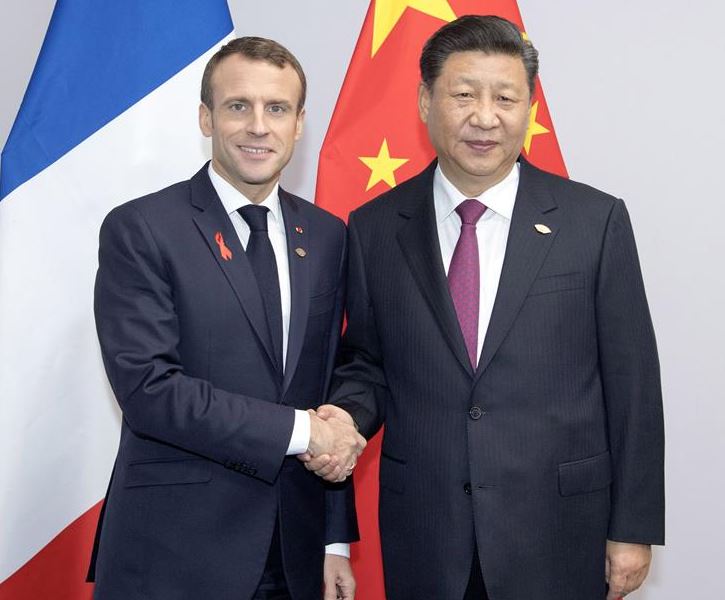 Chinese President Xi Jinping (R) meets with his French counterpart Emmanuel Macron in Buenos Aires, Argentina, Dec. 1, 2018. (Photo: Xinhua)
BUENOS AIRES, Dec. 1 (Xinhua) -- Chinese President Xi Jinping and his French counterpart, Emmanuel Macron, on Saturday agreed to bring the bilateral ties to a higher level and renewed their pledges to safeguard multilateralism.
The two leaders met here on the sidelines of Group of 20 (G20) summit, a two-day event starting Friday.
China-France relations have maintained high-level stable development and the momentum is inspiring, said Xi.
Next year marks the 55th anniversary of the establishment of China-France diplomatic ties and China is willing to work with France to bring their comprehensive strategic partnership to a higher level and work for greater progress in the development of China-Europe relations, Xi said.
To consolidate the good momentum of the development of bilateral ties, the two sides need to continue strengthening high-level exchanges and make good use of dialogue mechanisms at various levels, Xi added.
Xi said the two sides will push forward practical cooperation and expand two-way trade and investment.
The two sides will firmly safeguard multilateralism, strengthen communication and coordination on major global issues including climate change, reform of the World Trade Organization (WTO) and the Iran nuclear issue, said Xi.
The two sides should take concrete actions to maintain the multilateral world order with the United Nations (UN) Charter and principles at the core, and uphold free trade and the multilateral trading system, said Xi.
Referring to Friday's trilateral meeting among China, France and the UN on climate change, Xi said the event has sent a positive signal, adding that China hopes to enhance cooperation with France within the G20.
For his part, Macron recalled his China visit in January this year, during which he and Xi charted the course for the future of the development of bilateral ties.
Macron said that he is glad that bilateral relations are progressing as planned and fruitful results have been achieved for their cooperation in areas such as energy and space technology.
France speaks highly of Xi's statement on further reform and opening-up at the Boao Forum for Asia and the China International Import Expo this year, and appreciates China's efforts to improve business environment for foreign companies operating in China, said Macron.
To mark the 55th anniversary of the establishment of France-China diplomatic ties, the two sides should join hands to host a series of celebrations, he said.
France is willing to increase high-level exchanges with China and push forward cooperation in areas such as nuclear energy, aviation and tourism, said Macron, adding that France welcomes more Chinese investment and hopes its export to China would grow.
France is firmly committed to multilateralism and hopes to maintain the mutual support between the two countries on major international issues, work jointly to uphold the multilateral free trade system and push the international community to abide by and implement the Paris Agreement on climate change and promote the development of Europe-China relations, he said.