Feature: Vietnamese charmed by Chinese cultural products encapsulating tradition, modernity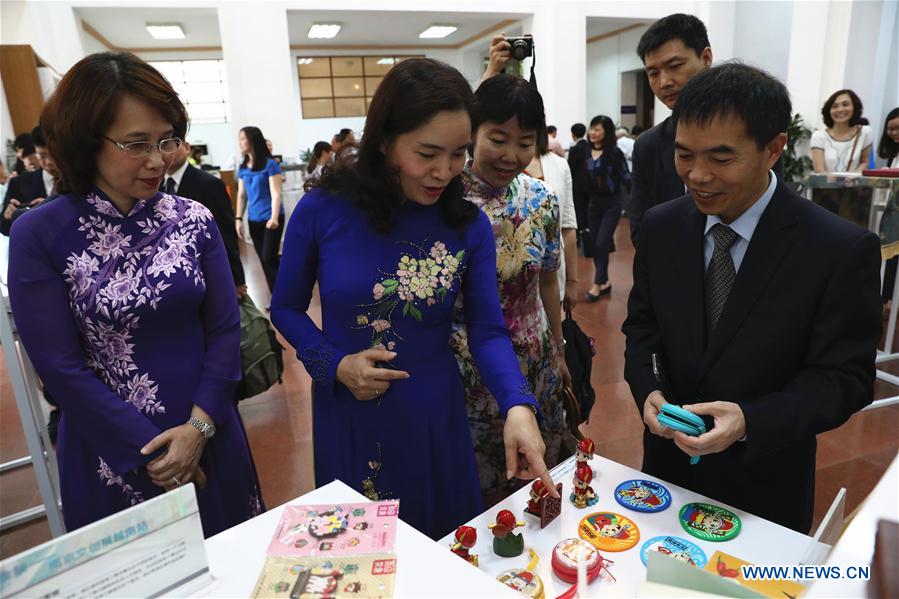 People visit the Nanjing Cultural and Creative Products Exhibition of China, in Hanoi, capital of Vietnam, on June 18, 2018. Fifty cultural and creative products of Nanjing were on display at the exhibition. (Photo: Xinhua/Wang Di)
HANOI (Xinhua) -- Unique cultural products encapsulating China's classical themes, modern features, traditional values and lively creativeness have been capturing the hearts of many Vietnamese people.
The smooth combination of classical and modern characteristics in 50 Chinese cultural products currently on display in Vietnam's capital city of Hanoi has helped many Vietnamese people understand China's cultural identities more deeply, Thi Thuy, deputy minister of Culture, Sports and Tourism, said on Monday.
This has contributed to the closer traditional friendship and all-round cooperation between the two countries, the minister said during an address at an exhibition on cultural creative products of the Chinese city of Nanjing.
The 50 typical cultural products of Nanjing, the capital city of Jiangsu province, have been creatively made based on China's traditional cultural values, she stated.
On Monday, dozens of Vietnamese visitors found it hard to take their eyes off the products, including blue, white and red porcelain dinner sets and silk scarves featuring 15 butterflies described in "Honglou meng" (Dream of the Red Chamber), one of the four most famous classical Chinese literary works.
Other eye-catching products on display included Bluetooth loudspeakers wrapped in brocade in the form of buttons, glass pens in the form of blue whales, and golden bookmarks in the forms of crowns.
"Based on classical works like 'Dream of the Red Chamber', the Chinese people have created many kinds of beautiful products for daily use. I like many products on display here, especially the Bluetooth loudspeakers, which are useful for music lovers, and porcelain and pottery items such as dishes and teapots," Tran Nhat Hoang, vice director of the International Cooperation Department under the Vietnamese Ministry of Culture, Sports and Tourism, told Xinhua, on the sidelines of the weeklong expo.
Hoang said the porcelain and pottery items look similar to those described in "Dream of the Red Chamber", the pinnacle of Chinese fiction, written by Cao Xueqin who lived in the 18th century in the Qing dynasty, and adapted into dozens of feature and television films.
"'Dream of the Red Chamber' is extremely famous with over 100 million copies being published, becoming one of the best-selling novels of all times. It reflected the breath of life in ancient times, but remains valuable in modern times," he said, adding that the novel highlights and values personal virtues and freedom as well as promoting the abolition of backward ways and corrupt customs.
"When the Chinese television series 'Dream of the Red Chamber', the 1987 version, was screened on Vietnamese television channels, it became spiritual food for many, many Vietnamese people," Hoang recalled.
The exhibition is of significance because it showcases some of China's cultural identities in the diversified forms of fine specific products, helping widen the eyes of ordinary Vietnamese people as well as offering opportunities to Vietnamese culture managers and business people to exchange experiences in bringing into play traditional cultural values and developing creative industries, the local official concluded.
Hoang's statement was echoed by many other Vietnamese people.
A young graceful woman, who works in the Hanoi-based National Library of Vietnam, told Xinhua that Chinese employees and craftsmen have succeeded in breathing new fresh air into traditional cultural values and have succeeded in producing very creative products which are not only aesthetically pleasing but also convenient and useful.
"For example, these pottery tea box sets and this tea cup featuring plum blossoms, the symbolic flower of Nanjing, are hand-made but fired in high-technology kilns, so their blue enamel is very unified and elegant," she said, noting that she has been to the Chinese city of Nanjing.
She went on to say that she was very impressed by the scale of Nanjing Library, the third-largest library in China, which houses over 10 million volumes of printed materials, and the Nanjing University Library, the fifth-largest nationwide.
"When visiting Nanjing years ago, I was also bewitched by its old museums, including Nanjing Museum, the first modern museum in China, which houses some 400,000 items in its permanent collection. Its collection of Ming and Qing imperial porcelain is among the largest in the world," she recalled.
Another Vietnamese woman, Bach Tuyet Nhung, from Trung Viet Trading and Development Company in Hanoi, exclaimed with envy:"If only I were in Nanjing now. I love plum blossoms and deodar cedar there. I am also deeply interested in love stories there."
Addressing the exhibition, Charge d' affaires of the Chinese Embassy to Vietnam Yin Haihong said fluently in Vietnamese, "Nanjing has made full use of its diversified cultural heritages and put forth many supporting policies. Our city has combined cultural creativeness with traditional culture, and developed high-quality human resources."
The total value of China's cultural industry accounted for 4.5 percent of the country's gross domestic product in 2016, she said, noting that cultural creativeness is an important component of the cultural industry.