Former tutoring firm employees offered job aid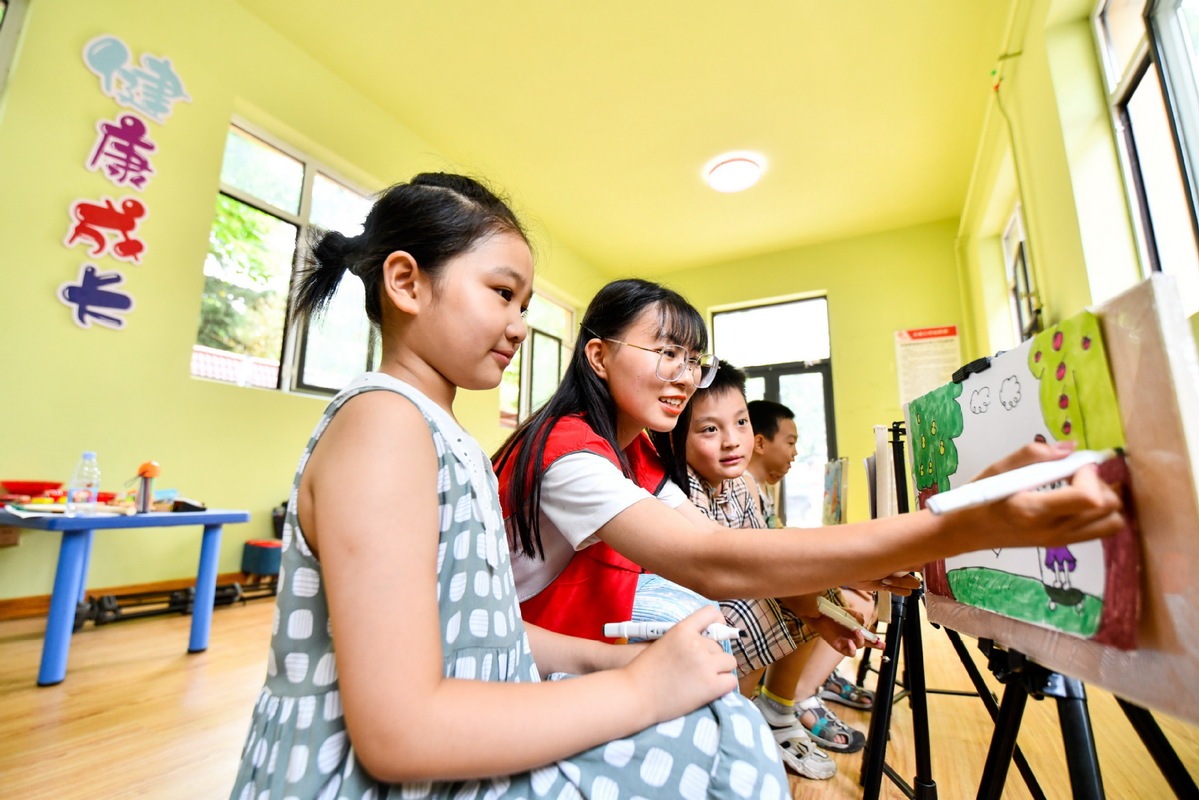 Former employees of tutoring companies are mapping out new careers as the nation implements a "double reduction" policy to regulate the industry, which had been expanding rapidly.
A 29-year-old woman who posted a video recently on Douyin, a short-video sharing platform, using the name Shi'er, said she never thought the policy would take away her job at New Oriental Education and Technology Group last month. Her husband also lost his job at Zuoyebang, another online education provider, in August.
In the video, she said she worked as a user interface designer at the company for over five years before being laid off on Aug 17.
"About 80 to 90 percent of the staff members in my department were laid off," she said. "It's depressing as my husband lost his job without warning on Aug 4. Losing the job is a hard blow to my life but I can understand the policy itself is quite beneficial as it can help reduce excessive homework and tutoring work for children."
Shi'er said she felt anxious about the future as it has not been easy to find another job. "I hope that we can fare better," she said.
In late July, the general offices of the Communist Party of China Central Committee and the State Council jointly released a guideline on the "double reduction" policy, aiming to effectively reduce the excessive homework and after-school tutoring burden on students.
The Ministry of Education said at a news conference late last month that it will enhance supervision of "double reduction" work, making it a priority this year.
The "double reduction" policy bans tutoring companies from offering curriculum-based training on weekends, over national holidays or during winter and summer vacations.
The changed circumstances of tutoring companies has dealt a shock to the sector, both in terms of their market value and the jobs they can offer.
Zhaopin, an online recruitment platform, said recently that about 40 percent of employees in the tutoring sector have left their positions since the policy came into effect, with most of them serving in salesperson and human resources positions.
The platform said that jobs offered by tutoring companies also saw a decline. It said that vacancies in July were down by 38.2 percent nationally compared with those in March, with Beijing registering the sharpest decrease of 49.3 percent.
A recent report by 51job, another online recruitment agency, showed that by Aug 15, about 40 percent of the job seekers on its platform who used to work in the tutoring sector remained unemployed.
Li Qiang, vice-president of Zhaopin, said younger employees have been hit hardest.
"According to our survey, over 70 percent of the employees are under 30 years old," he said, with more than half of those under 25.
Li said that although curriculum-based training is being more strictly regulated, there is still a great deal of demand for good teachers in vocational education and courses offering training in areas such as the arts.
He said it's important for former employees to leave behind their confusion and depression about the future and improve their own working capacities so they can map out a new career rationally.
"It's the early days of implementing the 'double reduction' policy, so many industry insiders and employees holding a wait-and-see attitude may feel at a loss so far," he said. "But vocational and lifestyle education, including training courses on the arts, dance and programming, give people confidence in the future development of the tutoring sector."
Chen Lixiang, vice-chairman of the Chinese Society for Technical and Vocational Education, said the implementation of the "double reduction" policy is unlikely to result in massive unemployment.
He said the tutoring sector had developed irrationally in the past few years, with the unrealistically high salaries it offered seeing it deviate from the wider job market's regular growth pattern.
"The employees have their advantages in education background, but they need to adjust their salary expectations when seeking a new job," he said.
The online job-hunting platform Liepin said in a report released last year that average annual salaries in the tutoring industry had increased from 141,100 yuan ($22,000) in 2017 to 175,000 yuan last year.
Governments are making active efforts to help former tutoring sector employees find work and stabilize the job market.
Beijing, for example, launched a campaign late last month to organize job fairs and offer information to job seekers who used to work for tutoring companies. The campaign will last three to six months.
The Beijing Municipal Human Resources and Social Security Bureau said last month that it has reserved vacancies in teaching, technology support and marketing roles for former tutoring sector employees. It said about 10,300 vacancies are being offered by the city's public employment services departments, with over 80,000 jobs available at 51job.