China searches for missing people after vessels collide off east China coast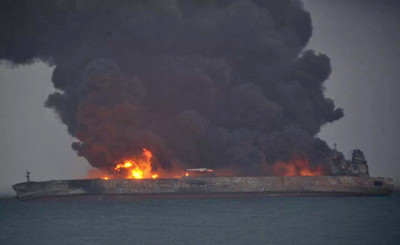 China has dispatched several vessels to search for and rescue crew members after a Panama-registered oil tanker and a Hong Kong-registered bulk freighter collided Saturday evening, a Foreign Ministry spokesperson said Sunday.
Spokesperson Geng Shuang make the remarks in Beijing in response to a question about the collision of the two vessels off the east China coast.
"China attaches great importance to the accident," said Geng, adding that some of the crew members have been rescued while others are still missing.
Geng said China also dispatched several specialized cleaning vessels to prevent secondary disasters.
According to reports, the collision occurred at around 8 p.m. Saturday in waters about 160 sea miles east of the Yangtze River's estuary.
Reports say 32 crew members from the oil tanker, including 30 Iranian nationals and two Bangladeshi nationals, have gone missing, .
Geng said the cause of the accident is still under investigation.