Int'l Army Games 2018: Chinese army hosts three contests in Xinjiang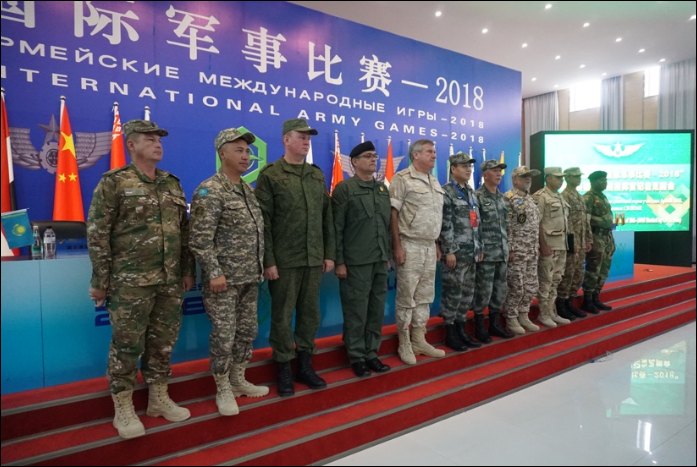 Heads of delegations from 10 participating countries briefed the global media on July 28, one day ahead of the opening of the three IAG contests in Korla. (Photo: CGTN)
The International Army Games (IAG) 2018 will kick off on Sunday in seven countries, including Russia, China, Belarus, and Kazakhstan. This year's games have a total of 28 contests, and four of them will be held in China.
Three contests in China will be held from July 29 to August 11 by Chinese Army in the city of Korla, northwest China's Xinjiang Uygur Autonomous Region. And a Seaborne Assault contest will be held by the Chinese navy in the city of Quanzhou, southeast China's Fujian Province.
The three in Korla are "Suvorov Attack", which involves infantry fighting vehicle crews; "Clear Sky", a contest for air defense units; and "Safety Route", which is purely for engineering units and hosted in China for the first time.
According to the Chinese Army, 17 teams and over 350 soldiers will attend the contests in Korla. They are from China, Belarus, Egypt, Iran, Kazakhstan, Pakistan, Russia, Uzbekistan, Venezuela and Zimbabwe.
On Saturday morning, heads of delegations from the 10 countries spoke to the media about their preparation and expectations.
Pakistan will attend the International Army Games in China for the first time. Kamran Zaheer, the Pakistani team leader said he has high expectations for the contests.
Russian general Lentsov Aleksandr said that the purpose of the high standard games is to improve the competition capability for everyone.
"We thank China's hospitality and preparation for the games. We hope we can strengthen the tie between Russia and China and improve the friendship between the two armies through the games," he said.
All the participating teams have arrived at least one week ahead of the contests for an adaptive training program.
They are going to use Chinese equipment for the games in accordance with the rules, except the Russian "Suvorov Attack" team, who are going to use their own equipment.
Ye Jianjun, a Chinese major general said that it is hoped that all teams can deepen cooperation and learn from each other and use the military games as a platform to exchange ideas and improve performance together.
The PLA Army said that all preparations are done, and all teams are ready for the contests.
The International Army Games is an international military event launched by the Russian Ministry of Defense. The Chinese military has been invited for four consecutive years since 2014 to participate in the IAG and has hosted some of the contests since 2017.