China, Germany should join hands to overcome protectionism: analysts
Global Times
1527116880000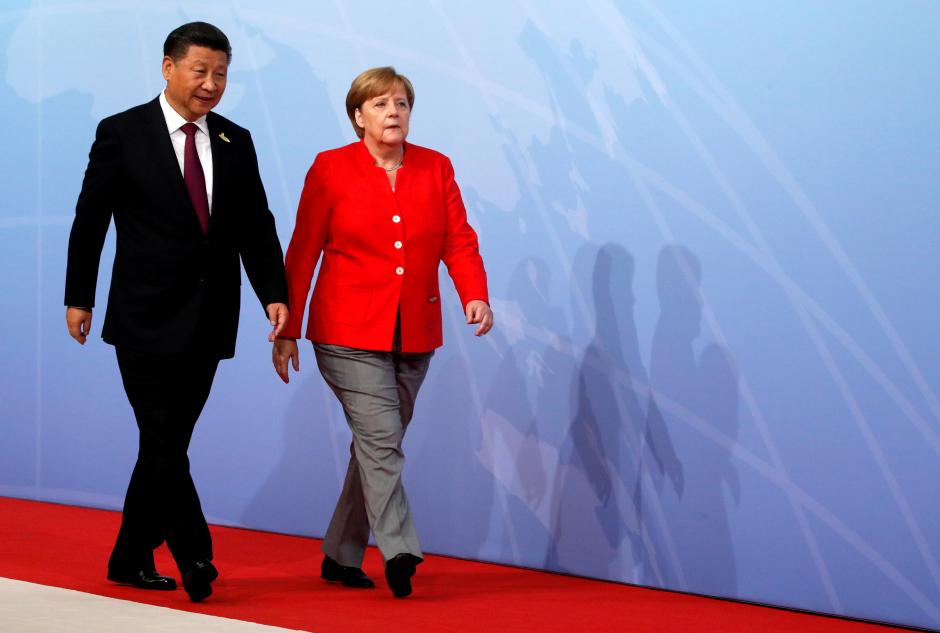 Chinese President Xi Jinping and German Chancellor Angela Merkel (File photo: Reuters)
German Chancellor Angela Merkel is scheduled to visit China from Thursday to Friday, and experts said that when common interests are being threatened, China and Germany should move to effectively overcome US protectionism and unilateralism.
During the visit, Chinese President Xi Jinping, Premier Li Keqiang and other Chinese leaders will hold talks with Merkel, "during which time they will have in-depth exchanges on China-Germany and China-Europe relations and cooperation as well as major international and regional issues of common interest," Chinese foreign ministry Lu Kang said at a regular press conference last week.

US President Donald Trump's decisions to pull out of the Iran nuclear deal and damage free trade have had a serious impact on the shared interests of China and the EU, Cui Hongjian, director of the China Institute of International Studies' Department of European Studies, told the Global Times on Wednesday.

The US and China have reached an agreement and temporarily averted a trade war, but the problem between the US and the EU still exists, so the EU is worried about facing US pressure on trade alone, said Wang Yiwei, director of Renmin University of China's Institute of International Affairs.

As EU's leader, Germany needs to seek a solution from China since it cannot convince the US to compromise, Wang noted.
More in common with China
However, pressure from the US will not automatically result in China-EU cooperation, because China and the EU also have differences on trade issues. So if China and Germany or China and the EU want to make joint efforts to overcome the challenges, they first need to reach an agreement or at least put their differences aside, and also seek reform for the current international free trade order, Cui noted.
Both sides are also concerned about the Iran nuclear deal, as all of the deal's participants, other than the US, are worried about the consequences of Trump's unilateral pullout.
Germany and France care about Middle East stability because any war in that region will have a serious impact on Europe's security, and the Middle East is the main source of China's energy supply. Therefore, China and Germany share a common concern, Wang said.
To avoid US unilateral sanctions on firms doing business with Iran, China and the EU should find solutions, Cui said.
"If China and the EU can agree on increasing the use of the RMB and euro in trade settlements and reduce their dependence on the US dollar, that would help them overcome US sanctions," Cui said. "We cannot appease unilateralism. Otherwise, the US will do it again."
On a range of vital global issues, from climate change and free trade to the Iran deal, Berlin now has more in common with Beijing than it does with Washington, Reuters reported.
Lu said Merkel will also visit Shenzhen, a major city close to Hong Kong with many high-tech firms and institutions in South China's Guangdong Province.
"Although both countries have agreed to cooperate on high-tech and connect Germany's Industry 4.0 with China's Made in China 2025, some German politicians remain concerned about China's high-tech development, because they believe China will weaken Germany's tech advantage and are hostile to Chinese investments in Europe," Cui noted.
"But Merkel hasn't made a clear-cut statement, so we hope she and Chinese leaders can agree to start specific projects on high-tech cooperation and connect Made in China 2025 and Industry 4.0 in practice," Cui said.