Online calls to poison unleashed canines grow louder in China amid rabies fear
Global Times
1534696253000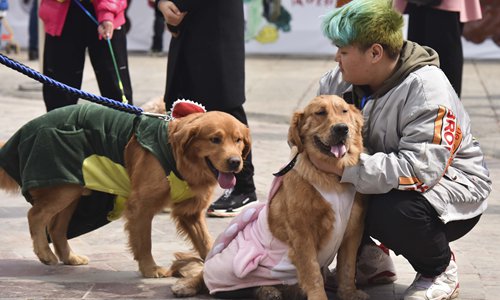 Dog owners in Kaili, Southwest China's Guizhou Province, bring their dogs to a pet dog fair in February.(Photo: VCG)
The war of words between dog owners and those who hate or fear unleashed dogs turned violent in China, when an online article went viral urging people to use lethal drugs to poison dogs in order to force pet owners to leash and muzzle the animals in public.
The author, going by the pseudonym "Mr. Zizhu Zhang" on Chinese social media, published the controversial article on August 8, suggesting putting isoniazid, an antibiotic used for the treatment of tuberculosis, in food to poison unleashed pet dogs.
The article came after recent reports that the country's second-largest rabies vaccine maker was found to have violated national drug standards since April 2014, creating shockwaves due to China's high number of deaths from rabies.
The author said that the canine poison does no harm to people but could force the country's dog lovers to raise their dogs in a more civilized way. The drug is readily available at drug stores and has been used as a dog poison in some communities.
The radical-toned article went viral and was forwarded more than 100,000 times before it was removed from social media on Thursday afternoon due to user claims of "illegal content."
The removal has not seemed to affect the author's enthusiasm. Calling dog owners "dog overlords," the author published another four original articles targeting dog lovers on his WeChat public account through the weekend.
Mr. Zizhu Zhang said in the later articles that his first article gathered 52,000 likes, about 20 times more than negative comments. He claimed that the overwhelming majority of Chinese people loathe dogs, and the reason behind this is not the animals themselves but their "dog overlords."
Radical method
China has the second-largest number of reported rabies cases in the world, with an average of over 2,000 deaths reported each year in the past decade, the World Health Organization's website said.
According to Laiweiguan, a WeChat public account, apart from the isoniazid mentioned in the viral article, another type of lethal drug whose nickname is "Kill a Dog in Three Steps" is also available on Chinese e-commerce platforms like Taobao.
The shop owner even provides instructional videos to guide users on how to make poison bait, and promises this would kill the animal within 20 minutes.
Another article published on the Sina Weibo account of guancha.cn says that some dog-killing drug shops also provide tombs for the animals. And some dog haters even found chat groups to show off and to train others about their dog hunting skillset on platforms like QQ.
Some supporters said although the method is radical, it will force dog owners to leash their dogs, since people are more important than dogs.
However, dog lovers claim that the article basically instigating others to commit crimes. Legal professionals reached by the Global Times also indicated that such violent tactics not only go against moral principles, but also could violate laws.
There is no law in China for animal protection, yet pet owners can protect their animals as their personal belongings.
"The country's law measures the offense level based on the property's value, and if the market price of the victim dogs reaches a certain high level, the poisoner could be held legally accountable for the crime of intentional destruction or damage of property," Zhang Xinnian, a Beijing-based lawyer, told the Global Times.
Zhang also noted that it is wrongheaded to use immoral instruments or illegal conduct to counter another kind of immoral or illegal act. This goes against the spirit of "rule of law," and could intensify social conflict.
Yao Yue, director of the World Animal Protection canine program, also calls for more rational ways to deal with uncivilized dog walking in the country.
"Worldwide experience shows it is not effective to control the number of street dogs by killing them, and mass poisoning of dogs in a region only undermines the locally established immunologic barrier against rabies," Yao noted.
Although regulations over pet dog rearing have been established all over the country, there is still a big gap between the regulations on the books and actual enforcement, said Qiu Hong, director of a Qingdao-based animal welfare agency.