Guangdong FTZ pushes ahead with greater opening-up, foreign investment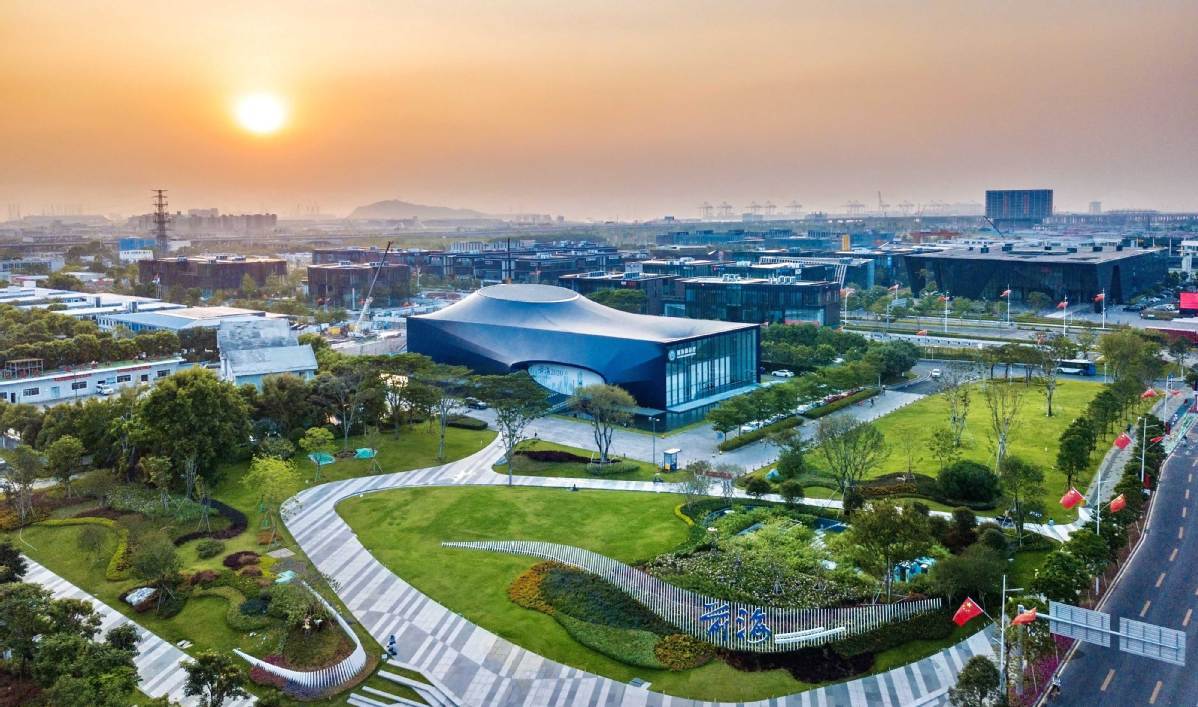 About 42,600 companies were added to China (Guangdong) Pilot Free Trade Zone from January to November in 2019. (Photo: China Daily)
China (Guangdong) Pilot Free Trade Zone has proved itself a top destination for foreign investment with its ever-improving business environment and deepening reform and opening-up efforts creating more opportunities for businesses.
The FTZ in Guangdong province was officially launched in April 2015. Covering a total area of 116.2 square kilometers, it is composed of three major parts: Nansha in Guangzhou, Qianhai and Shekou in Shenzhen, and Hengqin in Zhuhai.
All the three parts demonstrated strong growth in foreign investment last year.
In August 2019, French nutrition giant Danone opened its first cross-border e-commerce warehouse in the Chinese mainland in Nansha, allowing its products ordered online to be shipped directly from its overseas factories to China. It was an important development in Nansha becoming an international distribution center.
The warehouse will save logistics and storage costs for Danone, more efficiently connect with e-commerce channels in China and better serve Chinese consumers, according to the company.
It took just five months for the warehouse to go from project preparation and construction to completion and opening, according to the management of the FTZ.
In October, it was decided the Guangzhou Futures Exchange would be located in Nansha with an expected registered capital of 3 billion yuan ($432.8 million). It will be the fifth futures exchange in the Chinese mainland and the first approved by the China Securities Regulatory Commission in 26 years.
In November, Nansha International Cruise Home Port began operating. It is the largest cruise terminal in China and can berth the largest cruise liner in the world.
In the Qianhai-Shekou area, official figures indicate a total of 12,611 foreign-funded companies have been approved since April 2015.
The area attracted some $3.76 billion in foreign investment from January to November 2019, accounting for 18 percent of the province's total, according to official statistics.
Hengqin, which mainly serves the development of Macao, attracted 745 newly registered companies from the special administrative region last year. The total number of Macao-funded companies in Hengqin reached 2,157 by Dec 16, 2019, with an accumulative investment of $18.8 billion.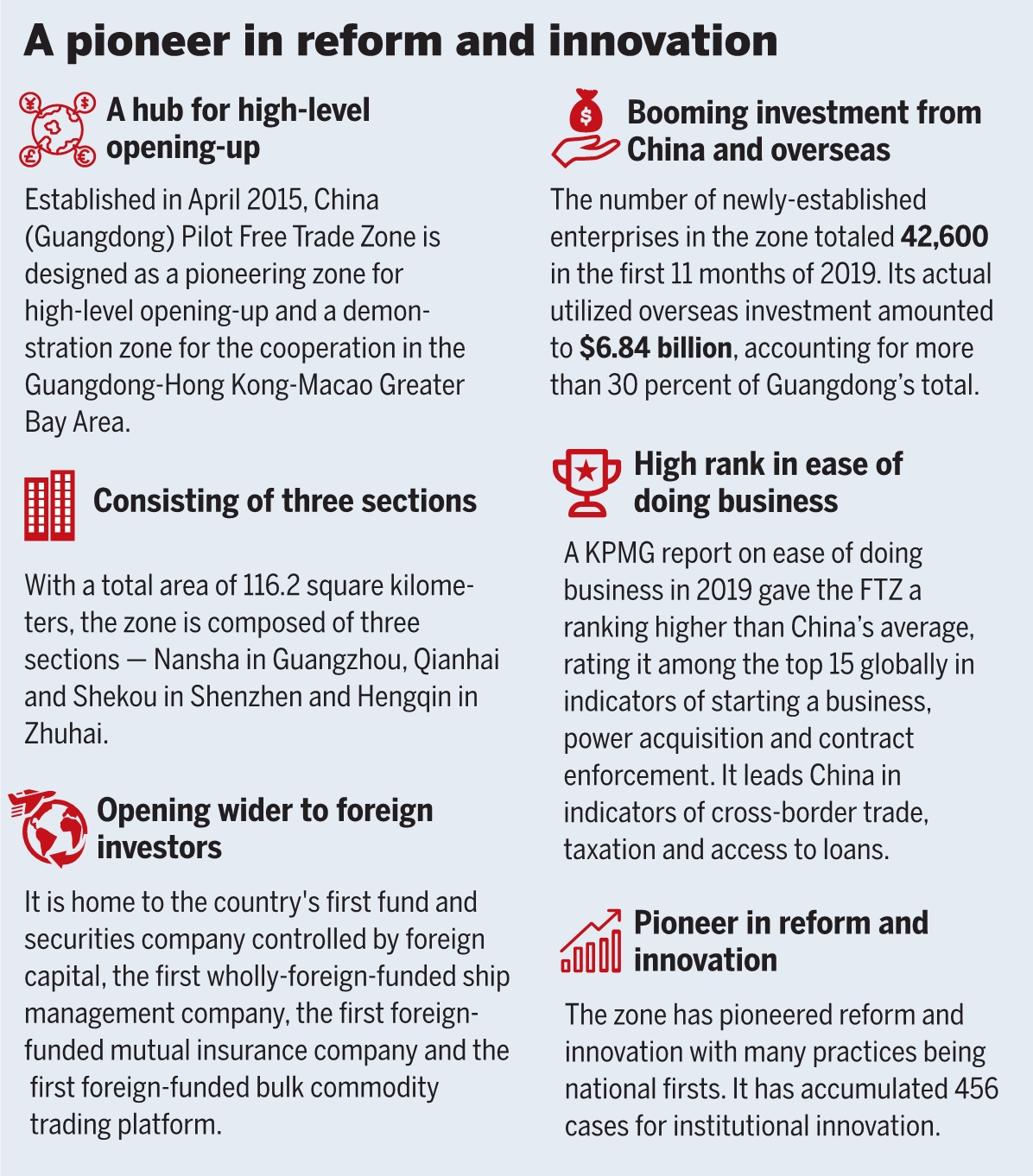 As a whole, about 42,600 companies were added to the Guangdong FTZ from January to November in 2019. About $6.84 billion in foreign investment had been utilized during the period, up 22 percent from a year ago. The sum of utilized foreign investment accounted for more than 30 percent of the province's total.
As a domestic leader in attracting foreign investment in the modern services and advanced manufacturing industries, the Guangdong FTZ has welcomed many quality projects. They include the country's first fund and securities company controlled by foreign capital, the first wholly-foreign-funded ship management company, the first foreign-funded mutual insurance company and the first foreign-funded bulk commodity trading platform.
The FTZ has been one of the areas in China with the best performance in terms of opening-up. It has attracted a large number of foreign industrial leaders, including JP Morgan Futures, HSBC, Siemens and Maersk. Many large domestic companies have also located their international, regional or functional headquarters in the FTZ, including China COSCO Shipping, China Communications Construction and China Railway Construction.
After more than four years' development, the Nansha area of the Guangdong FTZ mainly focuses on the five industries of shipping and logistics, high-end manufacturing, finance, technological innovation, and health and life sciences.
The Qianhai-Shekou area has an emphasis on finance, modern logistics, information services and technological services, and Hengqin focuses on tourism, financial services, culture, science and high technology.
Business environment
A report released by global auditor KPMG in April 2019 said that the business environment in the Guangdong FTZ is excellent, especially when it comes to starting a business, power acquisition and contract enforcement, and ranks among the top 15 globally. The report looked at the World Bank's ease of doing business indexes, a system it used to assess business environment across 190 economies and selected cities.
The Guangdong FTZ has also performed well in terms of cross-border trade, taxation and access to loans, according to KPMG's report.
To further improve the business environment, the management of the FTZ said optimization will continue in terms of making it easier for companies to attain business registrations and construction permits, carry out cross-border trading and pay taxes more efficiently.
For example, customs will further cut import and export clearance time to improve the efficiency of cross-border trading, according to the FTZ's management.
The FTZ also plans to set up express services for companies from Hong Kong and Macao to pay taxes and register real estate.
"The Guangdong FTZ has a special and irreplaceable position," said Wei Jianguo, former vice-minister of commerce. "I am optimistic that Guangdong will play a leading role in quality development in the next five years as its FTZ can make more breakthroughs."
He said Guangdong has a unique advantage in its manufacturing industry, forming the most sophisticated industrial chain in China. This will provide a strong base for its FTZ to achieve a deep integration of high-end manufacturing with modern services.