Leading group warns against complacency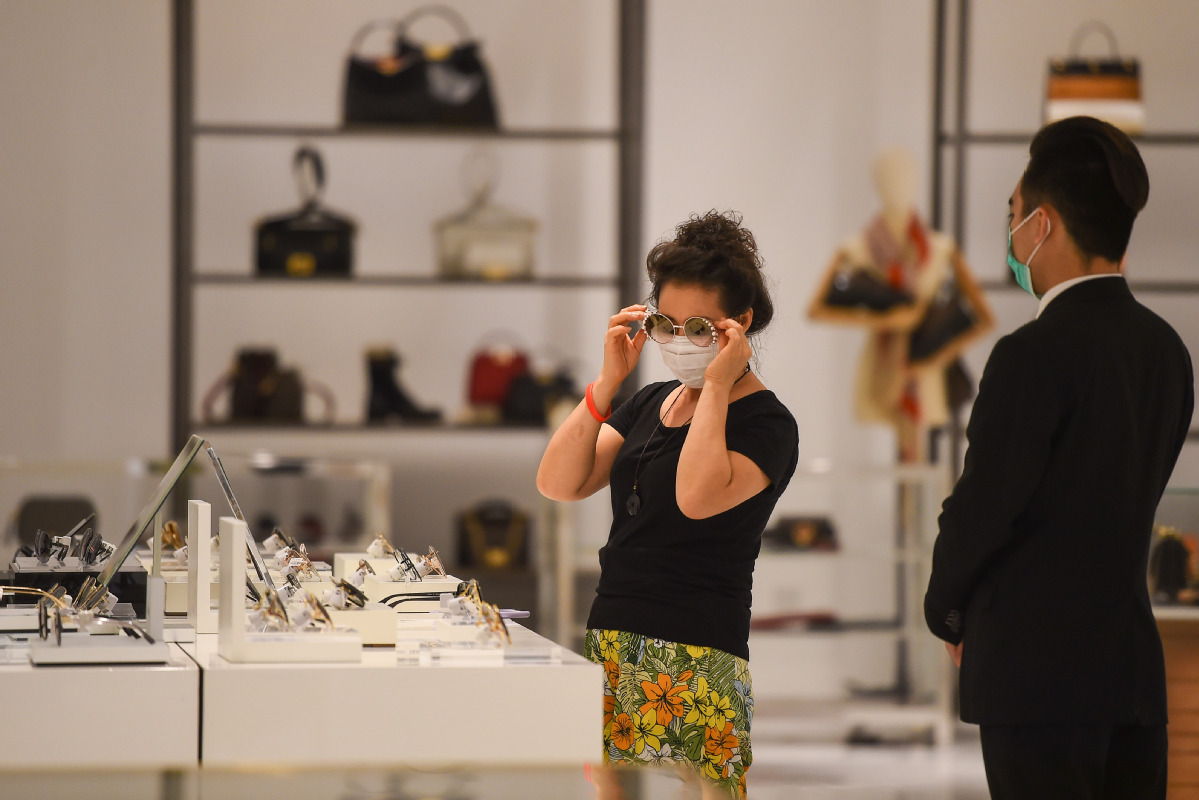 A customer tries out a pair of sunglasses at a duty-free experience shop in a resort in Sanya, South China's Hainan province, April 15, 2020. (Photo: Xinhua)
As China braces for a resurgence in tourist trips during the May Day holiday, a meeting presided over by Premier Li Keqiang called on Thursday for more detailed epidemic containment measures for transport, hotels and tourist attractions.
The leading group of the Communist Party of China Central Committee on responding to novel coronavirus pneumonia stressed there was no room for complacency even though the pandemic has been brought under control in the country.
Individuals must continue to follow personal protection protocols and efforts must be made to prevent risks arising from gatherings of tourists, the group said in a statement.
A Ministry of Transport spokesman said on Thursday that it expects 117 million trips-mostly short-distance ones-will be made during the five-day holiday starting on Friday.
Local authorities should devise contingency plans, stay prepared for emergencies and come up with targeted containment measures in the event of an outbreak so that the path of transmission can be cut as soon as possible, the leading group said.
It also warned against concealing, underreporting or delays in reporting new infections, saying that information must be made public in an open and transparent manner.
The meeting also called for unrelenting control and prevention efforts in key areas.
The State Council Joint Control and Prevention Mechanism will set up a special liaison group with Hubei province and its capital, Wuhan, for information updates and coordination on epidemic containment work, the group said.
The mechanism will also send a special group to northeastern China's Heilongjiang province, bordering Russia, which has seen a relatively large number of imported and domestic cases recently, to spur and guide local authorities to refine and reinforce containment measures, it added.
It urged local authorities in Heilongjiang to troubleshoot loopholes, strengthen weak areas and step up prevention measures in hospitals while sparing no efforts in medical treatment.
Authorities in other areas must determine their levels of response based on changes in the outbreak situation and ensure that areas of containment can be specified down to the smallest units, such as buildings, hospital wards, residential communities and villages, the group said.
It underlined the importance of continuing with normalized containment measures, such as washing hands on a regular basis, ventilating and sterilizing workplaces, social distancing and wearing face masks as necessary.
A daily briefing mechanism on the health status of students and faculty members must be enforced, the group said.
The meeting also urged heightened environmental health standards and stricter management of rented houses, dormitories and visitors inside communities.
The country will reopen shopping malls and restaurants in an orderly manner and allow the public to make reservations for access to indoor sports venues, libraries and museums, the statement said.
It also urged accelerated steps to develop testing facilities and manufacture test kits that can produce results more quickly and conveniently so that key groups of people can be covered by the tests and others can receive them on a voluntary basis.