WHO: 80% of teens don't exercise enough
Teenagers worldwide do not get enough exercise, compromising their current and future health, the World Health Organization said.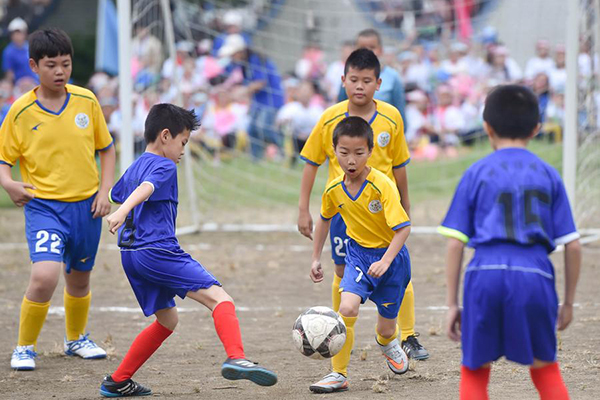 Pupils play football in the 1st School Football Culture Festival of Xiangban Primary School in Fuzhou, the capital of Southeast China's Fujian province, on May 20, 2016. (Photo: Xinhua)
A study conducted by the UN health agency found 81 percent of adolescents aged between 11 and 17 fail to get at least one hour of moderate to intense daily physical activity such as walking, riding a bike or playing sports.
The report on global trends for adolescent physical activity is based on survey data collected on 1.6 million students from 146 countries and territories between 2001 and 2015.
The findings are troubling because physical activity is associated with better heart and respiratory functioning, mental health and cognitive activity, which have implications for student learning. Exercise, along with healthy eating, is also viewed by experts as key to controlling a global obesity epidemic.
The report did not mention why adolescents are so inactive, but a WHO co-author of the study suggested digital technology means more young people spend time on electronic devices.
The study also found gender differences worldwide, with 85 percent of girls and 78 percent of boys surveyed failing to hit the daily exercise target. Male youths in rich Western countries and female youths in South Asia get the most exercise.
While in China, the qualified rate of Chinese students' physical test in 2018 was 91.91 percent, and the excellent and good rate was 30.57 percent. From 2016 to 2018, the overall health status of students in the country showed an upward trend.
However, excluding the statistical error factors, a change of only 1 to 2 percentage points does not indicate that the physical health of Chinese students has improved significantly, said Liu Bo, director of the Division of Sports Science and Physical Education in Tsinghua University.
The current rate of obesity among students is still high, according to a report released by the Chinese Ministry of Education. Therefore, we should activate families, schools and society to guide students to develop healthy habits since childhood, do more exercise and prevent diseases such as myopia and obesity.