China's Internet remains open despite management
Global Times
1512428466000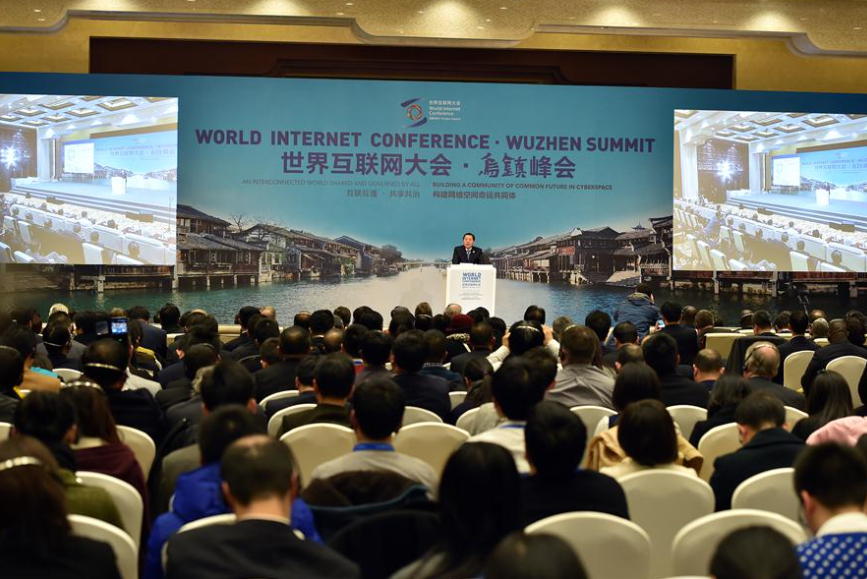 Photo: Xinhua
Despite criticism from the West over China's Internet management, industry representatives said the country has maintained a largely open attitude toward the World Wide Web, which in turn has given birth to technological breakthroughs.
Over the past five years, the Chinese government has been focusing on strengthening cyber space management while encouraging openness and innovation, and the country now tops the number of Internet users, the market scale of a digital economy as well as online retail, Yang Shuzhen, president of the Chinese Academy of Cyberspace Studies (CACS), said on Monday.
Yang unveiled the World Internet Report 2017 and China Internet Report 2017 at the 4th World Internet Conference, which runs from Sunday to Tuesday in Wuzhen, East China's Zhejiang Province.
The reports set six benchmarks - infrastructure, innovation capability, industry development, Internet application, cyber security and cyber space management - to evaluate Internet development and ranked the US, China, South Korea, Japan and UK as the top five.
"The US has always been leading Internet development. As an emerging power, China is turning into an Internet-powered economy, with its own characteristics," Li Yuxiao, vice president of CACS, told the audience.
Major Chinese Internet giants such as Tencent Holdings, Alibaba Group Holding, Baidu Inc and JD.com Inc have been growing rapidly, he said, and among the top 10 global Internet firms, four are Chinese while six are American.
"Besides its large number of Internet users, infrastructure has been improving since 2013. For example, broadband network coverage has surpassed 98 percent," said Gu Wenbin, an expert at CCID Consulting, which also contributed to the two reports.
From January to October, the total revenue of Chinese Internet firms grew 23.9 percent year-on-year to 511.4 billion yuan ($77.3 billion), people.com.cn reported on Monday.
Some Chinese Internet breakthroughs already lead the world, such as online payments, e-commerce and the Internet of Things (IoTs), Gu told the Global Times on Monday.
Chinese breakthroughs
Among 18 technological achievements unveiled on Sunday, more than half were developed by Chinese companies such as telecommunication services provider Huawei Technologies, car-hailing platform Didi Chuxing and bike-sharing firm Mobike.
"With the help of IoTs, big data and AI technologies, Mobike has connected 8.4 million smart bikes and built a global IoT platform that generates 30TB of data on people going out per day," Davis Wang Xiaofeng, Mobike CEO, told the Global Times.
Allaying fears
Some foreign countries have doubts about the Chinese government's special protective policies for the Internet sector, "which is not true, as China maintains an open attitude toward the Internet," said Fu Sheng, CEO of Cheetah Mobile Inc, a Chinese mobile Internet firm listed in the New York Stock Exchange.
"For example, in terms of online payments, some countries have concerns over online financial risks, which prevents them from approving that service," he noted.
At the early stages of Internet startup development, a large part of venture capital came from Silicon Valley and overseas investors. "Encouraged by the government, Chinese venture capital has been booming in recent years, which has also contributed to the thriving of the Internet," said Wang Chaoyong, CEO of ChinaEquity Group.
Other major Chinese technological breakthroughs unveiled during the conference include Huawei's 5G, supercomputer Sunway TaihuLight, and BeiDou Navigation Satellite System.
While pushing forward Internet development, its safety should be assured, Xu Yunhong, executive assistant of CACS, told the audience. "We have to attach equal importance to Internet security and development, as a safe cyberspace makes its development more sustainable," he said.
"Freedom is not free," said Wang Yiwei, professor at the Renmin University of China. He noted that cyber security is based on cyber sovereignty.
In a congratulatory letter to the 4th World Internet Conference, Chinese President Xi Jinping said China hopes to work with the international community to respect cyberspace sovereignty and carry forward the spirit of partnership to commonly advance development, safeguard security, participate in governance, and share the benefits.