A 90 year old's springtime donations to Party and hometown
chinadaily.com.cn
1554945457000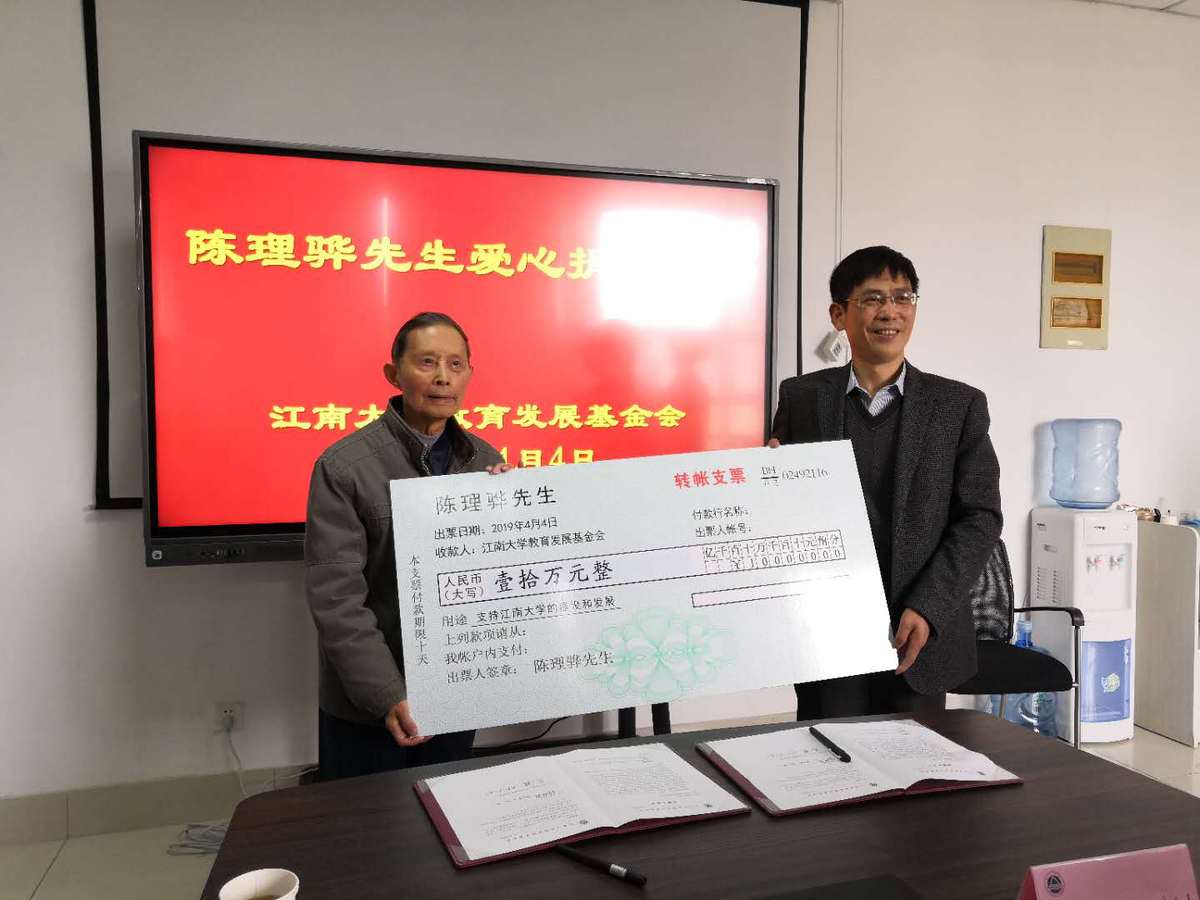 Chen Lihua makes a donation to Jiangnan University, April 4, 2019. (Photo provided to chinadaily.com.cn)
The spring of 2019 has been long awaited. This year marks the 70th anniversary of the founding of the People's Republic of China, and as we take stock of life during spring, we can look forward to welcoming the 70th national day come autumn.
Residents of Shanghai have endured a particularly cold, wet winter, and with the weather brought by spring, they're now enjoying the sunshine and flowers.
One Shanghai resident has marked the season by making two donations of 200,000 yuan – one to the Communist Party of China in the form of special membership dues, the other to the university in his hometown, Jiangnan University.
On April 2nd the 90-year-old man, together with his daughter and son-in-law, who had traveled all the way from Canada to be with him, made the first of his donations, taking a five-minute walk to his former work unit, Shanghai Textile Science Research Institute. Two days later, they went to Wuxi, Jiangsu and made the second.
Who is he? Why is he so generous? Why does he love the Party and his hometown so much? To understand all of this, we have to go back to his early childhood, the aid he got as a student, and the decisions he made upon graduation.
In 1932 a boy named Chen Lihua left Japan at the age of two with his parents after Japanese invaders upped their military aggression in Northeast China. The family went back to their hometown, Wuxi, and settled down.
By studying hard, young Lihua was admitted to a local vocational school, on which a predecessor of today's Jiangnan University was built. His mom could barely afford his education, but through the support of local charities and teachers, he completed his textile engineering education in the spring of 1949.
That was when the country was being liberated from Nationalist rule. Seeing the ray of hope, Lihua joined the CPC and has been a firm Marxist ever since. Later he was transferred to Shanghai due to his technical background, and worked in the textile sector until his retirement in the early 1990s.
Because he was born in a foreign country and later returned home to China, Lihua was identified as a returned overseas Chinese, of which he is especially proud. Due to his unique early childhood, he has developed a particular affection for his motherland.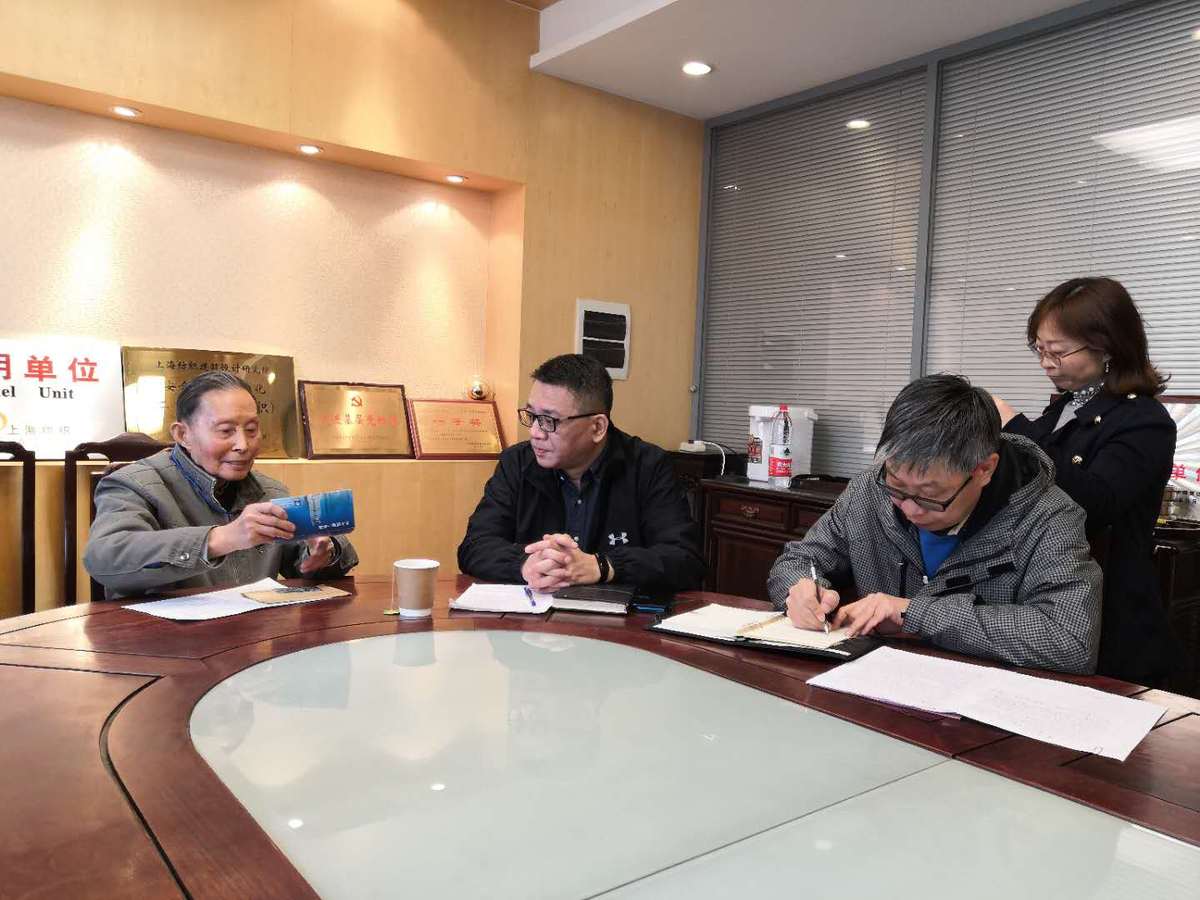 Chen Lihua pays special membership dues to the Party committee of Shanghai Textile Science Research Institute, April 2, 2019. [Photo provided to chinadaily.com.cn]
Although all he can recall about Japan is the sea water flowing beneath his feet during his trip back home, his parents spoke to him about their homesickness in Japan and what family roots meant in a foreign country.
Decades later his own daughter emigrated to Canada with her husband, and now they too share a deep affinity for China. In Lihua's words, it is only when a person leaves home that they can truly understand the meaning of homesickness and patriotism – the farther away folks live from their motherland, the deeper their love for their country.
Reflecting on the various periods of life, Lihua said the best choice he ever made was joining the CPC. Although there have been some missteps, under the guidance of the Party, China is regaining its lost glory and pride, and Shanghai has become its most prosperous city.
For Lihua the changes have been unprecedented and the People's Republic of China is enjoying its best time in the long history of China. Lihua knows that without the opportunities created under the guidance of the CPC, there would've been no way for him to get a college education and then become a senior engineer, let alone receive the care he benefits from as a retired cadre.
In the days leading to the new year, Lihua decided it was time to give back, and since China's 70th anniversary is approaching, he also decided his gesture should be significant. He settled on equaling his lifetime donations, 200,000 yuan, with one half going to the Party and other to his university.
As a Shanghai Federation of Returned Overseas Chinese staff member, I was lucky to have worked with Lihua on his donations. I would like to put his deeds into a unique perspective, considering the traditional Chinese virtue qinghuai of jiaguo.
Jiaguo is made up of two Chinese characters, jia and guo, which respectively mean family and country. Qinghuai, a virtue deeply rooted in Chinese culture, means affection mixed with faith and aspiration.
Qinghuai of jiaguo means not only the affection for family and country but also the relationship between them. In Chinese culture, families come together to form one big family: China. Each family and its members are obligated to dedicate themselves to the wellbeing of their country to fulfill their qinghuai of jiaguo. We Chinese believe we can benefit much from our ancient civilization, and qinghuai of jiaguo is something we must hold on to.
Lihua went beyond his family into his jiaxiang, a Chinese word for hometown. That is why he made a donation to his university. And his qinghuai of guo is embodied in his donation to the CPC, a party founded for the sole interests of the Chinese people, which continues to work to fulfill its mission. The CPC stands for the country and that is why so many Chinese Communists have chosen to pay special membership dues to the party to show their qinghuai of guo.
As the first generation of Chinese emigrants settles down, language has become the biggest obstacle for their foreign-born children to know more about China. Only one of Lihua's grandchildren can speak some Chinese, and none of his great-grandchildren can. I've written this essay so his offspring can understand more about their grandpa or great grandpa and the values he's lived by.
The author is a staff member at Shanghai Federation of Returned Overseas Chinese.