SCO art festival opens in Beijing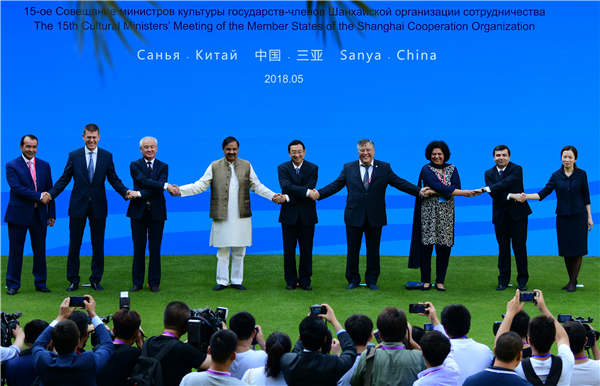 Cultural ministers of the Shanghai Cooperation Organization member states join hands at the meeting in Sanya, Hainan province, on May 17. (Photo: China Daily/Sha Xiaofeng)
BEIJING, May 30 (Xinhua) -- The Shanghai Cooperation Organization (SCO) art festival opened in Beijing on Wednesday.
The opening ceremony of the festival, hosted by China's Ministry of Culture and Tourism, was held together with a folk music concert at Beijing Poly Theater.
The festival enables different countries to display their cultures, as well as strengthen the traditional friendships and improve people-to-people exchanges, Luo Shugang, minister of culture and tourism, said when addressing the opening ceremony.
As well as the concert, which included performances from folk orchestras from China, Kyrgyzstan, Russia, and Uzbekistan, a folk dance show will also take place in Beijing on Friday.
The festival runs until Friday, with several other events including art exchange activities and a photography exhibition.
The SCO summit is scheduled for June 9 to 10 in Qingdao, a coastal city in east China's Shandong Province.