China prepares for trade war
Global Times
1521672159000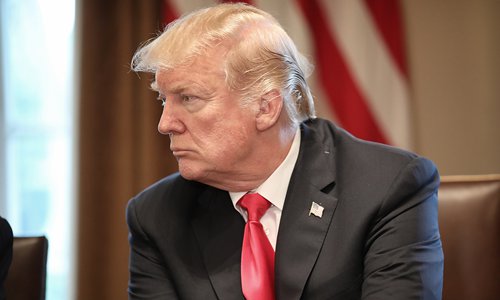 US President Donald Trump (Photo: VCG)
Nation still hoping for negotiations with US
China has launched a multifaceted effort to prepare for what looks like an imminent trade war with the US, as the latter is reportedly set to announce a slew of measures targeting China by Friday.
Top Chinese officials have in recent days been engaging with other countries and global organizations in a bid to form a multilateral response to the imposition of US tariffs on steel and aluminum imports and the forthcoming measures against China, while also continuing talks with US officials in the hope of averting a confrontation.
Meanwhile, China is also threatening to retaliate if forced to do so.
"The Chinese side never wants to fight a trade war with anybody, but if we are forced to, we will not hide from it," Hua Chunying, spokesperson for the Ministry of Foreign Affairs, told a press briefing on Wednesday, adding that China would "definitely take firm and necessary countermeasures to defend its legal rights."
The US government is poised to announce a slew of trade measures against China, including tariffs on up to $60 billion worth of Chinese technology and telecom products by Friday, according to US media reports.
The US' earlier decision to slap tariffs of 25 percent on steel imports and 10 percent on aluminum will also take effect on Friday.
Global efforts
At an informal meeting of ministers from 50 WTO member countries in New Delhi, India this week, Chinese Vice Commerce Minister Wang Shouwen criticized the US trade measures and called on other countries to jointly defend the global multilateral trade system, according to a statement released Wednesday by China's Ministry of Commerce (MOFCOM).
"Trade restriction measures will not only hurt the global trade order but also cause serious damage to the multilateral trade system," Wang said, urging all countries to "support the global multilateral trade system and defend the authority and effectiveness of WTO rules," according to the statement.
Zhou Xiaochuan, the outgoing governor of the People's Bank of China, the central bank, this week led a delegation to the meeting of G20 finance ministers and central bank governors in Buenos Aires, Argentina, where he stressed China's "continued support for multilateralism," according to a statement China's central bank released on Wednesday.
In a document released after the meeting, the financial chiefs of the world's 20 largest economies rejected protectionism and called for further dialogue on trade.
The efforts followed an earlier phone call on Saturday between Chinese President Xi Jinping and German Chancellor Angela Merkel, in which the two leaders agreed to jointly preserve the multilateral trade system.
Edward Alden, a senior fellow at the US-based Council on Foreign Relations, said that many countries apart from China would respond because they too have been targeted by the US.
"It's not just China. The EU is facing the same decision on steel. I think the EU, China and other countries will have to respond; they will have to do something," Alden told the Global Times in an interview on Wednesday in Beijing. But he cautioned against tit-for-tat retaliation.
Continued talks
Chinese officials have also been engaging with US officials in recent days, even though the trade measures appear to be unavoidable.
During the WTO meeting, Wang met with US officials on the sidelines, according to the MOFCOM statement, although the statement did not say what was discussed at the meeting.
In Buenos Aires, Zhou met with US Treasury Secretary Steven Mnuchin and the two discussed the China-US economic relationship, according to the US Department of the Treasury.
In a press conference on Tuesday, Chinese Premier Li Keqiang also suggested the two countries should resolve trade issues through negotiations.
"In trade, disputes are always resolved through consultation, negotiation and dialogue. I hope both sides will act rationally rather than emotionally to avoid a trade war," Li said.
A trade expert at a MOFCOM think tank in Beijing said that China is still focused on resolving disputes with the US through dialogue but is fully prepared to respond if necessary.
"There is still a lot of room for discussion," said the expert, who spoke on condition of anonymity because he was not authorized to speak to the press, "but China is also prepared and able to defend its rights."
The expert declined to elaborate on what the response might be, but other Chinese experts have suggested that China might target US agricultural products, aircraft and aircraft parts.