Tropical island Hainan welcomes first panda settlers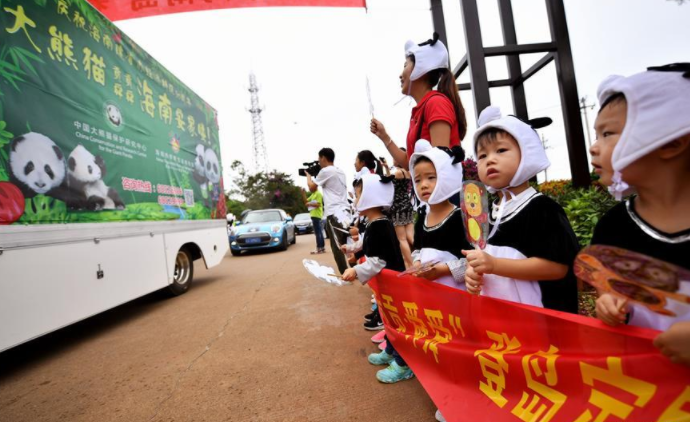 (Photo: Xinhua)
Two male giant pandas "Gong Gong" and "Shun Shun" arrived in China's southernmost province of Hainan on Saturday to become the first pandas to settle on the tropical island of Hainan.
The two panda brothers, both 5 years old, have moved into their home of over 1,000 square meters in the Hainan Tropical Wildlife Park and Botanical Garden after alighting the flight from their hometown Sichuan Province.
Their arrival will end Hainan's history of no permanent panda dwellers. The tropical province only had a guest panda, Ding Ding, who visited and stayed for a month in 2004.
"Many of our visitors hope to see giant pandas, and we also had the dream of having a panda. Today is the day our dreams finally came true," said Shang Xiao, board chairman of the park.
The new home of the black-and-white stars in Haikou, capital of Hainan, is divided into outdoor and indoor areas and is furnished with rockeries, ponds and even wooden rocking chairs.
Chen Zhenjiang, marketing director of the park, said the panda pavilion was designed to suit panda's habits and make them feel closer to nature.
"The two pandas will live in Hainan for two years to start, and will continue to live here if things go as planned," said Chen.
LONGER SUMMER
To introduce the pandas, the park filed applications to the China Conservation and Research Center for the Giant Panda in 2017 and only got the government greenlight in September this year after arduous preparations.
Chen told Xinhua that the main challenge for Hainan to house pandas is its longer summer compared with Sichuan. As pandas need to be moved indoors when the outdoor temperature exceeds 28 degrees Celsius, special attentions were given to the design of the indoor areas.
Six powerful ventilators and 12 air conditions have been installed to keep the panda pavilion cool. Two dehumidifiers are employed to tackle the island's high humidity, according to the park.
Chen said an expert with the panda conservation and research center has arrived to look after the panda brothers, and the park also sent two breeders to the Sichuan-based center to study for three months.
Though it will be another one or two weeks before the duo meet with the public, a pandamania has been ignited in the island province of over 9 million people.
"I had to go to other places if I wanted to see pandas in the past, but now with the two pandas settling here in Hainan, I can go and see them more often!" said panda lover Li Qing, a local resident.
"I hope that they can adapt to the environment and live here for a long time."