Xi meets UN chief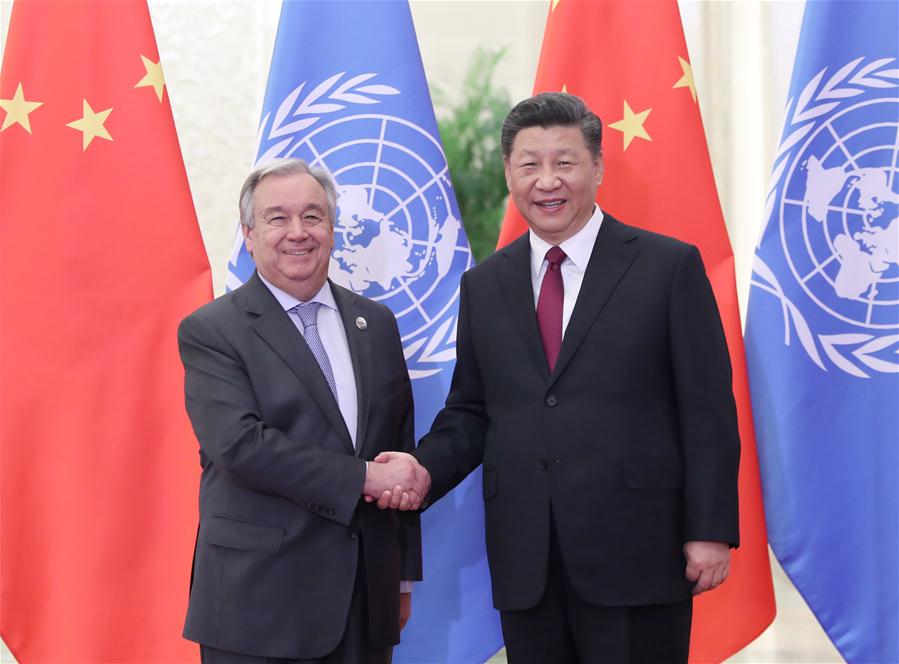 Chinese President Xi Jinping (R) meets with United Nations (UN) Secretary-General Antonio Guterres, who is attending the Second Belt and Road Forum for International Cooperation, in Beijing, capital of China, April 26, 2019. (Photo: Xinhua)

BEIJING, April 26 (Xinhua) -- Chinese President Xi Jinping on Friday met with United Nations (UN) Secretary-General Antonio Guterres, who is attending the Second Belt and Road Forum for International Cooperation in Beijing.
China firmly upholds multilateralism, the international system with the UN at its core, and the international order based on international law, and promotes the building of a community with a shared future for humanity, Xi said.
The more complex and grim the situation is, the more important it is to manifest the authority and role of the UN, Xi said, adding that China will continue to support the UN.
Noting that the Chinese people not only pursue a good life for themselves, but also work for common interest and harmony of the world, Xi said the Belt and Road Initiative (BRI) embodies the idea of mutual benefit, and is in line with the UN's sustainable development concept.
Describing the UN as an important partner in promoting the BRI, Xi said that China is ready to work with the UN to advance the initiative in an all-round way while following the principle of delivering shared benefits through extensive consultation and joint contribution.
Guterres said President Xi's speech delivered at the forum on Friday morning is very important, as it elaborates the interrelationship between the BRI and global development agenda.
He spoke highly of China's major measures for further reform and opening up.
China firmly upholds multilateralism, and safeguards equity and justice, as well as the purposes and principles of the UN Charter, the UN chief said, adding that China has played an important role in stabilizing, and brought certainty, confidence and hope to the world.
Calling on countries around the world to seize the opportunities brought about by the BRI cooperation and achieve win-win outcomes, Guterres said history will prove that China's development is not only an irresistible historical trend, but also a major contribution to human progress.