New Israel visa application center in Shanghai makes visits convenient
Global Times
1532890517000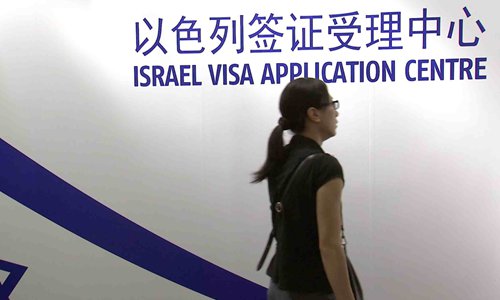 The new Israel Visa Application Centre in Shanghai. (CGTN Photo)
In July, the Israeli Consulate in Shanghai unveiled a new visa application center. "We saw a lot of exchange in tourism, of business to business people, and this is growing all the time. This is very good. I see it when I'm traveling to many provinces, (as well as) many cities", said Eyal Propper, consul general of the Israeli Consulate in Shanghai. These new centers have come in response to the rapid increase of international travelers for tourism and business purposes.
Some of them travel through the Shanghai Pudong International Airport, one of the nation's largest airports. Over 100 thousand international travelers go in and out of China through this airport every day. Immigration officers at the airport have been preparing for a new height in tourist numbers, as the first China International Import Expo is in less than 100 days away. "We will raise the service level of police staff here for guests from around the world. We will also put together a dedicated task force and launch a special passageway for guests to the CIIE so that they can cross the border quickly and conveniently", said Yao Chenying, the deputy team leader at the Shanghai General Station of Immigration Inspection.
The airport is expanding its use of automated border control lanes, which have already helped more than 6.8 million passengers pass through immigration in as little as 10 seconds. "I work here at Shanghai University, so I have to do this I guess once every two months, every three months. So it's very convenient", said Luis Calandre, who passed through one of the lanes.
Since 2016, visitors from 53 countries have benefited from the city's 144-hour visa exemption transit policy. Transit foreigners who are destined for a third country or region are allowed to move around in Shanghai, as well as Jiangsu and Zhejiang provinces for as much as six days. "Actually it's a good thing. Because otherwise, the application of a regular visa does take a long time. So this is a quick, short thing so we can visit this city," said Rene Omlor, a visitor from Germany.
From July 25, over 26 thousand people have successfully applied for this policy, that's a 20 percent increase year on year. Immigration officers say this policy could prove useful for prospective attendees ahead of the 5-day import expo in November.